Most Popular Halloween Baby Costumes in 2019: Banana, Dalmatian, Pennywise and More
The most popular Halloween baby costumes in 2019 include everything from Harry Potter and Boss Baby, to a banana and a dragon. However you decide to dress your baby up, it's sure to be cute. But if you're not decided yet, check out these popular baby costume ideas.
According to a Google Trends report, the most popular Halloween 2019 baby costumes are:
Banana
Dalmatian
Grinch
Pennywise
Stay Puft
Starbucks
Concha
Pumpkin
Deer
Olaf
Lobster
Chucky
Harry Potter
Boss Baby
Dragon
Oogie Boogie
Lamb
Here is where you can buy the most popular baby costumes:
Pop culture baby costumes
Take inspiration from your favorite movies and TV shows with these pop culture baby costumes.
To dress your baby up as the Grinch, simply dress them in a Santa costume with green leggings and green fur around the trim of the sleeves.
A spookier idea is a baby Pennywise costume. Match with a red wig and red balloon and you're good to go! If you're heading down the scary costume route, check out this baby Chucky costume.
Ghostbusters is a classic Halloween costume idea, and what better idea for a baby than a Stay Puft costume? Another Halloween-themed character that makes for an excellent baby costume is Oogie Boogie from the Nightmare Before Christmas.
Or, dress your baby up as everyone's favorite snowman, Olaf from Frozen. This adorable Olaf costume is made up of a baby grow and matching hat, so it's sure to be comfy.
Harry Potter will always be a fan-favorite costume idea, for kids and adults alike. But this baby Harry Potter costume is sure to be popular.
Perhaps one of the easiest ideas on this list is a Boss Baby costume. Simply dress your baby in a suit and accessorize with a mini briefcase and babyccino.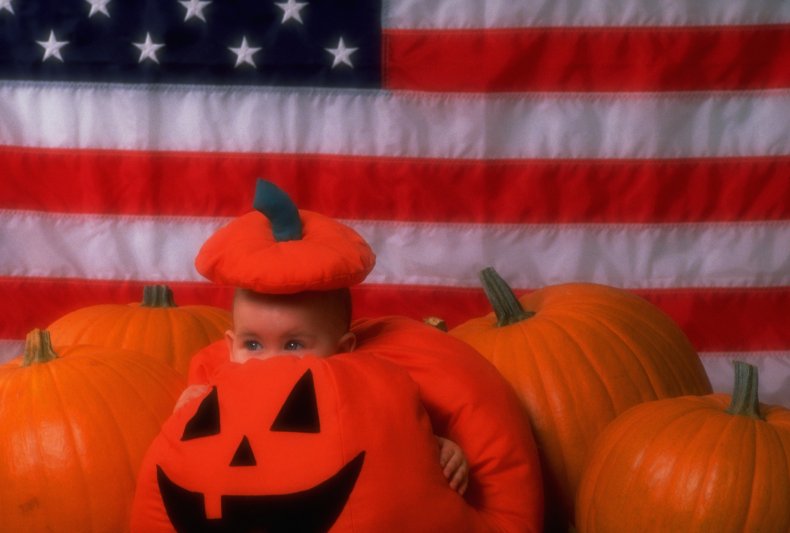 Animal baby costumes
Animals are guaranteed to be a go-to costume idea. But which animal will your baby be this year?
A popular animal option this year is a dalmatian costume. This sweet costume comes with a jumpsuit, headpiece, and rattle, and is available in sizes 0-18 months.
For a comical costume, dress your baby as a lobster. Some people accessorize this costume with a pot, but that's up to you!
Sweet options include this deer costume and this lamb costume. Or, go for something a little more feisty with this baby dragon costume.
Food and drink costumes
Food and drink costumes are popular this year, and there are loads of cute options.
The most-searched-for baby costume is a banana – it's a super cute idea and is sure to be a comfy option. Check out this banana costume from Amazon. Starbucks fans will love this frappuccino-inspired costume for babies, and this concha costume is adorable.
And last but not least, the always-adorable pumpkin baby costume.
Most Popular Halloween Baby Costumes in 2019: Banana, Dalmatian, Pennywise and More | U.S.