The 25 Most Popular Beaches in America
Some of the world's best beaches are in the U.S.
And while many travel restrictions are still in place, six in 10 American travelers are expected to make a beach trip in 2021, according to Tripadvisor.
Lindsay Nelson, the company'schief experience and brand officer, told Newsweek: "Travel has the transformative power to restore our whole selves, especially after this last year, and we continue to see that so many of America's beaches are the perfect anecdote to be a place of relaxation and healing for so many people desperately wanting to travel again and make up for lost time."
Best estimates suggest there are about 90,000 beaches across America, and there is no definitive list of visitor numbers.
However, Newsweek has scoured local tourist information sites for visitor estimates to bring you this rundown of the 25 most popular beaches in America.
Huntington Beach
19 million annual visitors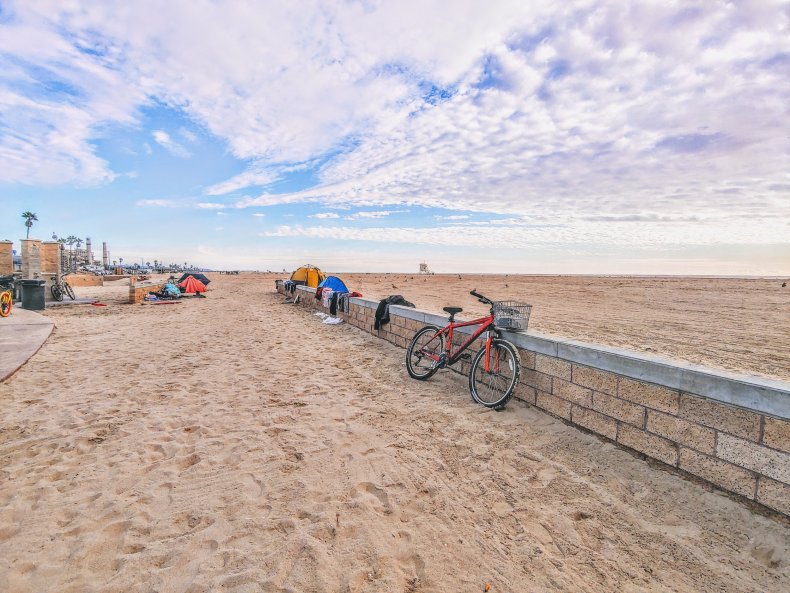 Hugging Southern California's curving shoreline, Huntington Beach is known as Surf City, USA for good reason.
In addition to its excellent surfing, the coastal area is famed for its generous 8.5 miles of beautiful beach, mild climate and availability of numerous outdoor activities.
Panama City Beach
19 million annual visitors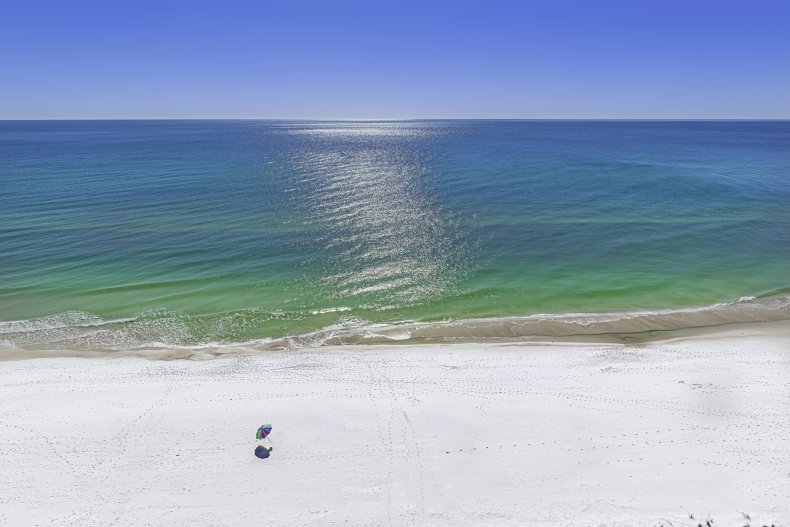 Panama City Beach is world-renowned for its miles of white-sand beaches fronting the calm, clear waters of the Gulf of Mexico.
And while the beach is a family-friendly and relaxing destination, the area also offers activities including scuba diving, fishing and cruising.
St. Petersburg Florida
15 million annual visitors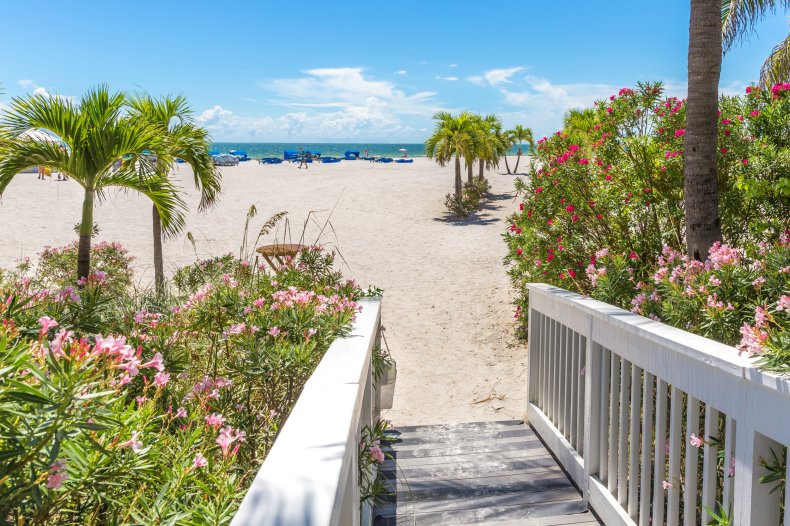 This Florida barrier island is home to numerous award-winning sandy beaches.
Fondly dubbed "St. Pete Beach," the sandy area strikes an excellent balance between laid-back beach bums and a place for people-watching.
Myrtle Beach
11 million annual visitors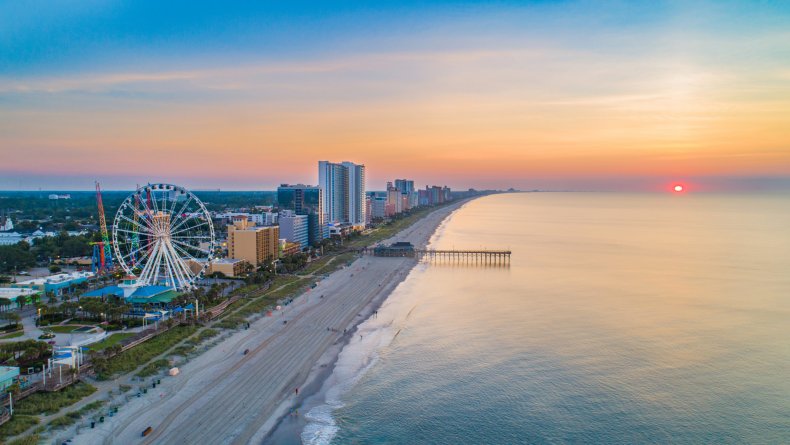 South Carolina's Myrtle Beach is popular with young families, as this stretch of coastline is packed with attractions including an amusement park, an old-fashioned Ferris wheel and a Ripley's museum.
However, with 60 miles of coastline on offer, there is ample opportunity to escape the crowds and enjoy the wildlife and stunning sunrises over the Atlantic .
Rehoboth Beach
10.4 million annual visitors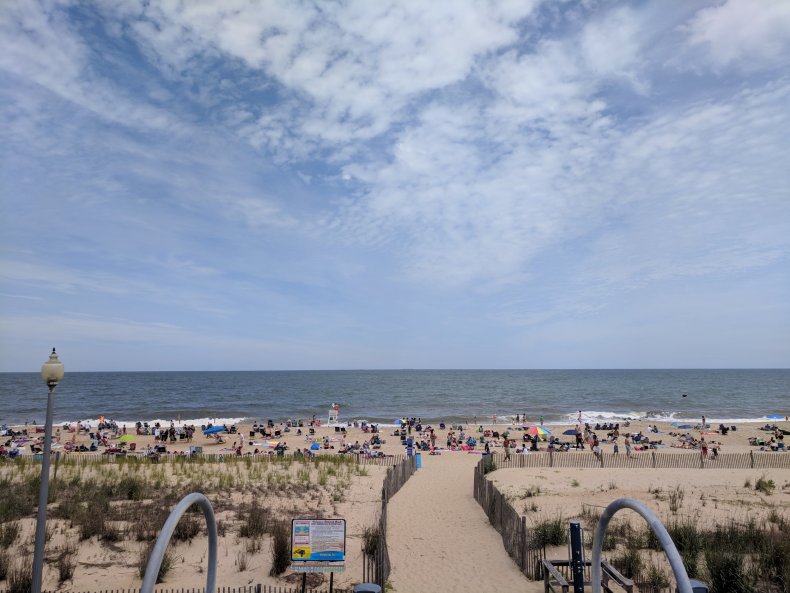 Delaware's Rehoboth Beach boasts a beautiful and clean shore, an award-winning one-mile-long boardwalk and many artisanal stores to buy a memento.
And to Rehoboth Beach's north is Cape Henlopen State Park, with dunes of its own, plus an observation tower dating from 1941.
Cape May
10 million annual visitors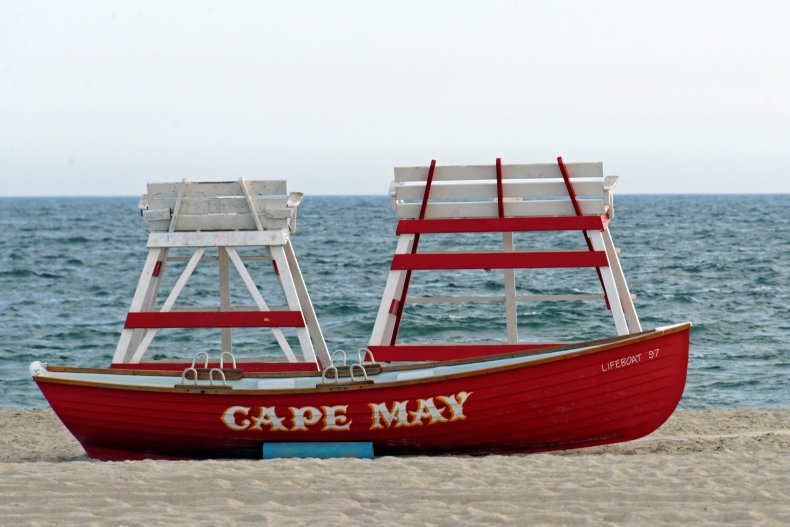 Cape May is situated on a hoof-shaped spit of land at New Jersey's southern edge.
Its enduring popularity is due, in part, to its pristine beaches, bustling promenade and all the usual amenities that make a seashore attractive to a wide variety of visitors.
Venice Beach
10 million annual visitors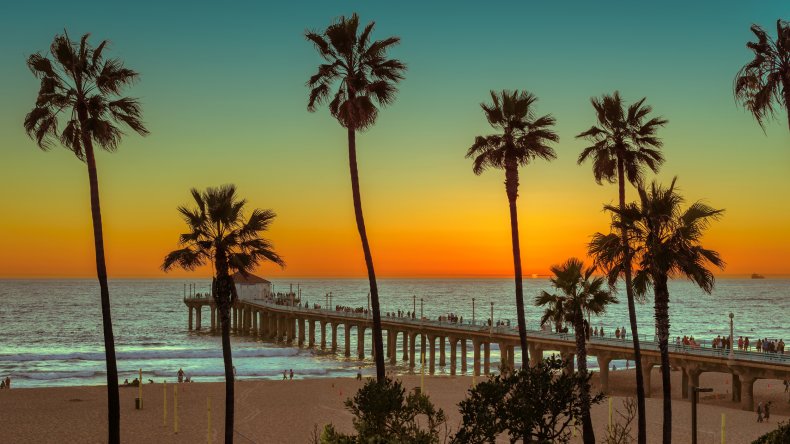 Venice is the busy Californian beach town perhaps best known for its rebellious and bohemian spirit.
This lively Los Angeles beach boasts miles of stunning sand, canals and a pedestrian promenade packed with performers, artists and foodie hot spots.
Fort Lauderdale Beach
8.8 million annual visitors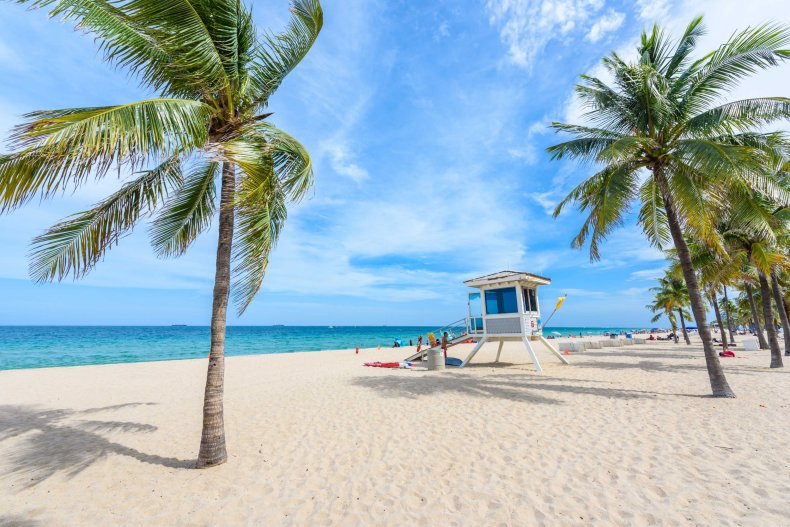 Florida's Fort Lauderdale is a beach is best suited to those wanting a more immersive water-based experience.
And in addition to parading along its landscaped beachfront promenade, visitors can also enjoy serene gondola rides on the canals and trips to the historic riverfront.
Santa Monica
8.4 million annual visitors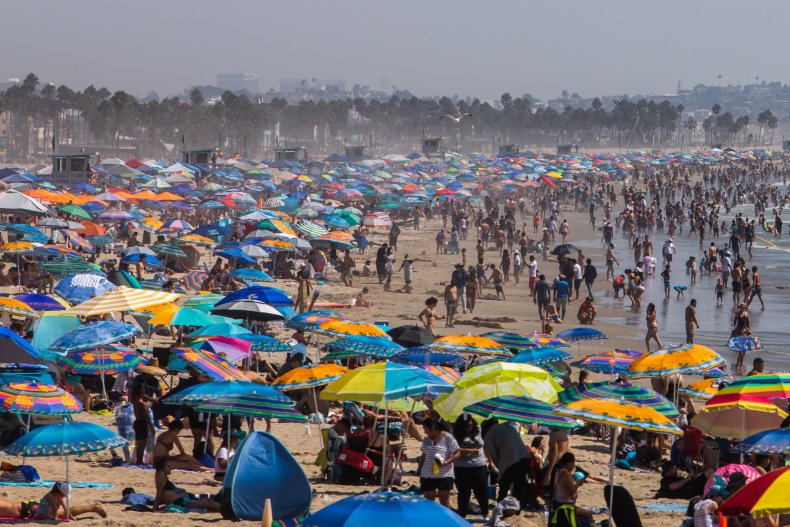 Santa Monica's pier, amusement park, retail promenade and Muscle Beach are just some of the reasons why overseas visitors love this Los Angeles beach.
Much of this 3.5-mile-long coastal stretch of downtown L.A. is also is within a short stroll to trendy hotels, hip shops and bars.
Ocean City
8 million annual visitors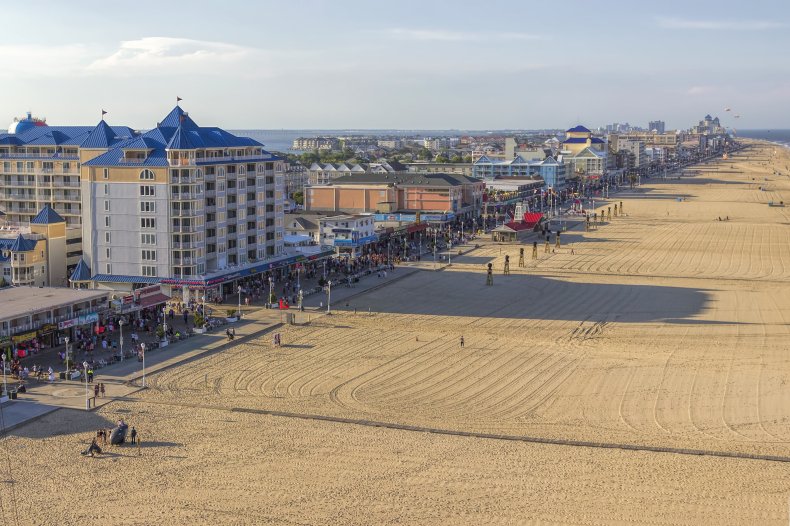 Ocean City, Maryland, is known for its distinctive beachfront boardwalk housing an amusement park, water park, mini-golf course and bars.
However, Ocean City also caters for fun-seeking young families, who can enjoy the generous stretches of sandy beaches.
Galveston
7.3 million annual visitors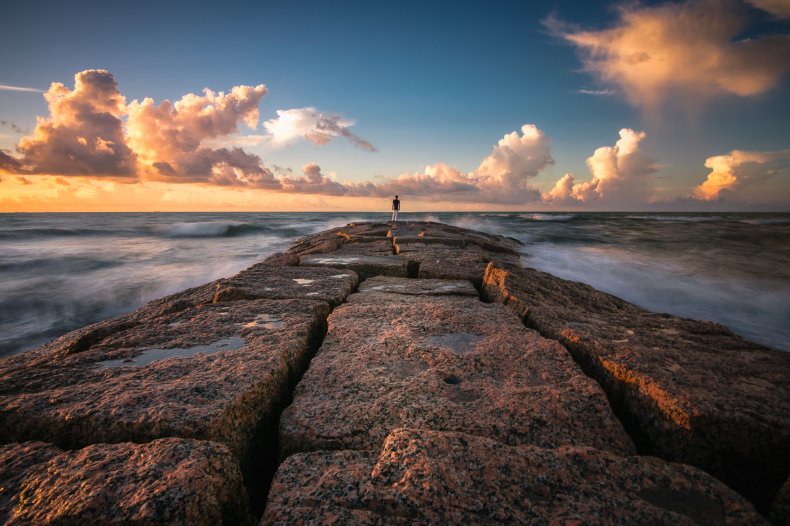 Boasting 32 miles of shoreline and a variety of parks, Galveston Island in Texas caters for every type of beachgoer.
The area is very attractive to those with families living in Houston, located just an hour's drive away, due to the wide range of beach-based options available to younger children.
Newport Beach
7.3 million annual visitors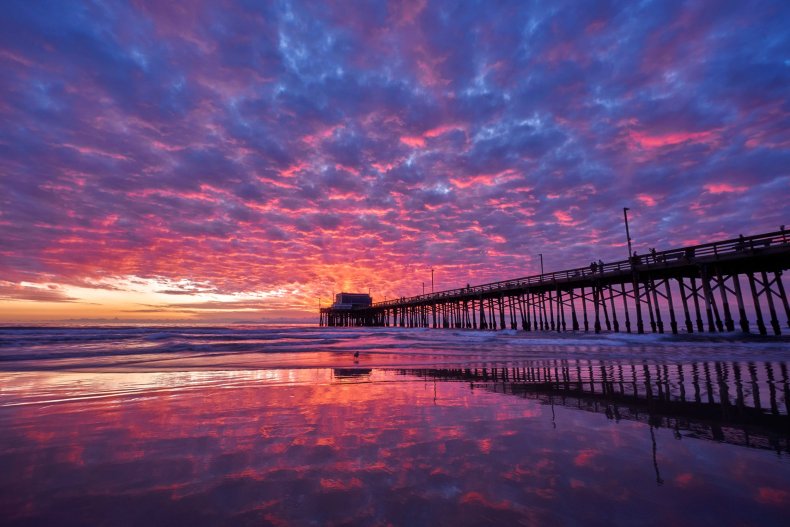 In addition to the enviable blend of radiant sun, sand and surf, California's Newport Beach also boasts a certain sophisticated charm
It should therefore come as no surprise how Newport attracts older visitors for the area's picturesque views of Californian sunsets and the largest recreational harbor on the west coast.
Gulf Shores
6.9 million annual visitors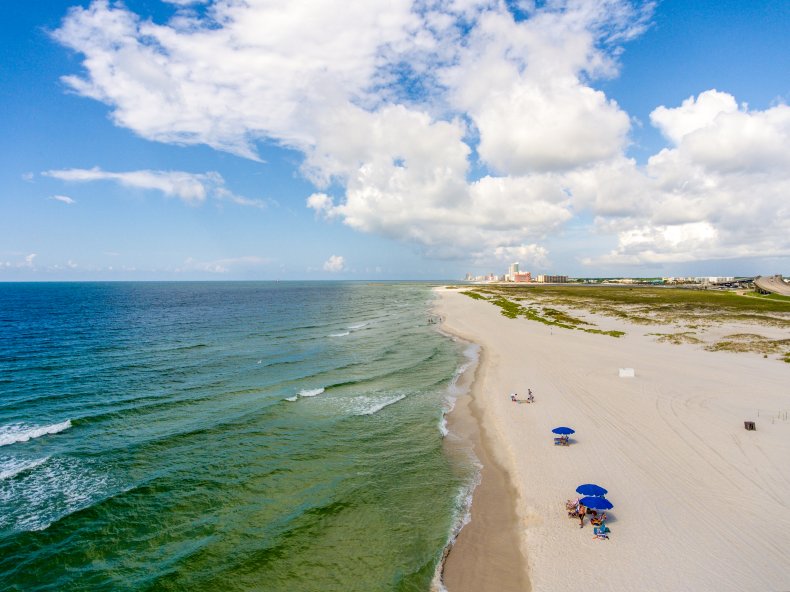 Despite arguably being best known for party central with Spring Break college kids, Alabama's Gulf Shores is a huge draw for the more mature visitor.
The beach boasts miles of perfectly pristine white sand and there is an abundance of wildlife surrounding miles of nearby hiking trails.
Miami Beach
6.8 million annual visitors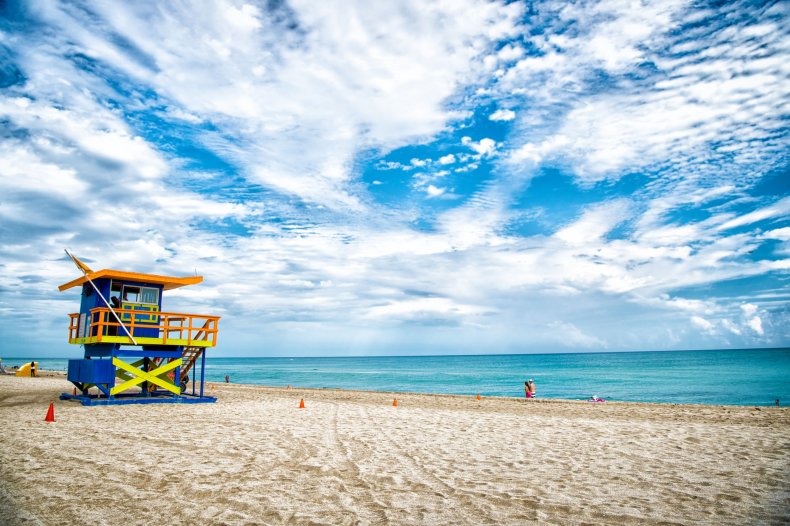 Miami Beach is the south Florida island city home to America's rich and wealthy.
While the area's blue waters are beautiful and the sand enticingly pristine, people-watching remains a popular pastime for many who visit Miami Beach.
South Beach
6.8 million annual visitors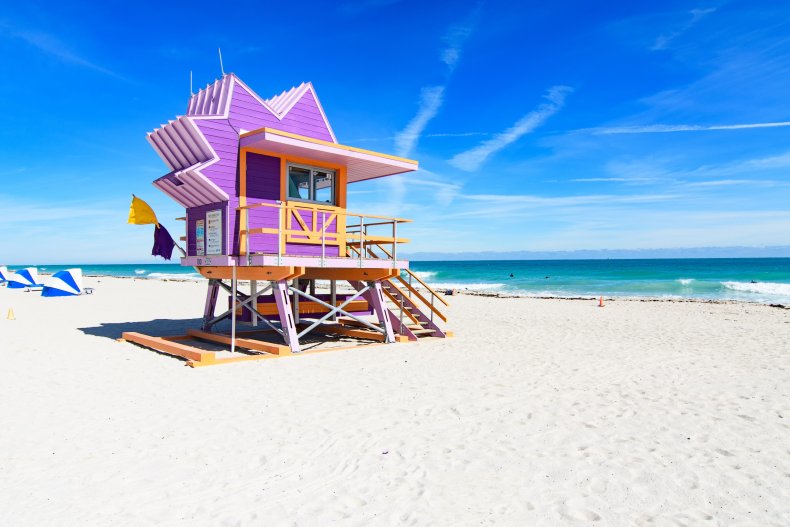 The nearby South Beach, also in Florida, is a huge draw for those looking for perfectly white sands and crystal clear coastal water.
This area has a distinctly grown-up appeal with a wide variety of nearby bars and restaurants, and topless sunbathing being permitted.
Waikiki Beach
5.8 million annual visitors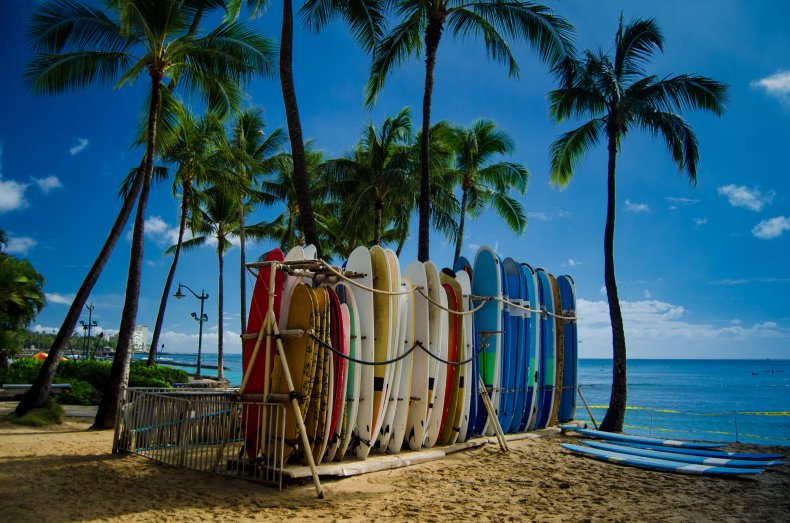 With its serene stretch of golden sand, Hawaii's Waikiki Beach is a popular destination for millions of tourists.
And although this stretch along Honolulu's southern shore is close to the airport and packed with chain hotels, some of Waikiki Beach's winning charm remains.
St. Augustine
5.3 million annual visitors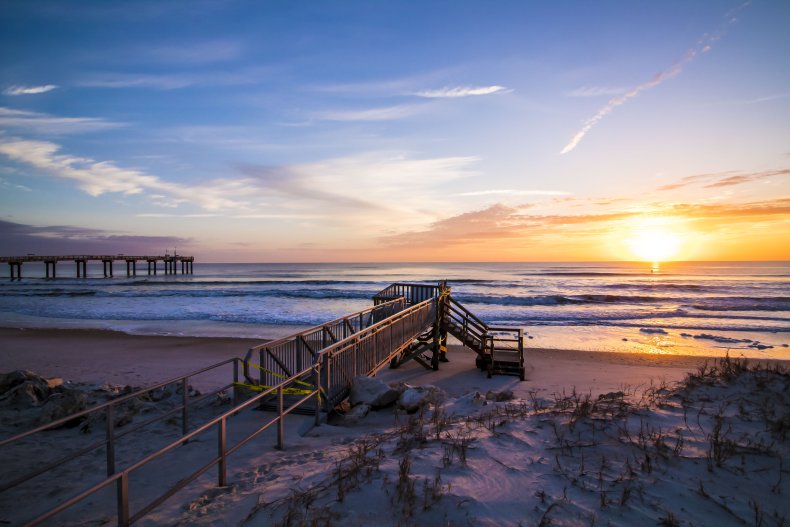 The inviting stretch of wide, Atlantic Ocean-facing beaches known as St. Augustine sit on Anastasia Island in Florida.
In addition to approximately 2 miles of white-sand beach and clear water, visitors can also enjoy sunny accommodation, tropical seaside restaurants and a beautiful beachfront park.
Coney Island
5 million annual visitors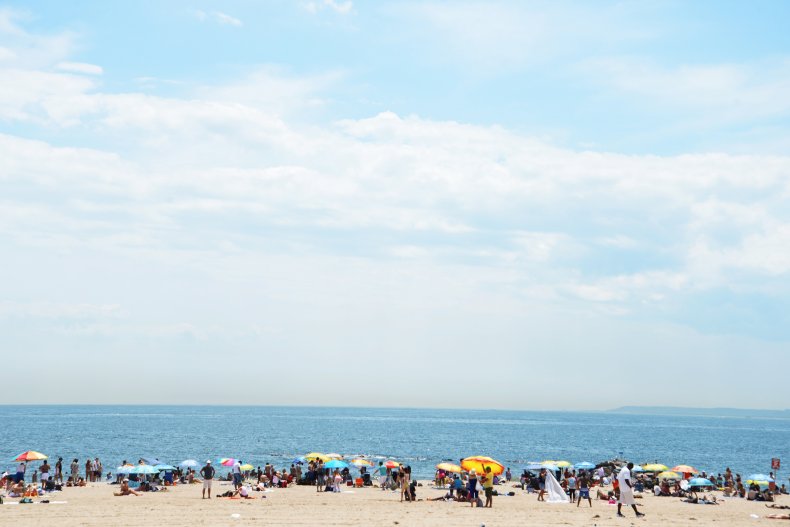 Coney Island has for generations offered a much-needed summer respite from the hectic and sweltering New York City.
In addition to almost 3 miles of sandy beaches, Coney Island also offers an enticing range of exciting recreational activities, amusement rides and boardwalk; while the lively neighbourhood of Brighton Beach is only a 15 minute walk away.
Monterey Beach
4.6 million annual visitors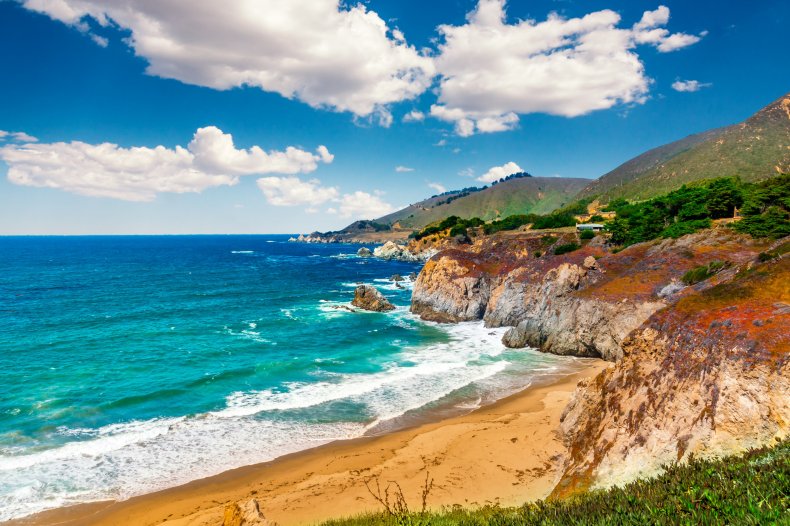 This coastal stretch of California boasts two miles of beautiful, sandy beach with unimpeded views of Monterey Bay.
There is also a quintessential north Californian ocean town nearby, while the bay is well known around the world for its abundance of superior fresh seafood.
Destin Beach
4.5 million annual visitors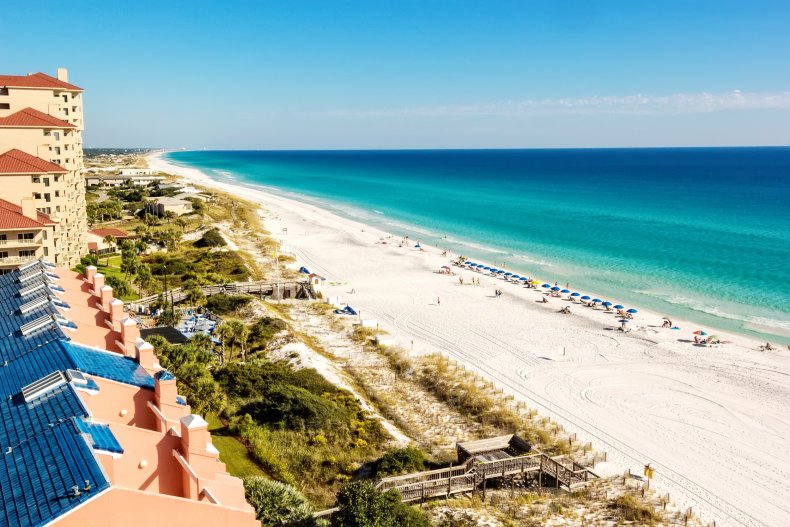 Florida's Emerald Coast, Destin is recognised for the Gulf of Mexico's clean, green water and beaches with fine, soft sand.
As a result, this destination is a popular option for everyone from beach-walkers young old and, while foodies also flock to the "world's luckiest fishing village."
Coast Guard Beach
4.1 million annual visitors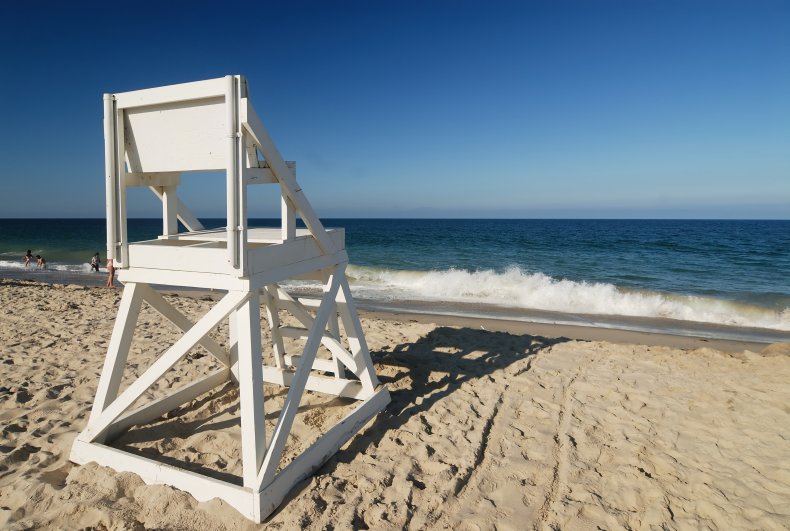 This coastal area of Cape Cod, Massachusetts, is often found in the top 10 on various lists of America's best beaches for good reason.
Coast Guard Beach is very popular with visitors due to its generous space, excellent disabled access—with a boardwalk running right to the water—and even the chance to catch sight of a seal.
Laguna Beach
3 million annual visitors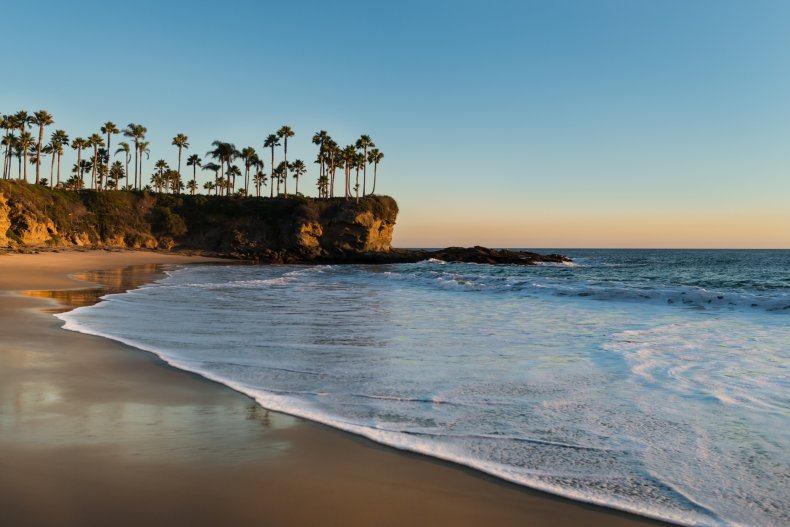 This most exclusive stretch of Californian coastline boasts a mild year-round climate, scenic coves and some of the finest beaches in the state.
And the nearby town of Laguna Beach is an added attraction, with an artistic atmosphere, with galleries, museums, and theaters.
Kaihalulu Beach
2.9 million annual visitors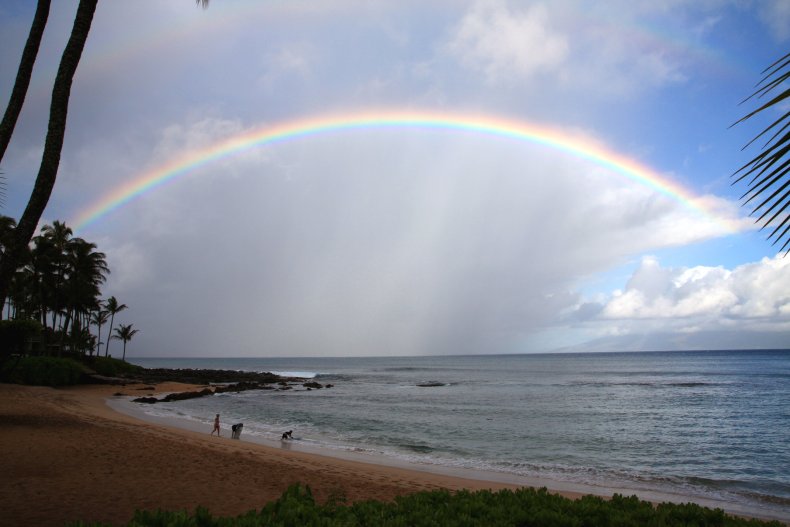 The crescent-shaped beach of Kaihalulu, also known as Red Sand Beach, earns its name for crimson-coloured lava cinder cliffs supplying the shore with its rusty-red sand.
This pocket beach located on Hawaii's Maui island is popular with visitors due to a natural sea wall protecting the bay from larger waves.
Napili Beach
2.9 million annual visitors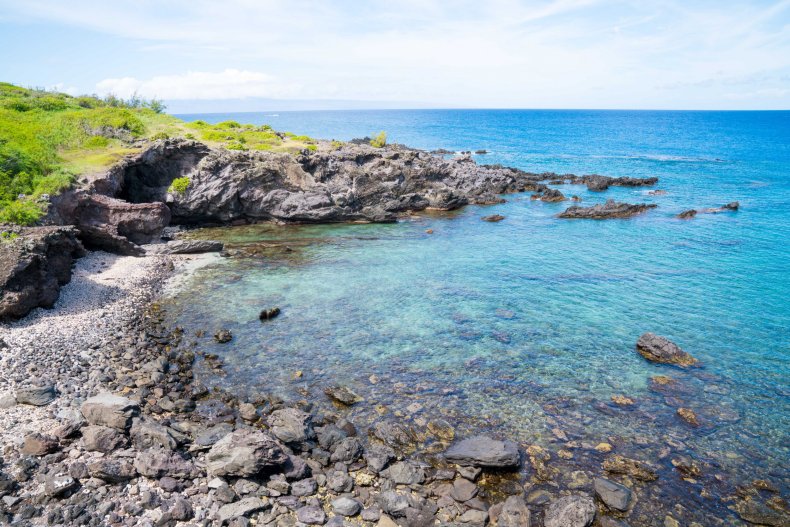 Napili's white sloping sand, emerald green water and superb swimming make this one of Maui's most visited beaches.
While the outer reefs of Napili Beach protect the shore from much swell directions, when large surf hits the sweet spot, there is an opportunity to enjoy some boogie board action Hawaii-style.
Hilton Head Beach
2.5 million annual visitors
The several beaches scattered across South Carolina's Hilton Head Island are prized for providing unobstructed access to beautiful Atlantic waters.
From wide open white sandy spaces to a beach park promising a variety of local wildlife, Hilton Head caters for both young families and older explorers alike.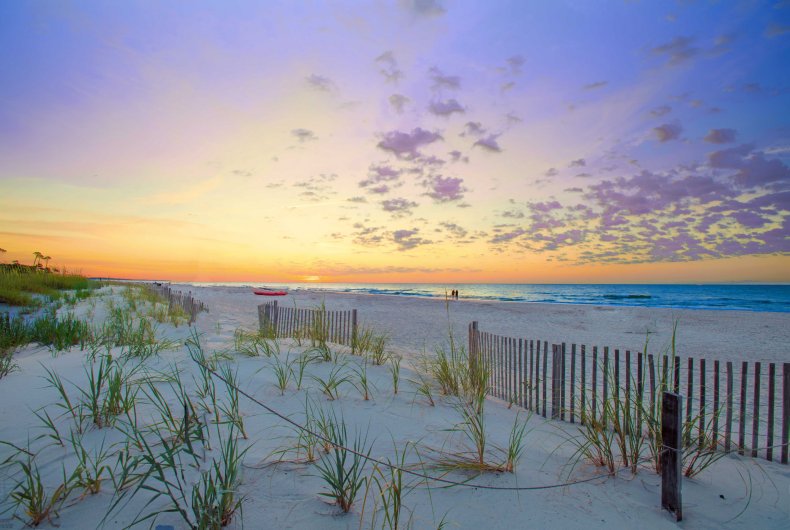 Correction 4/5/21, 7:17 a.m. ET: This article has been corrected to state St. Augustine beach is in Florida. An image of Santa Monica beach has been added.