Ice cream can be traced back as far as 3,000 BC to ancient China where crushed ice was flavored with fruit juices.
Explorer Marco Polo is often credited with discovering their method on his travels and introduced the tasty treat upon his return to Italy.
It was only in the 1700s when ice cream was introduced to America, as a delicacy enjoyed by the elite. The States' love affair with gelato has shown no signs of slowing.
The sundae was created in the 1880s and the waffle cone reportedly made its debut at the "World's Fair" in St Louis, Missouri, in 1904.
In 1984, then-President Ronald Reagan even designated July as "National Ice Cream Month" and the month's third Sunday as "National Ice Cream Day."
So what are Americans' favorite flavors? To help find the answer, YouGov surveyed approximately 20,000 adults in the U.S. in a poll released in July 2020.
While the most popular flavors may not be a surprise, it may shock some three percent of participants claim not to eat the frozen food.
Somewhat less surprisingly the same proportion simply couldn't pick one favorite.
=13. Birthday Cake/Cake Batter
Two percent picked as their favorite
Although recipes for this ice cream type vary, this is generally vanilla-flavored nougat and colorful sprinkles covered in rich milk chocolate.
=13. Neapolitan
Two percent
Also called harlequin ice cream, the Neapolitan is a type of ice cream composed of three separate flavors (vanilla, chocolate, and strawberry).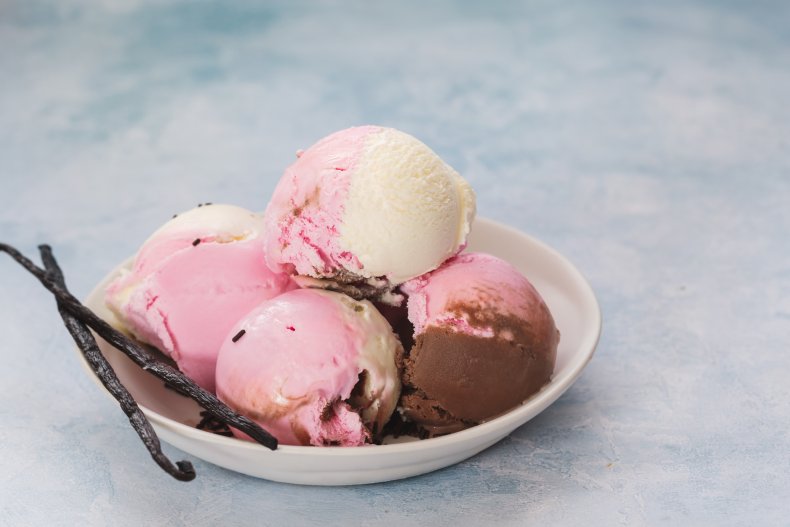 =11. Chocolate chip
Three percent
This flavor's popularity dropped one percent from an earlier YouGov poll in 2018.
= 11. Pistachio
Three percent
This distinctively green ice cream flavor is sought out for its subtle hints of savory nuttiness, was slightly less popular from the 2018 poll, falling from five percent.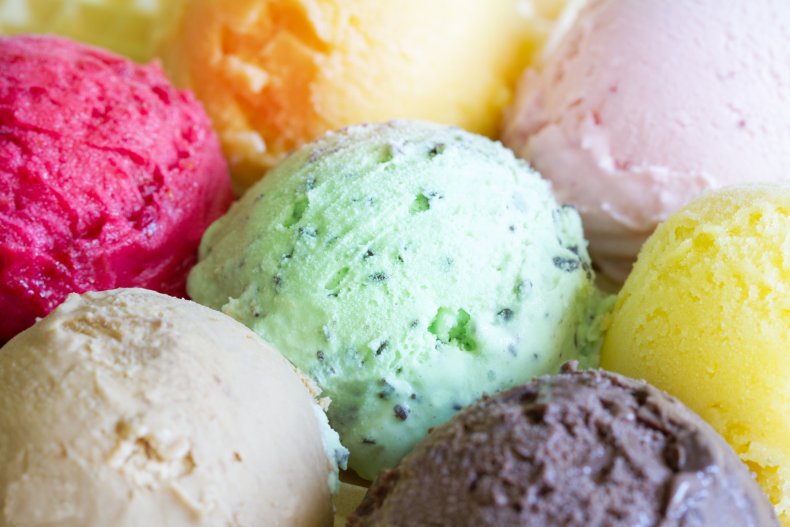 =9. Coffee
Four percent
A new entry. This frozen hit of caffeine did not even feature in the 2018 poll.
=9. Rocky Road
Four percent
The world's first widely available flavor. It's popularity dropped by one percent since the 2018 survey.
=7. Chocolate chip cookie dough
Six percent
This vanilla ice cream packed with chunks of chocolate chip cookie dough and chocolatey chunks has remained as popular compared with the 2018 poll.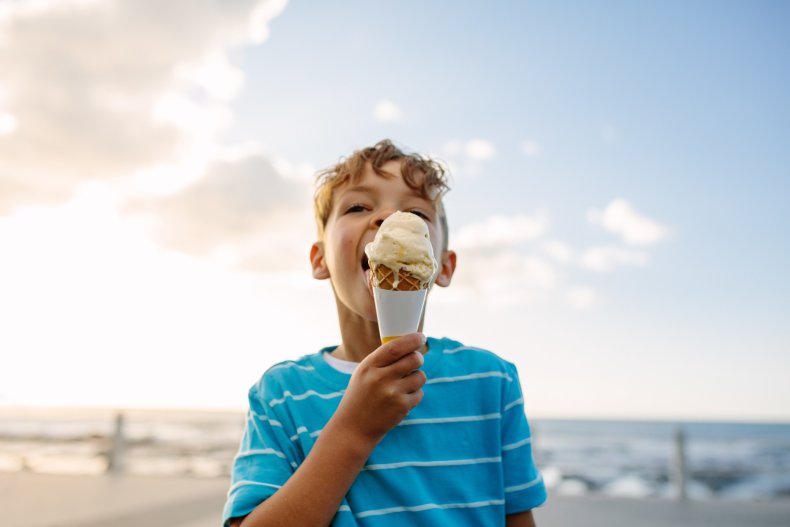 7. Cookies n Crème
Six percent
This flavor, which was reportedly invented at South Dakota State University in 1979, fell two percent in popularity since 2018's poll.
=3. Other
Eight percent
With incarnations including sorbet, gelato and soft serve, it is little wonder some people surveyed expressed a preference for other ice cream flavors.
=3. Mint chocolate chip
Eight percent
This flavor, recognised for its deliciously cooling properties, has retained its popularity among those polled.
=3. Butter Pecan
Eight percent
Roasted pecans, butter, and vanilla flavor combine to create this extremely popular ice cream. However, its draw could be waning; 11 percent picked it as their favorite in 2018.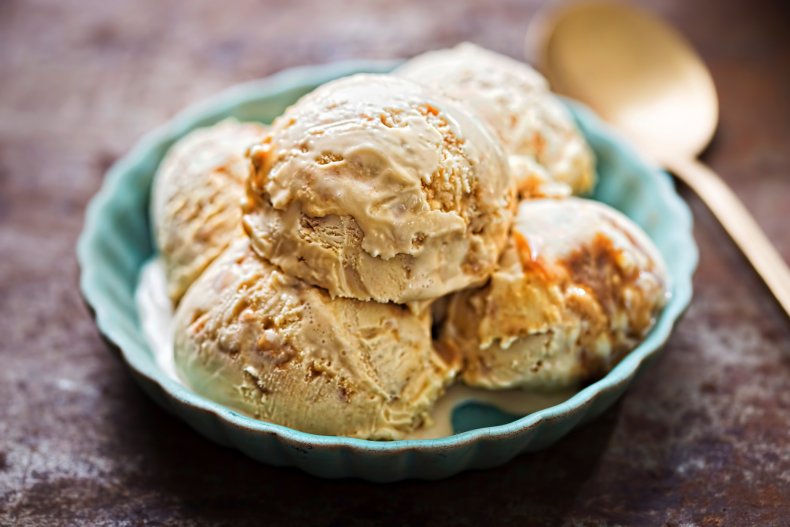 3. Strawberry
Eight percent
This is the most most popular of the fruit-based flavors of the frozen treat, which was only chosen by six percent in the previous poll.
2. Vanilla
15 percent
This flavor deserved from the spice originating from Madagascar and Indonesia. Simple but sensational, its popularity jumped two percent from the 2018 YouGov poll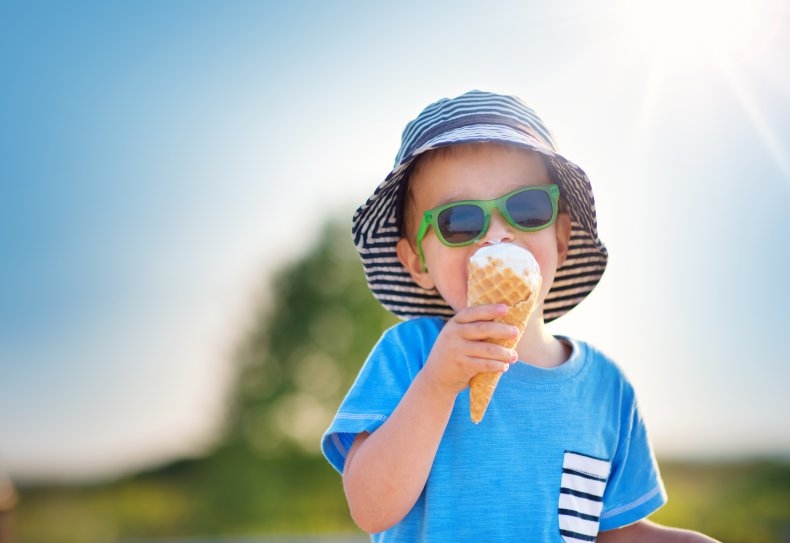 1. Chocolate
17 percent
The most popular flavor among U.S. adults is the classic chocolate ice cream, with around one in six respondents picking it as their favorite flavor.
Additional polling from YouGov revealed the most popular topping is hot fudge, with 31 percent saying this is their favorite ice cream topping.
Some 17 percent of respondents chose caramel, while eight percent selected sprinkles.
When it comes to cup versus cone, however, Americans are divided: 36 percent say they usually order a cup, but the same proportion who preferred a cone.
And approximately a quarter (26 percent) say they sometimes order a cone and sometimes order a cup.
The 2018 survey also revealed how, when given the choice between traditional ice cream, or low-calorie alternatives, 69 percent preferred traditional ice cream, regardless of the respondents' age or where in the U.S. they lived.
When asked about alcohol-infused ice cream, more than half of people (52 percent) said they had not tried it, and had no interest in trying it.
Finally, 35 percent said that they had not tried it, but would be interested, while only 8 percent of people said they had tried alcohol-infused ice cream.