'Most Popular Proposal': Stimulus Check Threshold That Cuts Off 16 Million Opposed by Progressives
Progressive lawmakers on Wednesday expressed opposition to President Joe Biden's decision to endorse a plan from moderate Democrats to further limit the income eligibility for the $1,400 stimulus checks in his $1.9 trillion economic relief package.
Under the new agreement, individuals earning less than $75,000 and couples earning less than $150,000 would still qualify to receive the full direct cash payment. But individuals earning over $80,000 and couples earning over $160,000 would be completely phased out. Before the deal, individuals earning under $100,000 would receive a lesser payment.
The Institute on Taxation and Economic Policy, a left-leaning think tank, has estimated that the amendment would cut off around 11.8 adults and 4.6 million children from receiving the checks. Kyle Pomerleau, a fellow of the American Enterprise Institute, a right-leaning think tank, estimated that the amendment trims the overall bill by roughly $15-20 billion and would leave out 8.7 million households.
Progressives, who have pushed for more checks and greater aid to struggling Americans, harshly criticized the decision to limit the "most popular proposal," but stopped short of saying they'd oppose the overall bill because of it.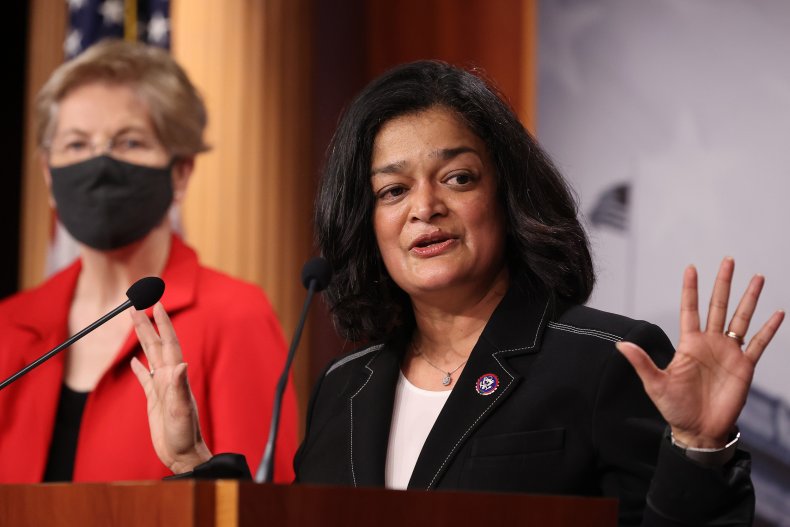 "I don't like that this is being narrowed. I feel like the survival checks are the easiest, simplest, most popular... proposal," said Rep. Pramila Jayapal of Washington, chair of the Congressional Progressive Caucus. She added that she wanted to look more closely at the details before making a decision on her position.
Senator Maria Cantwell of Washington said, "I think the package as it was originally crafted is good to go."
Rep. Alexandria Ocasio-Cortez of New York condemned the moderate Democrats who pushed for the move, which she believes makes no sense.
"Conservative Dems have fought so the Biden admin sends fewer & less generous relief checks than the Trump admin did," she tweeted. "It's a move that makes little-to-no political or economic sense, and targets an element of relief that is most tangibly felt by everyday people. An own-goal."
"I don't like it, many others don't like it. But we knew that going in, that the president's relief plan was not going to get 100 percent of what we want," Rep. Maxine Waters of California said, according to The Hill. "We knew that there probably was going to be a little give and take somewhere. And that may be it. And if so, we've got to live with it."
Rep. Mark Pocan of Wisconsin, who formerly led the Congressional Progressive Caucus," expressed hope that Democratic leaders would refrain from "screwing too many things up."
"At some point, I think people are getting big heads over there—the one or two people that can hold things up—and because of it they'll negotiate anything stupid just to say they negotiated," he said.
Newsweek reached out to Senate Majority Leader Chuck Schumer for comment.