Most Recovered COVID-19 Patients Left With Heart Damage, Study Shows
A new study published Monday in the JAMA Cardiology Journal found that 78 percent of recovered COVID-19 patients had permanent heart damage.
The study from the University Hospital Frankfurt examined the cardiovascular MRIs of 100 people who had recovered from the coronavirus. The heart images showed that almost 80 percent of recovered COVID-19 patients had structural changes to their hearts.
Sixty percent of patients had ongoing myocardial (heart muscle) inflammation even after recovery.
The majority of the patients were not hospitalized and recovered at home, with symptoms ranging from none to moderate.
Dr. Valentina Puntmann, who led the study, told STAT that even though coronavirus is not strongly associated with heart symptoms, the muscle is showing to play a major role in battling the virus.
"The fact that 78 percent of 'recovered' [patients] had evidence of ongoing heart involvement means that the heart is involved in a majority of patients, even if COVID-19 illness does not scream out with the classical heart symptoms, such as anginal chest pain," she said. "In my view, the relatively clear onset of COVID-19 illness provides an opportunity to take proactive action and to look for heart involvement early."
An earlier study from March found cardiac injury in 19 percent of hospitalized patients in Wuhan, China, where the first case was diagnosed.
While the long-term effects of the virus remain unknown, these studies suggest that there are detrimental effects to cardiovascular systems to those infected, even after recovery.
Those with pre-existing health conditions are also known to be a vulnerable population in the ongoing health crisis. Individuals who suffer from high blood pressure, coronary artery disease or heart failure have notably been at higher risk of infection and death.
As more becomes known about the coronavirus, there have been reports of lingering symptoms or prolonged infections. In one case, a Texas teen has reportedly had COVID-19 for 54 days, testing positive three times as her symptoms persisted. Most patients are expected to recover within two weeks, according to the World Health Organization.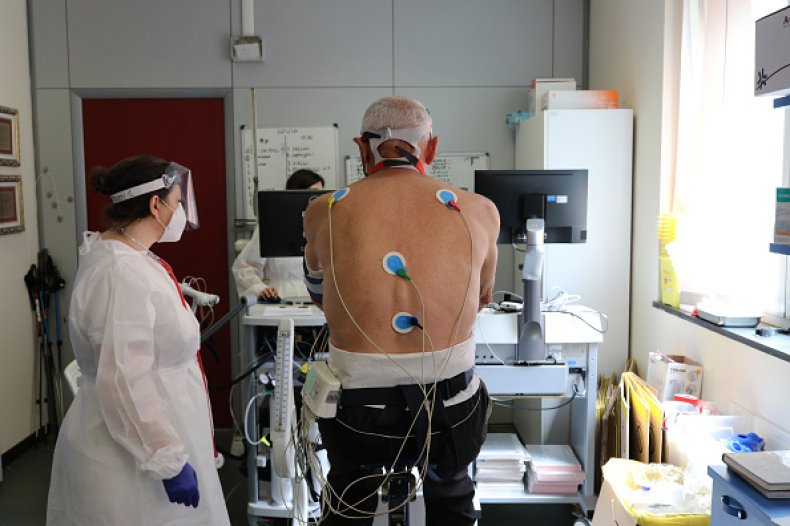 Other early studies have indicated other possible long-term effects of the virus may include blood clotting, strokes, lung damage and neurological symptoms, such as loss of smell or taste.
The most immediate impacts of COVID-19 have been on the respiratory system. Those with severe cases of coronavirus have faced life-threatening pneumonia. About 20 percent of infected patients required hospitalization to treat pneumonia, according to a study in the European Respiratory Journal.
Columbia professor of epidemiology Stephen Morse told Newsweek that some of these long-term impacts may not be surprising but it is extremely difficult to predict when correlation is strong enough to become cause-and-effect.
"We're still wondering what's going to happen to all those children who have circulatory diseases and get better. Will they have some long-term effect?" Morse said. "In those situations, we're paying much closer attention than we usually do because we have some experience with coronavirus."
As of Wednesday, July 29, more than 16 million confirmed cases have been reported worldwide, according to data from a Johns Hopkins University tracker. Of those infected, 9,807,900 have recovered from COVID-19 globally.
As positive cases began to rise again in Spain, Belgium and the Netherlands, Europe fears a second wave of coronavirus cases. Several countries in Asia have also seen a resurgence of infections. On Wednesday, China reported its highest number of new daily cases since April.
Across the U.S., which is still in its first wave of the virus, a number of states have emerged as global hot spots after dramatic spikes in cases forced officials to rollback reopening. The U.S. has reported more confirmed cases of COVID-19 than any other country.