Most Republican Presidential Candidates Viewed Negatively, Researchers Find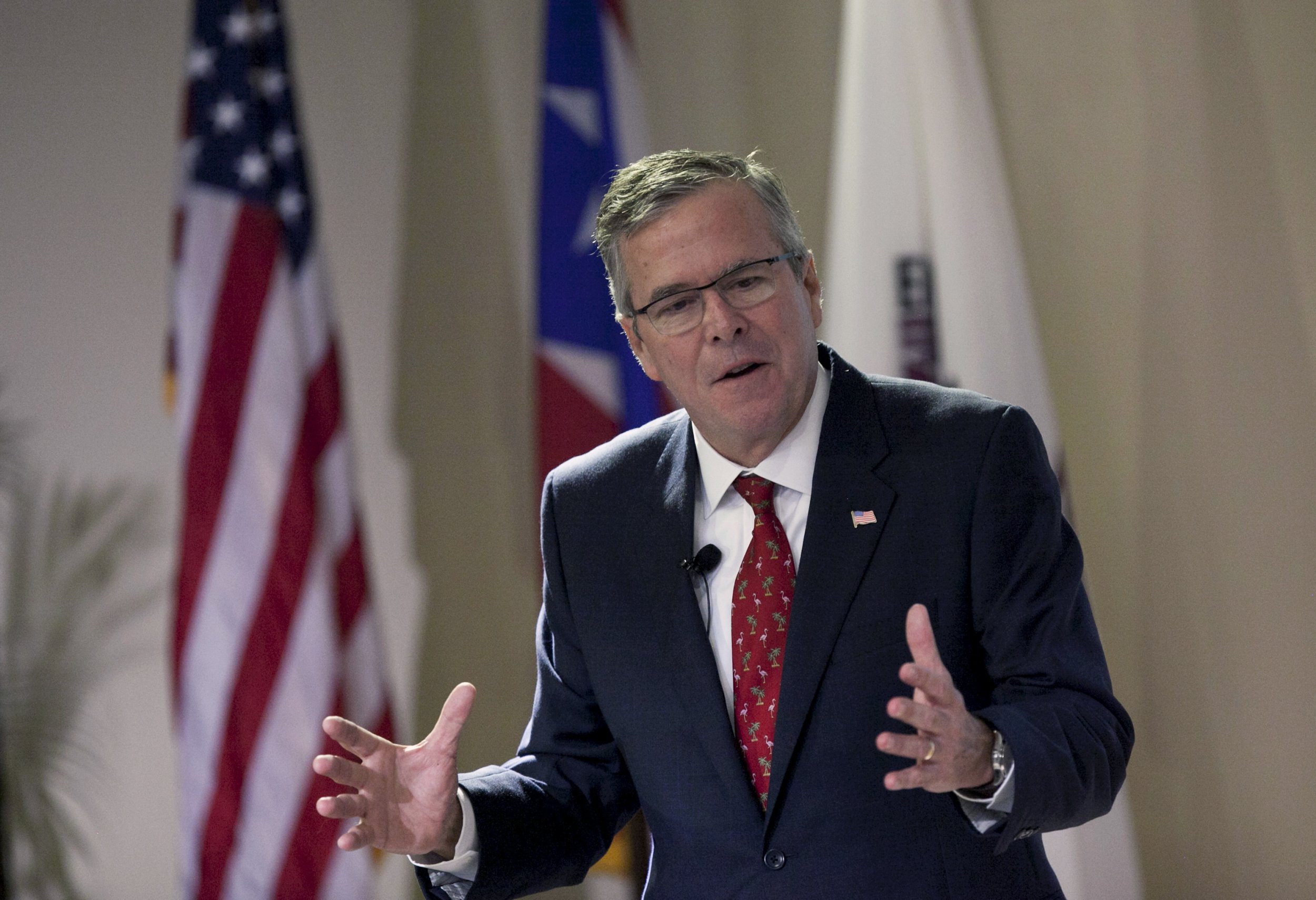 Hillary Clinton divides American voters; this much we know. It's been well documented by 2016 polling, which shows a high percentage of people view her positively, while almost as many regard her negatively. But Clinton isn't the only one with high negatives.
Almost all the Republican candidates—declared or considering—have negative ratings as high or higher than their positive ratings. They're far less well known than Clinton, and it's striking that among those who do know them, there are plenty who don't like what they see.
Take the AP-GfK poll released last week. Forty-six percent of those polled rated Clinton favorably, to 41 percent unfavorably. Yet she was the only candidate with a net positive rating. (Dr. Ben Carson, Vermont Senator Bernie Sanders and former Virginia Senator Jim Webb were within the margin of error.) Former Florida Governor Jeb Bush had a net rating of negative 7 (29 percent favorable, 36 percent unfavorable). Texas Republican Senator Ted Cruz: negative 14. Fellow GOP Senator Marco Rubio of Florida: negative 4. All "upside-down" or "underwater," in pollster-speak. This is important because in politics, as in life, first impressions can be difficult to overcome.
A new George Washington University poll and recent ones from Wall Street Journal/NBC and New York Times/CBS found similarly high negatives for Bush, Rubio, Cruz and other GOP contenders.
That's a departure from eight years ago. Among the candidates lining up for a chance to succeed George W. Bush in the spring of 2007, all but a few started with the benefit of the doubt. In a USA Today/Gallup poll from early May 2007, only former Wisconsin Governor Tommy Thompson was rated more negatively than positively, and that was within the margin of error. A CBS poll the same month, meanwhile, found voters had more negative views of Arizona Senator John McCain and Clinton, who was making her first run for the White House. Former Massachusetts Governor Mitt Romney was within the margin of error.
That changed in the 2012 race, with high-profile, but not necessarily highly popular, figures like former Alaska Governor Sarah Palin, former House Speaker Newt Gingrich and businessman Donald Trump all vying or considering vying for the GOP nomination. All three brought high negatives to the table.
That trend seems to be even more pronounced, though, early on this cycle, and it may have something to do with the increasing divisiveness of our politics, more generally.
Stanford political science professor Shanto Iyengar, who studies political polarization, says that growing negativity toward political candidates, even candidates the public doesn't know very well, is "definitely something one would anticipate" given hardening attitudes among partisans on each side. "People go in...automatically opposed" to politicians given the "R" or "D" by their name, thanks to the growing social and political divide between Americans based on party identification.
Researchers have found this kind of built-in negativity to be on the rise since the mid-1980s, Iyengar says, a result, he and others theorize, that's been driven in part by the rise in negative advertising. Iyengar expects it to be heightened by the fragmenting media environment, as Americans can now increasingly envelop themselves in partisan echo chambers on television and online. He's in the midst of research on that right now.
One upshot: Running to the center in the general election isn't quite the campaign holy grail it once was. Candidates are increasingly trying to sharpen the differences between one another to raise money and rally their base voters. "Generally, campaigns in the United States have become more organized strategically around mobilization, attracting supporters and getting them to the polls than trying to convert independents or moderates or weak identifiers on the others' side," notes professor Michael Traugott, an expert on public opinion at University of Michigan. It all just further feeds into the cycle of negativity.
So if high negatives are becoming the new norm in national politics, maybe Hillary Clinton isn't such an anomaly, after all. Perhaps she should just focus on energizing loyal Democrats and not sweat all the Republicans who vehemently despise her. Well, it's not that simple. Because as Bill McInturff of the Republican polling company Public Opinion Strategies points out, intensity is a double-edged sword.
In the latest NBC/Wall Street Journal poll, which McInturff's outfit conducts with Democratic partners Hart Research Strategies, 32 percent of voters felt "very negative" toward Clinton, which is extremely high for this point in an election cycle. And loathing can be as powerful a motivator for voters as love. No other aspiring 2016 candidate inspires the level of intensity voters feel about Clinton. Before long, they may start to feel the same about other candidates too.