Most Republicans Would Support Trump in 2024, With DeSantis in Distant Second: Poll
A new poll found Donald Trump would still win over most Republican voters in a hypothetical 2024 matchup.
In the latest Reuters/Ipsos survey, released Wednesday, 54 percent of Republican voters said they would back Trump as the party's nominee for the next presidential election cycle.
Florida Governor Ron DeSantis ranked a distant second, with 11 percent of Republican voters saying they'd cast their ballot for him. DeSantis, a vocal critic of mask and vaccine requirements amid the coronavirus pandemic, has become a prominent figure in the GOP.
Other conservative figures featured in the poll were former Vice President Mike Pence, who garnered 8 percent support from voters, and former United Nations Ambassador Nikki Haley, who received 4 percent.
Texas Senator Ted Cruz, Texas Governor Greg Abbott, Florida Senator Marco Rubio, former New Jersey Governor Chris Christie, former Secretary of State Mike Pompeo and Missouri Congressman Josh Hawley all ranked below Haley.
While DeSantis has emerged as one of the most popular Republican politicians, the governor has brushed aside questions about a possible White House run. In October, DeSantis announced he was seeking re-election in 2022.
"I'm not considering anything beyond doing my job," he told Fox News host Sean Hannity. "We've got a lot of stuff going on in Florida."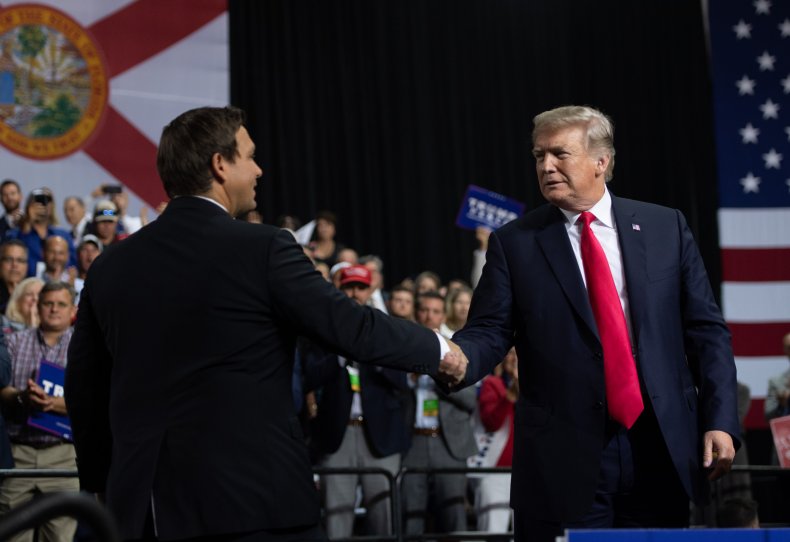 Trump has floated the possibility of bringing DeSantis onto his ticket if he decides to run again. But in a head-to-head primary matchup, Trump said in October that he'd defeat the governor.
"If I faced him, I'd beat him like I would beat everyone else," Trump told Yahoo. The former president added that he believes if he runs, other candidates—DeSantis included—would "drop out."
DeSantis critics have slammed the governor in recent days as COVID-19 cases spike due to the spread of the Omicron variant. After breaking their single-day case record three times in one week, the Sunshine State has now surpassed four million total cases since the pandemic began.
DeSantis was last spotted in mid-December as he announced a new monoclonal antibody treatment to prevent COVID-19.
A spokesperson for DeSantis told Newsweek Wednesday that the governor and the Florida Department of Health are monitoring the Omicron surge but emphasized that any mask or vaccine requirements "are off the table."
The Reuters/Ipsos poll found that nearly three-quarters of Americans are concerned about COVID-19 amid the emergence of Omicron.
Reuters/Ipsos surveyed 4,407 adults between December 13 and December 17. The poll's margin of error was plus or minus 1.7 percentage points.
Newsweek reached out to Trump's political action committee and DeSantis's campaign for comment.