Most Residents in Mississippi's Biggest City Without Water, No Timeline for Repair
Most residents in Jackson, Mississippi—the state's largest city—are without water as extreme cold has put stress on its aging pipes and water reserves. While the city has begun distributing drinking water, the mayor has said there's "no definitive timeline" for when the problem will be fixed.
On Friday, Jackson Mayor Chokwe Antar Lumumba said that most of the city's 166,000 residents are without water. Public Works Director Charles Williams noted that cold water temperatures at the Ross Barnett Reservoir caused equipment at the O.B. Curtis Water Treatment Plant to fail. The failure resulted in a loss of water pressure citywide.
The cold weather has caused at least 13 water mains to burst, and more ruptures are expected as the ice melts. Warmer temperatures cause the ground shift, often breaking aging pipes underground, Williams said. City utility workers have been driving around to try and spot more busted pipes, he added, but snow and ice have made the job difficult.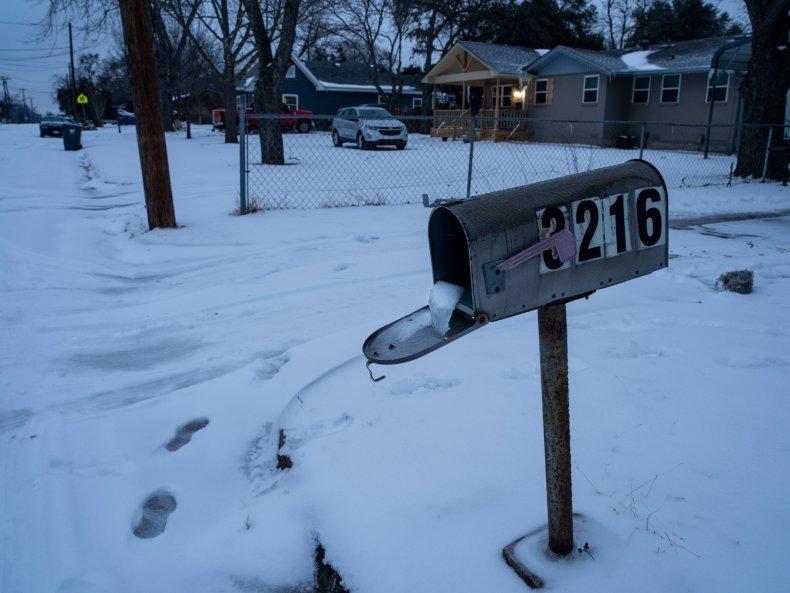 Public works crews are laboring around the clock to refill the city's tanks and re-establish water pressure, Lumumba said. However, the city is also running out of chemicals needed to treat the water. Icy road closures have prevented deliveries of additional supplies, the mayor said.
Because the cold weather has driven most residents indoors, there is a higher demand for water than usual, putting additional stress on the city's reserves, Williams said. Additionally, the city has instructed over 43,000 residents to boil their water as a precautionary measure until further notice, WAPT reported.
"It's a very expensive system to repair. It is expensive to change out hundred-year-old pipes that will cost literally more than a billion dollars to replace our entire system," Lumumba said on Thursday. "The only remedy that we have is time. Time to fill those tanks, time for the ice to melt so that we can make the repairs to the breaks within the pipes and the distribution system all across the city."
As of Thursday, 18,000 to 19,000 residents also were without electricity after freezing rain caused tree limbs to fall onto power lines.
The city is distributing potable and non-potable water in at least seven locations across Jackson, but the sites require residents to bring their own containers for filling.
When asked if the water issues could have been avoided, Lumumba told reporters, "Our infrastructure was not (designed) to endure the types of temperatures we've endured, especially for the timeframe we've endured these temperatures."
Newsweek contacted Lumumba's office for additional comment.