Most San Francisco Dems Favor Ousting Progressive DA Over Crime Spike: Poll
A new poll shows Democrats in one of California's biggest cities supports the recall of their district attorney amid an increase in crime.
With about three months until a vote that could remove San Francisco's District Attorney Chesa Boudin from office, a new poll shows bad news for Boudin.
The poll conducted by EMC Research examined support for the June 7 recall election for Boudin and found widespread support for his removal from office, even among Democrats.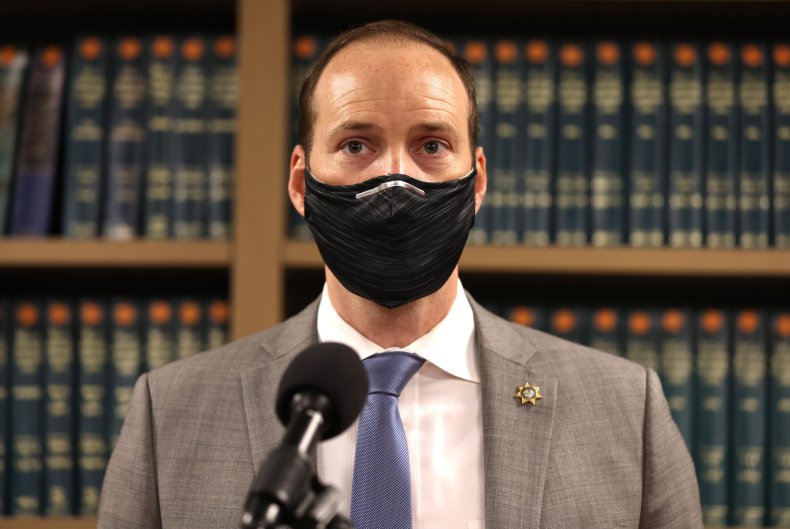 In 2021, San Francisco saw an increase of homicides, aggravated assaults and car break-ins, NBC Bay Area reported, in addition to an overall increase in gun violence in the city.
Murders have been on the increase since 2019. Last year, San Francisco experienced 56 homicides compared to 48 in 2020 and 41 in 2019, as reported by NBC BayArea.
When it comes to aggravated assaults in San Francisco, there were more than 2,380 in 2021. However, the year before, 2020, there were 2,183 incidents of aggravated assault.
The Los Angeles Times reported that some think the city has become a "lawless place."
According to the poll, nearly 70 percent of likely primary voters support the effort to remove Boudin. When it comes to registered Democrats, the poll found that 64 percent are in favor of the recall election.
The poll also found that nearly 75 percent of voters in San Francisco are unhappy with Boudin's job performance. When asked if they agreed or disagreed that Boudin is "keeping San Francisco safe," 73 percent disagreed with that statement.
In November of 2019, Boudin announced that the city would no longer criminally prosecute those accused of prostitution and public urination.
Prior to taking office, Boudin posted a statement on social media that there could "be no justice when we utilize prison and jail as the solution to all our problems." That statement also added that "We must think differently."
NBC Bay Area also reports that more than 50 lawyers have either been fired or quit their jobs since Boudin was elected in November 2019.
Two of those people who were quit and were both prosecutors—Brooke Jenkins and Don Du Bain—have actually joined the effort to remove their former boss from office.
Jenkins said she does not agree with the direction in which Boudin has taken the office.
"Chesa has a radical approach that involves not charging crime in the first place and simply releasing individuals with no rehabilitation and putting them in positions where they are simply more likely to re-offend," she told NBC Bay Area.
Both told the station that Boudin's actions since assuming the position of district attorney have only served to further endanger San Francisco and its citizens. They accused him of opting for light sentences and letting offenders out early. In some cases, they continued, he'd decide against charges even when there would be evidence warranting such actions by the district attorney.
Former prosecutor du Bain also didn't hold back in his criticism of Boudin's job performance.
"He basically disregards the laws that he doesn't like, and he disregards the court decisions that he doesn't like to impose his own version of what he believes is just—and that's not the job of the district attorney," du Bain told NBC Bay Area.
The EMC Research poll asked the opinions of 800 likely voters in San Francisco via telephone, email and through a text-to-web survey. The poll was conducted between February 17 and 21.
Newsweek reached out to Boudin's campaign for comment but did not hear back before publication.