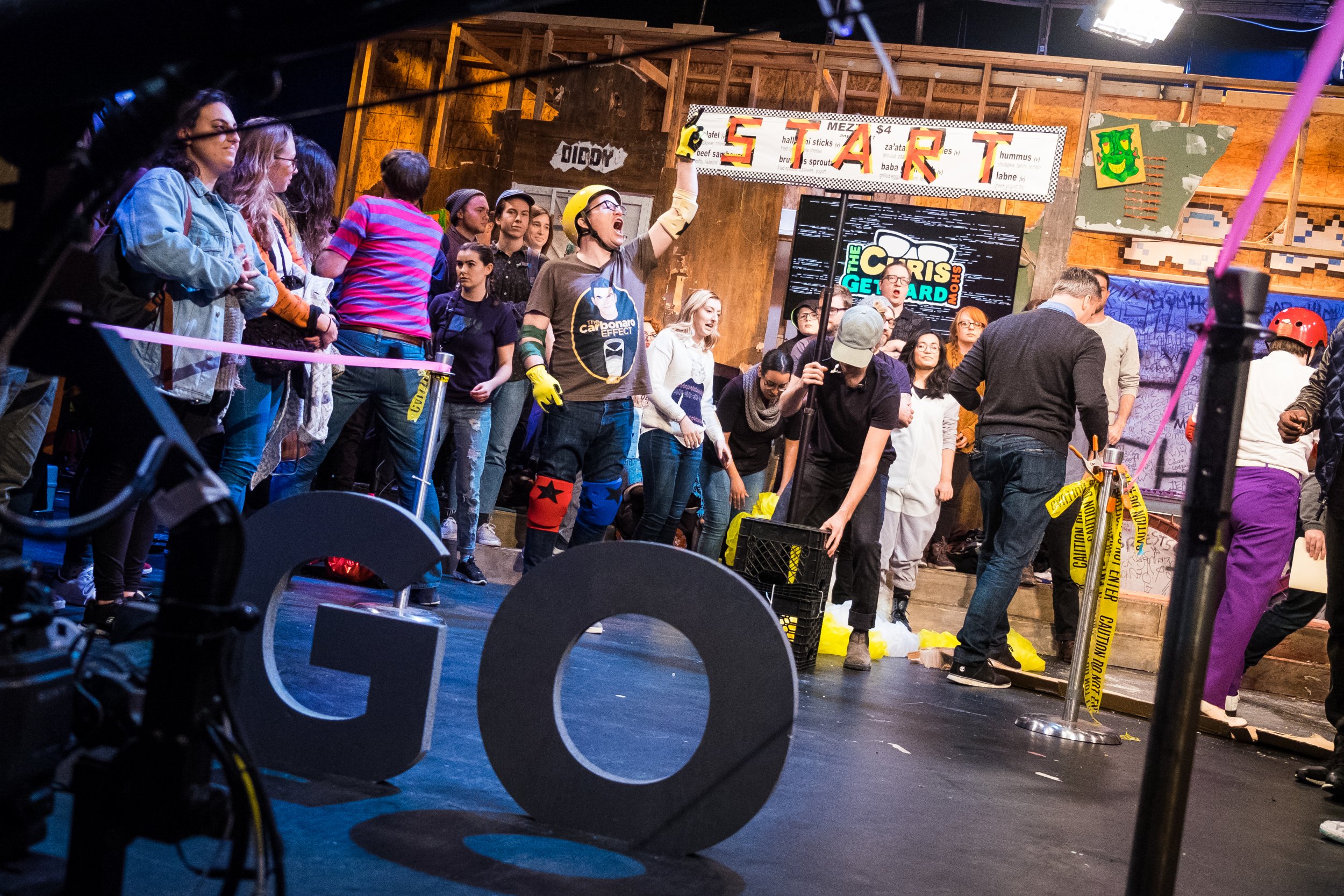 In rehearsal, the mashed potatoes were too heavy. The idea was to launch the taters at production assistants with a water balloon slingshot. But instead of evenly spraying staffers on The Chris Gethard Show, they thwacked against a protective blue tarp like a fastball smacking a catcher's mitt, sending staffers scrambling to avoid a black eye.
The Thanksgiving Day stunt was one of a few planned for the November 16 episode. But hours later, when the show went live, the staff had overcorrected: The potatoes were too light, splattering starch on audience members instead of the intended targets.
No matter. Gethard's sidekick, Shannon O'Neill, was soon improvising, hand-chucking food. "Shannon you can't just throw shit at our PAs!" the host shouted. She could, and did, and soon enough a PA was soaked in gravy, wearing a bowl as a hat.
Gethard himself was frozen, staring at the camera in exasperation while the audience rolled in laughter. This, of course, was the reason anyone tunes into truTV's cult hit, the best late night show you've never heard of. No one ever knows what's going to happen, not even the host.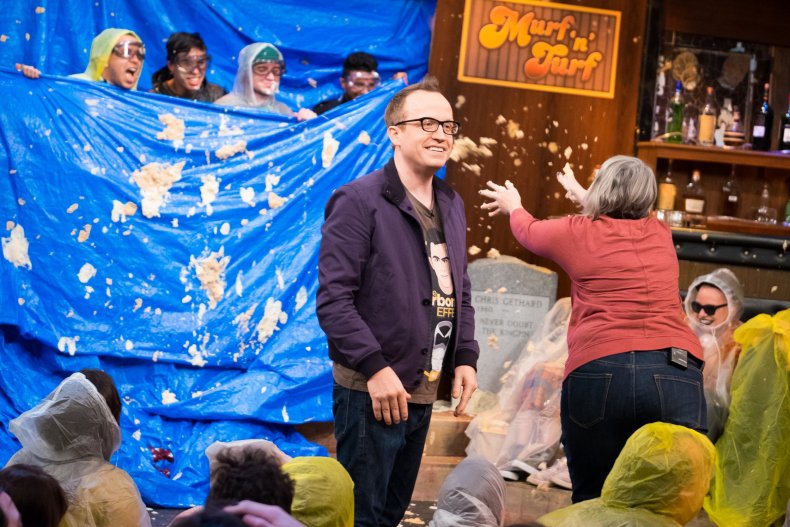 A couple of weeks ago, in a relatively nondescript New York City office, where cubicles and conferences rooms sit alongside the stray Ping-Pong ball cannon, eight or so TCGS writers were planning an obstacle course made with free stuff found on Craigslist. There were a mountain of pallets, some 15 feet high, a kiddie pool's worth of dirt and bags of medical supplies. "We got a butter churn," said one writer.
A few weeks earlier, Gethard and his show's announcer, Murf Meyer, gambled away $2,500 in Atlantic City, New Jersey. The intention was to make bags of cash that they could then invest in a big-budget finale. Instead they lost all but 13 cents. And thus, the freebies.
Not that anyone minded. It's pretty much how every episode of TCGS was put together before the show made it onto an actual network. Gethard created the program in 2011, establishing his highly chaotic, no-budget ethos—something akin to a "talk show basement party," O'Neill said. It aired on New York City public television, developing enough of a following that the Univision-owned Fusion cable channel gave it a bigger stage in 2015.
TruTV picked up TCGS this year, and the show is averaging 236,000 total viewers per week while garnering 19 million total views on social media. The network recently renewed TCGS for another 10 episodes, which will begin in March. The current round of shows wraps up November 30 at 11 p.m.
Each episode has a loose structure: a planned stunt, a theme and Skype calls from fans on that theme. Sometimes there are skits. Sometimes a random fan on the streets is invited to join the cast. Sometimes the host grapples with mixed martial arts experts. "Our job is to build a playground and to let our talent, our cast, our guests, our audience, play on that playground," showrunner J.D. Amato said.
Gethard, like many of his staffers, is a graduate of the Upright Citizens Brigade, which trades on that sort of high-octane spontaneity. After his Comedy Central sitcom Big Lake was cancelled in 2010 after 10 episodes, he recommitted himself to the UCB improv work he loved. In addition to developing TCGS, he's had a hit podcast (Beautiful Stories From Anonymous People), an HBO special (Career Suicide) and a role in an indie film (Don't Think Twice).
Unlike many comics, Gethard in private is very much like Gethard in public, on TV or on his podcasts: welcoming, self-deprecating, quick-witted, a bit nervous and prone to impassioned tangents when a subject engages him. His small army of devoted fans love his sincerity and his vulnerability—he talks openly about struggling with depression—and there is a level of trust unusual in the comedy world. One kid came out to his family while Skyping into TCGS.
"Comedy has always been a place where maybe the kids who get picked on, or the kids who feel alone can find something that's [theirs]," Gethard said. "Even if people don't get it, it's yours. It feels safe and it feels like the people at the helm of it are making it for you."
For this year's Halloween episode a diminutive person dressed as a ghost Skyped in from Baltimore, then did a little dance. It was a weird moment , but the sort of thing his audiences live for. Gethard was soon getting emails of Short Ghost tattoos.
"It's so dumb," Gethard said. "But it feels to me like that's a whole bunch of people coming together and saying, 'We are allowed to play by our own rules.'"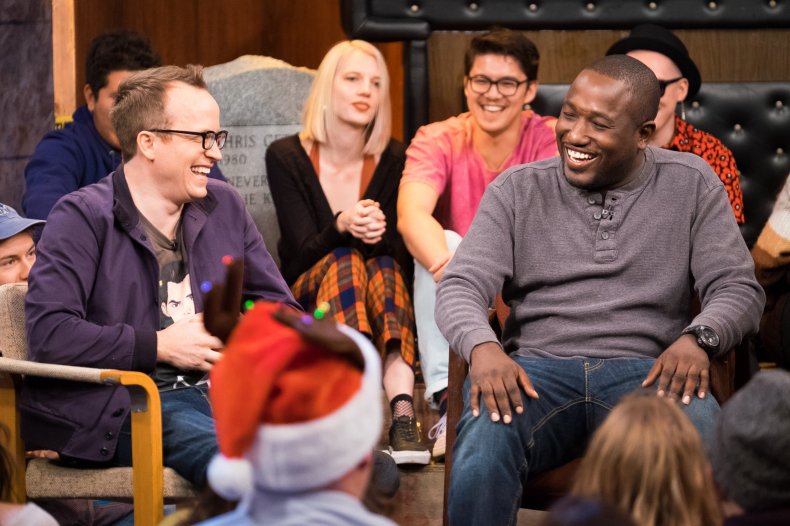 The set of TCGS is a hodgepodge of unfinished plywood, unmatched chairs, a wall of CDs and a random assemblage of objects the staffers have collected over the years, like a piece of David Letterman's set swiped from the trash.
In the run up to the Thanksgiving slingshot episode, the staff scrambled to finish up: A staffer ran out for a water gun to shoot gravy. The house band, LLC, practiced a new song. A safety expert lobbied for a handle on the pallet wall Meyer and Gethard would climb at the end of the obstacle course.
When the 100 or so audience members arrived, they were told to squeeze together, cross-legged on the floor, like kindergartners awaiting story time. They all looked eager, but, "It's live TV, we don't have any control over it," warned Amato.
Soon the night's guests, comedian Hannibal Burress and rapper Talib Kweli, made their way on stage. Then it was live to homes everywhere, the audience going nuts and dancing as LLC launched into TCGS's punk-ish theme song. Burress is a veteran from the show's public access days, so he sat back and looked amused. But Kweli, like anyone watching for the first time, had the distinct look of, "Where am I?"
There's no monologue. There's no rehearsed small talk. And there's no safety net. But during the hour the show is on air, Gethard finds a calm center. Even the confused Kweli finally catches on, launching into a wild stories about a fake Akon—Fakon—attempting to scam him out of thousands of dollars.
The show is a weird bubble, for sure. But when the wildly inventive TCGS is at its joyful best, it's not unlike watching live sports. Anything can happen, in the best possible way. "It's an experiment. It's an art project. It's this thing that has always had subversive goals," Gethard said. "It's grown in scale in its own ecosystem but it's still really scrappy—the scrappiest of the shows in the late night world."