The Most Thrilling Ride Ever: Evolve Hadean Carbon Electric Skateboard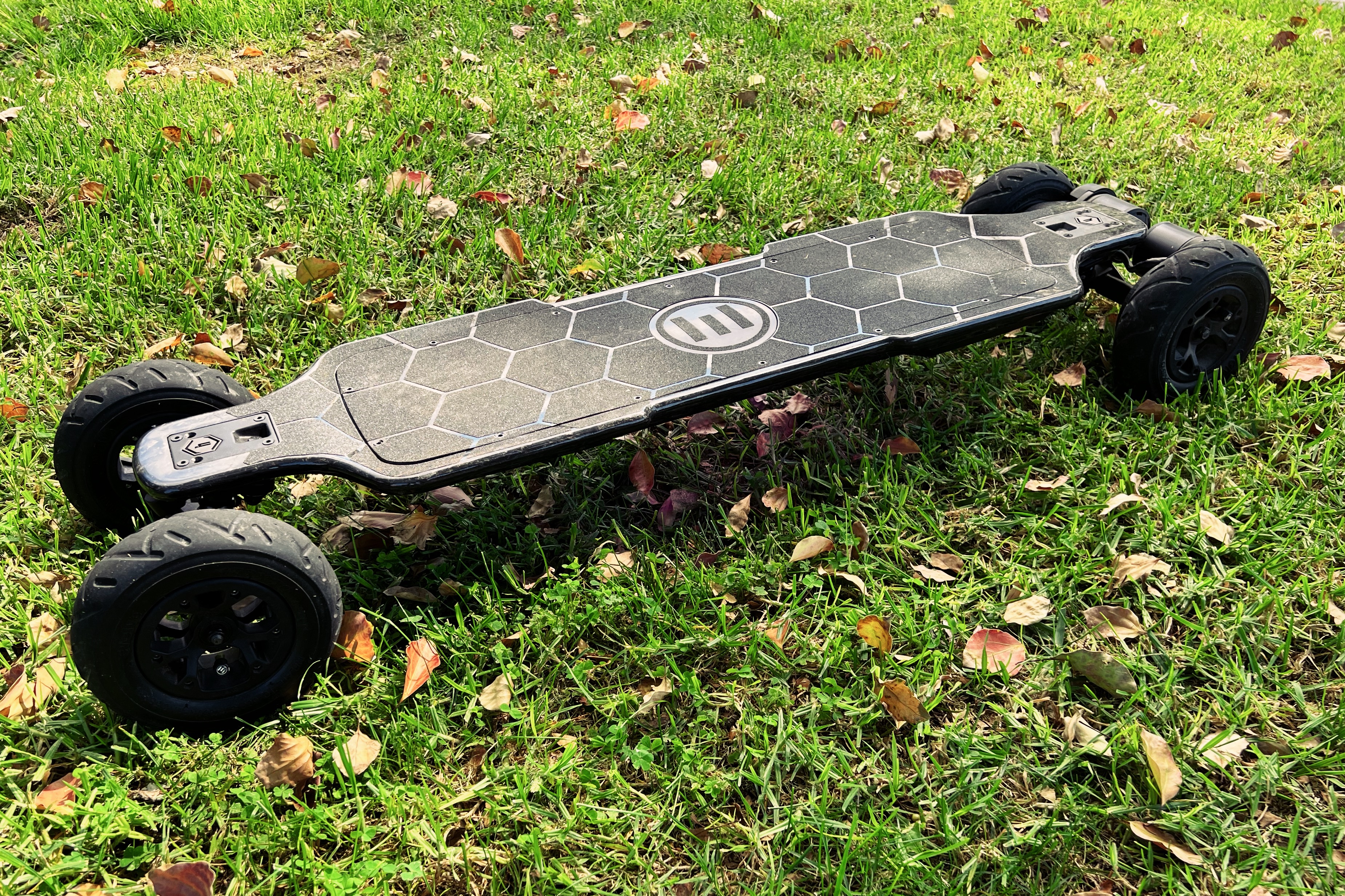 After a few weeks of riding Evolve Skateboard's new Hadean Carbon All Terrain board, I had no doubt about its ability to traverse most terrains I could throw at it. What I still had doubts about regularly was whether I would be able to keep my feet planted on the board throughout it all. The Hadean Carbon is an incredible machine capable of speeds up to 26 miles per hour, with 7-inch pneumatic tires that can handle city streets, dirt paths and grass fields with ease. As I became more accustomed to the board, my eyes continued to grow wider to the places I wanted it to take me. The problem became not whether the board could take me where I wanted but if I would be able to hang with it on the journey.
I spent my review time with a pre-production model, so it's a bit unfair to judge it heavily on specifics of the fit and finish. The few rough spots I encountered, such as a hidden charging connector, were all due to early manufacturing issues that have been addressed in shipping units. What I do feel more comfortable discussing is the overall experience and feeling this particular board can provide.
I have ridden multiple Boosted Boards over the years as well as electric scooters and other personal electric vehicles. The new Hadean Carbon from Evolve is unlike any of those and holds a unique spot in the personal mobility space. It's not a board for everyone, especially retailing at $2,900, but for certain people it will be magical.
TL;DR
Pros:
Fast top speed of 26 miles per hour
Long battery life, with 25 miles of range
Smooth, comfortable ride
Cons:
Heavy to carry (30 pounds)
Expensive price
Buy at Evolve Skateboards.
The First Hadean Carbon Ride
My first impression of the Hadean Carbon was its weight. There's no way to get around its 30 pounds. It's heavy to carry, but not impossible. The good news is that because the board can travel over many ground types, it shouldn't need to be carried much. It will be a bummer, though, for people who live in an upstairs apartment.
Setup only requires turning on the board and its remote, each with a single button press. The syncing process between the remote and skateboard was quick in my experience. The remote control is a core part of most electric skateboards and is no exception here. The remote has a CNC aluminum-reinforced body with a miniature screen to display speed, battery life and settings. It is an impressive remote in nearly all areas. The physical buttons can be customized in the settings, including utilizing the deadman switch, which resides under the palm of a hand.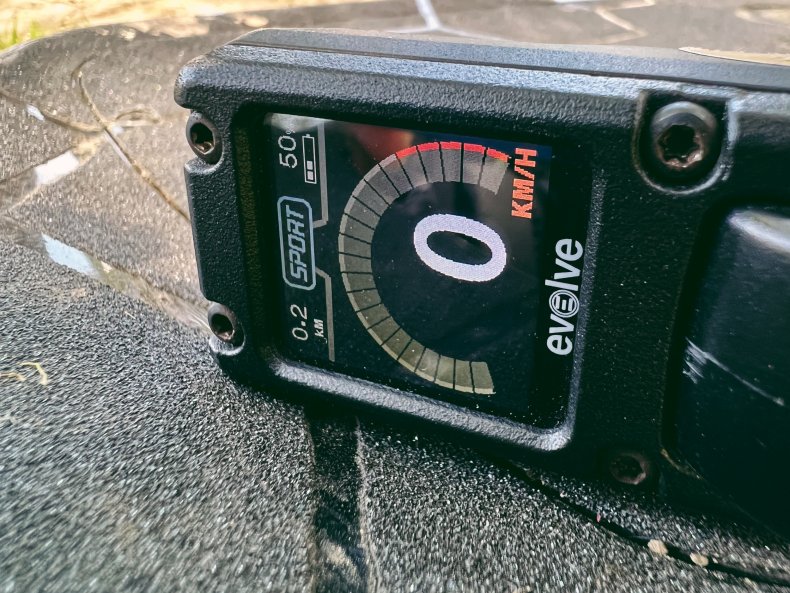 This board has some serious torque and power with a listed 6,000 watts of total power. Even for the most serious, I would recommend taking a lap in Eco mode for the first ride. The acceleration curve is much gentler in Eco. This allowed me to get a handle on the trigger button used to move forward and the thumb button for breaking. After riding for a week and nearly reaching top speed, I still never really felt comfortable using the most extreme riding mode. Usually, Sport mode was sufficient for a mix of speed and control.
Riding Off-Road
The Boosted Board was a very traditional longboard outfitted with an electric motor, but the Hadean Carbon feels different. In fact, it's almost the opposite. The company told me that it focused on building the most capable ride ever and then made it look like a skateboard after the fact.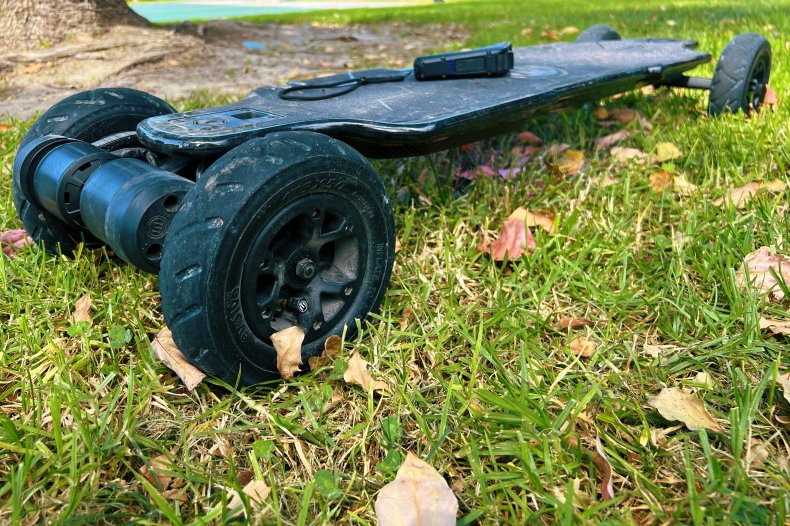 The forged carbon fiber deck is an example of this. It's wide, stable and strong. I really liked its slight flex combined with its mostly rigid feel. This allowed me to focus on turns and carving more than worrying about what was under my feet. Importantly, the specs list the skateboard as having a 265-pound weight capacity, capable of holding a wide range of people.
The deck also has a smart lighting system underneath. It provides real-time hazard lights when the breaking button is pressed. The light color on startup can also be changed for more rider personalization.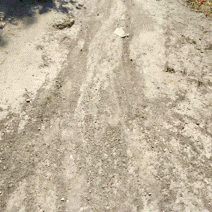 This is an example of the kinds of dirt hills and terrain that the Hadean Carbon can travel over.
TYLER HAYES
Of course, all of the features are there to enable an unparalleled riding experience. Once while I was on a ride, I spontaneously decided to take a shortcut up an uneven dirt hill. The skateboard handled it without a second thought. I navigated around deep crevices but rode over tree roots and rocks. This is something a street board could never do. Plenty of times I took a route through a grassy park, simply because the board was capable enough. I also cut sidewalk corners all the time, but occasionally this was necessary to make a tight turn.
While the Haden Carbon board has a fine-turning radius and can carve in a way reminiscent of snowboarding, it does have its limitations. It's hard to make tight, city street turns. There's also no reverse mode, so getting stuck may require the board to be manually turned around. In this regard, the Hadean Carbon isn't the best commuter board. But because of its long range and smooth ride, it can certainly be used for trips with straightforward, nonintricate paths. The board might even be able to create its own less complicated path with the ground it can travel over.
I put the board's stated ability to climb 35 percent grade hills to the test, too. It absolutely can do that and possibly more, depending on the circumstances. In my case, I tried to push it further, climbing a steep dirt hill. The board made it about 15 feet before losing traction. It's an extreme example, but with tires that had nubs on them, the board may have been able to go the entire 50-foot distance.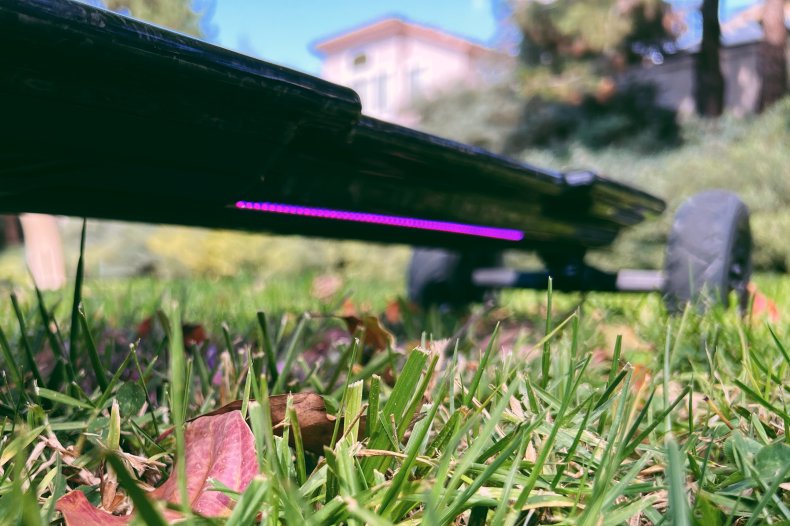 Often, my hesitation was whether I could withstand the board's instant torque and fast speeds. Admittedly I did fall once when I pressed the trigger too quickly. I also fell off a second time when I pressed the brake too fast—rather than easing into it. The board can stop on a dime so I went running off and couldn't keep my balance.
Should You Buy an Evolve Hadean Carbon Skateboard?
The buy recommendation here is easy to give to people in the market for this type of product: Go for it. The riding experience is both thrilling and practical.
If you know you're looking for this kind of skateboard or mode of transportation, then it's an excellent purchase. It can serve a certain type of commute well, but mostly it's just really fun.
Similarly, it's also just as easy to recommend a lot of people look elsewhere. This is a top-of-the-line board that goes above and beyond what a lot of people will need. The Hadean Carbon is part of a line from Evolve, which also offers its Stroke board for $1,200. Stroke still isn't inexpensive, but it's more obtainable and can provide 10 miles of range.
Even for extreme sport use, it's hard to see the Haden Carbon All Terrain board not being able to keep up. The question is just whether you need something that can traverse grass, dirt and everything in between.
Buy at Evolve Skateboards for $2,899.
Newsweek may earn a commission from links on this page, but we only recommend products we back. We participate in various affiliate marketing programs, which means we may get paid commissions on editorially chosen products purchased through our links to retailer sites.