20 of the Most Unique College Mascots in America
From "Al the Aligator" to "Zippy the Kangaroo," anthropomorphic mascots have for years represented the irreverent essence of U.S. college campus life.
These colourful characters are most closely associated with U.S. college sports, meaning spectators often encounter someone dressed up at team events, encouraging crowds as the ultimate cheerleader.
Newsweek presents some of the most unquestionably unique college mascots on American campuses.
1. The Ranger Bear
Drew University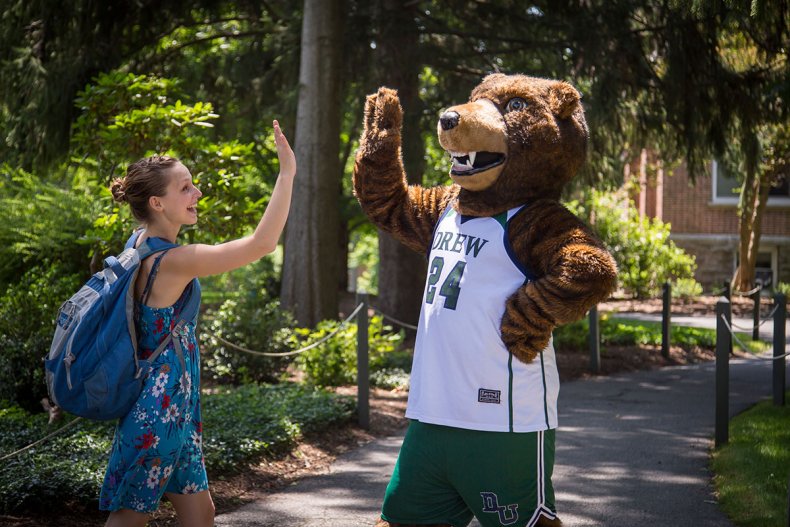 Drew University college students frequently spot the Ranger Bear at sporting events, where the popular mascot orchestrates the crowd to whip up the excitement to support the sports team.
This 6ft-tall bear is anything but intimidating, and students are encouraged to request its appearance at any event by filling out an online request form.
2. Reggie Redbird
Illinois State University
Although the Redbirds have been Illinois State University's mascot since 1923, Reggie Redbird only made its first appearance on the sidelines in 1981.
This slightly angry-looking bird was reportedly named after baseball great Reggie Jackson.
3. 'Angry' Benny the Beaver
Oregon State University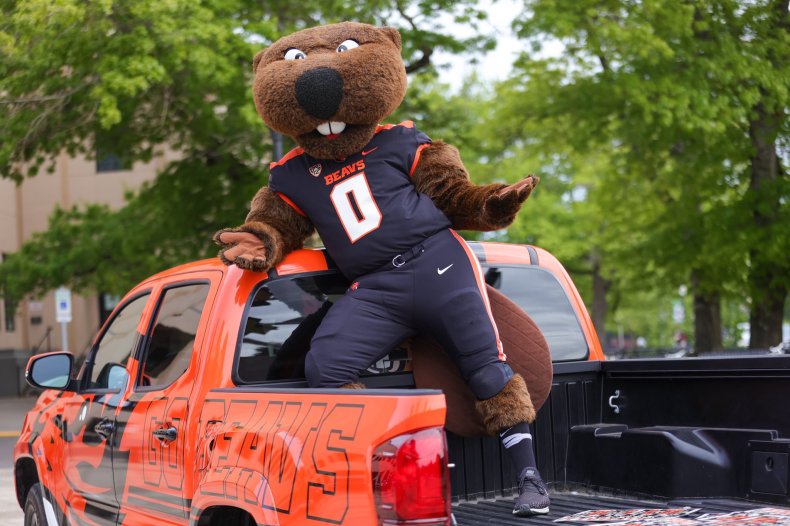 First spotted in a 1941 yearbook, Benny the Beaver is a tall, brown-furred beaver forever wearing an OSU jersey.
Introduced in 1999, a new "angry Beaver" logo replaced the kinder, gentler look during the last week of January 2001, and Benny has since won the 2011 Capital One Mascot of the Year.
4. Saint Louis University
The Billiken
This atypical mascot was invented by an art teacher in 1908 and soon was transformed into a national sensation, reproduced as dolls, sweets and even belt buckles.
Saint Louis University's website describes the Billiken as a mythical good-­luck figure representing "things as they ought to be."
5. Hiram the Ram
Suffolk University
For approximately 70 years, Suffolk University used a live ram named after one of the U.S. college's trustees for the mascot's debut appearance.
These days, Hiram the Ram is a large, grinning, caramel-colored ram-shaped oversized mascot wearing a Suffolk jersey.
6. Rocky the Bull
University of South Florida
Rocky the Bull got his start as a toy idea for the USF bookstore in 1965, received a redesign in 1986, and the current incarnation was unveiled in 2003.
The character is popular around campus, a fact recognized when Rocky won the 2013 Capital One Mascot of the Year Award, finishing the competition with a perfect record—the first-ever mascot to accomplish this feat.
7. Handsome Dan
Yale University
Handsome Dan I, who had an odd habit of being friendly to only Yale students, was purchased in 1889 by Yale Lineman Andrew Graves, and proceeded to win the Westminster dog show,
The first live college mascot in America has since March 2021 been succeeded by Handsome Dan XIX.
8. Seymour D'Campus
Southern Mississippi University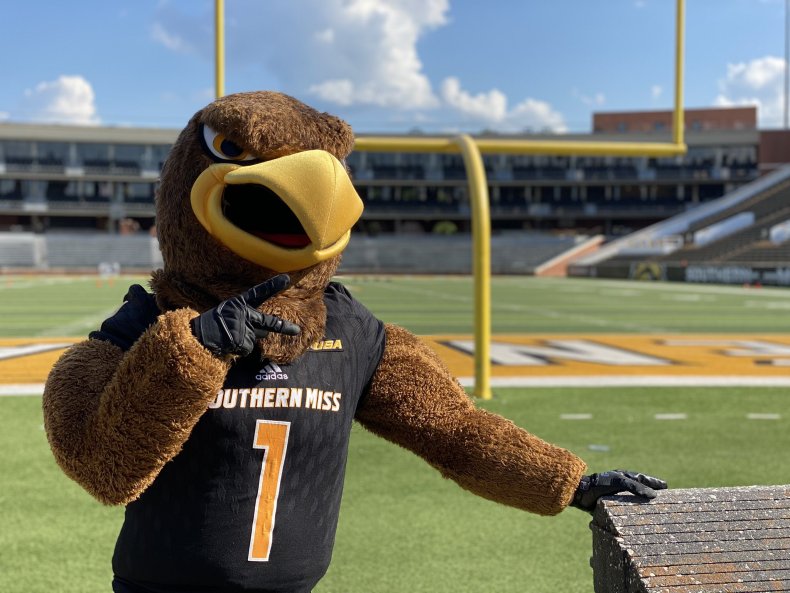 The name was inspired by the 1984 World's Fair mascot, Seymour d'Fair, and a live golden eagle was originally used to encourage students.
The mascot is today been known for promoting its favorite book, The Maltese Falcon, and encouraging new students to get involved in campus clubs and activities.
9. Yosef the Mountaineer
Appalachian State University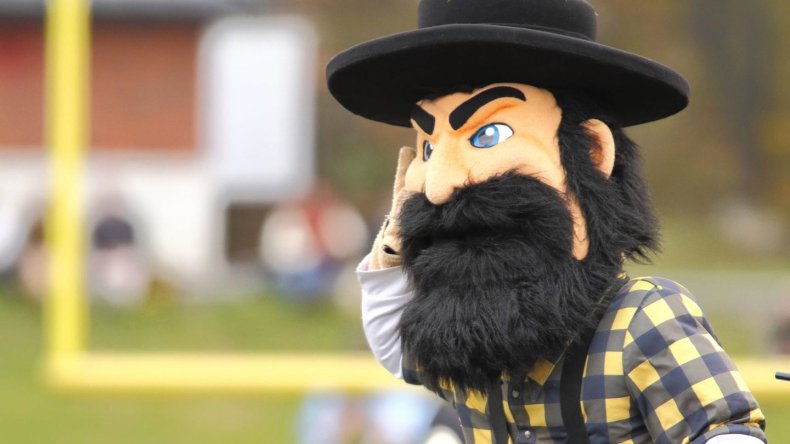 Responsible for providing school spirit, Yosef is an official member of Appalachian State's cheerleading squad.
"Yosef is mountain talk for 'yourself', with the idea being that if you are an Appalachian alumnus, fan or friend and have a heart filled with black and gold, you are Yosef," according to Appalachian State University.
10. Stanford Tree
Stanford University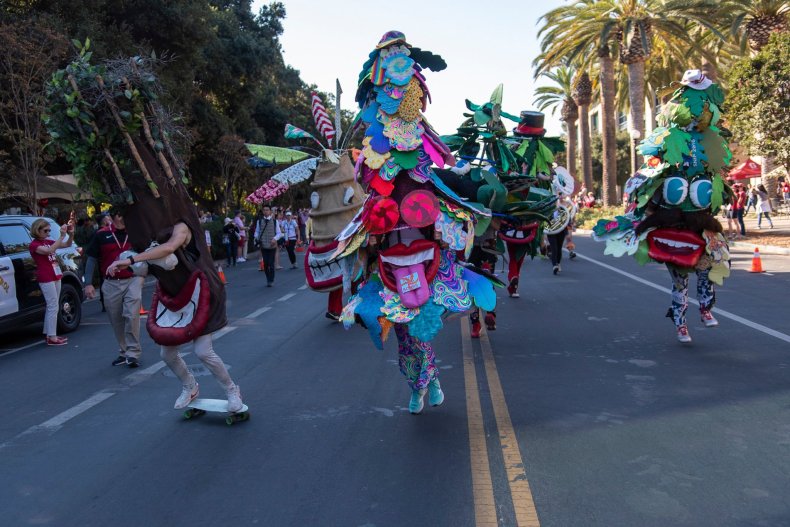 The Stanford Tree, which began life as a spoof on mascots by the Stanford Band, made its first appearance during a Big Game halftime program in 1975.
The Tree has, in its various guises, frequently been described as one America's most bizarre college mascots.
11. Buzz
Georgia Institute of Technology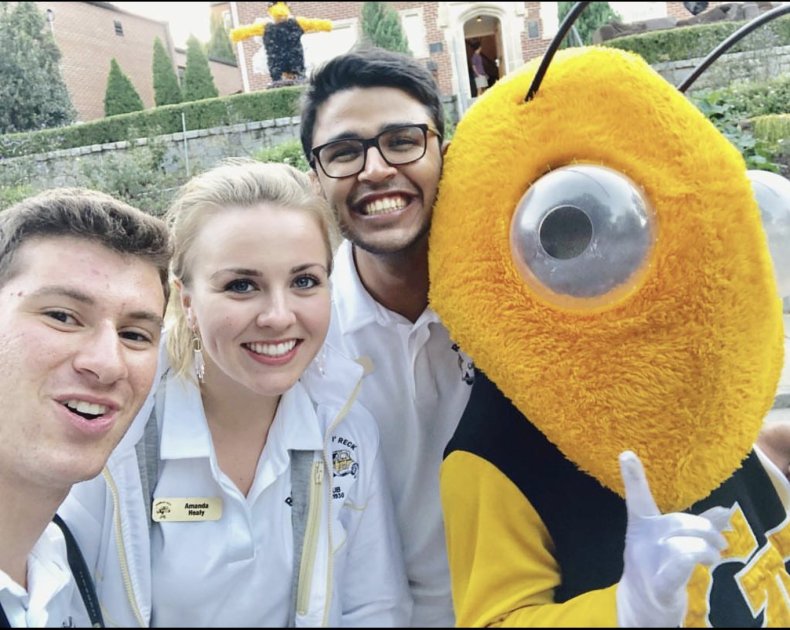 Buzz officially made its first appearance as a member of the cheerleading squad on October 11, 1980.
The bee-shaped, beloved mascot has over the years become a staple at numerous Georgia Tech athletic events.
12. Joe Vandal
University of Idaho
Idaho's student-athletes go by a name earned nearly a century ago by a basketball team that played defense with such intensity, sportswriters claimed they "vandalized" their opponents.
The tradition of Joe Vandal began in the late 1950s when cheerleader Bill Currie made a spirited sideline appearance wearing a homemade mask created by his mother—which has in recent years been replaced by an endearing inflatable suit.
13. Marco the Buffalo
Marshall University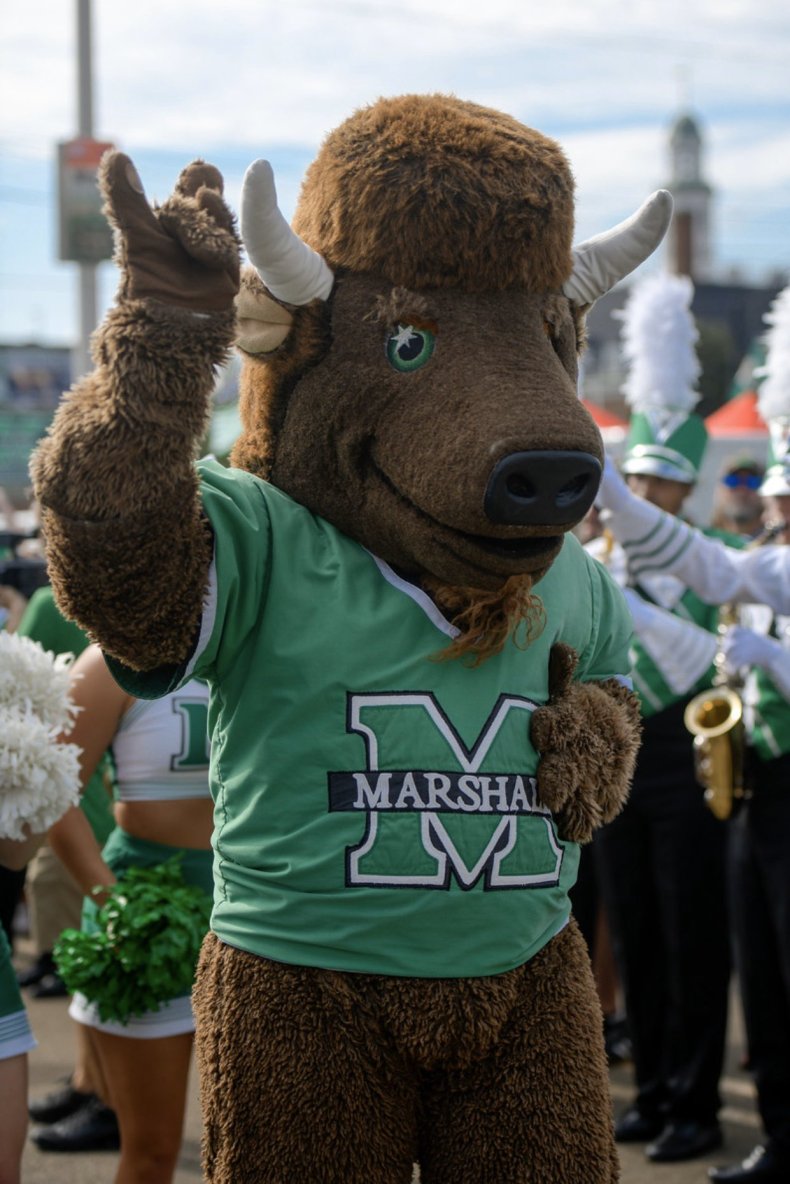 The name for this American Bison dressed in the home uniform of the college was developed from a mix of the university's name at the time, Marshall College.
Although Marshall became a University in 1961, the name for the muscular college mascot stuck.
14. Zippy
Akron University
Zippy is the marsupial mascot for The University of Akron and the winner of the 2007 national Capital One Mascot of the Year Challenge.
In an exclusive interview with Akron University, the kangaroo-like creature revealed his favorite food is stadium hot dogs and the mascot has also revealed he vacations in Australia, "home to much of my family."
15. Oski
University of California Berkeley
Oski made his first appearance at the University of California in September 1941 to cheer the team on to victory and the mascot has been a fixture on the California campus ever since.
A Cal Athletics volunteer adviser told the college website: "He personifies Cal spirit, and as long as Cal is Cal, Oski's going to be that Cal spirit."
16. Buster Bronco
Boise State University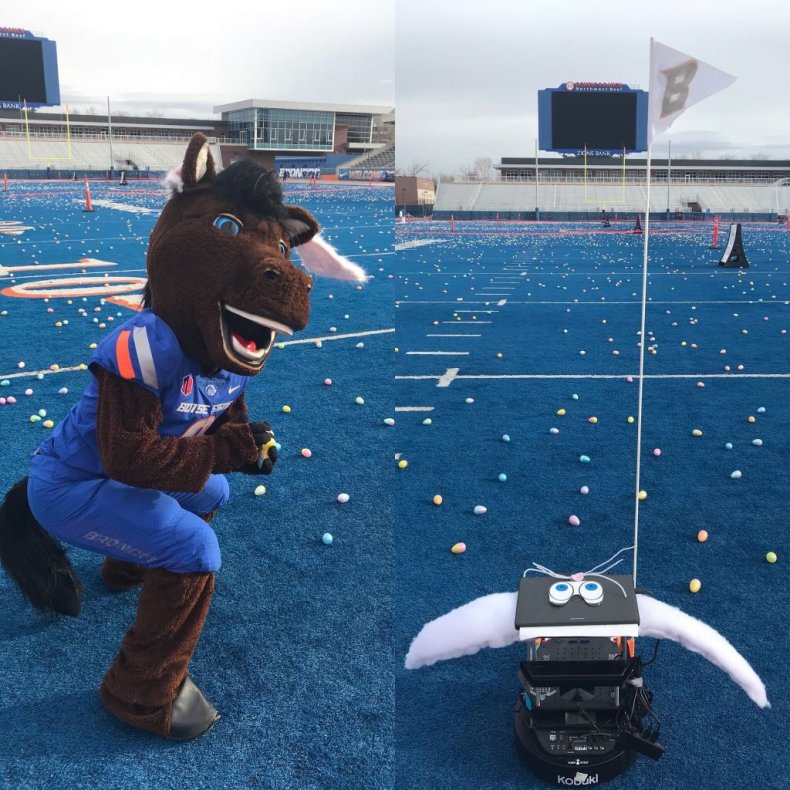 The idea to have a Bronco as a mascot originated in 1932 by Boise State Junior College Students.
Widely recognized around campus for his oversized furry head and open mouth, Buster Bronco was ranked third on the Sports Illustrated Power Mascot Rankings in 2007.
17. Al and Alberta
University of Florida
These alligators are arguably the most famous married mascot couple on U.S. college campuses.
While both Gators cheer on the football team, Albert cheers at the men's basketball and baseball games solo, while Alberta cheers on the lady gators at gymnastic meets and women basketball games.
18. Big Al
University of Alabama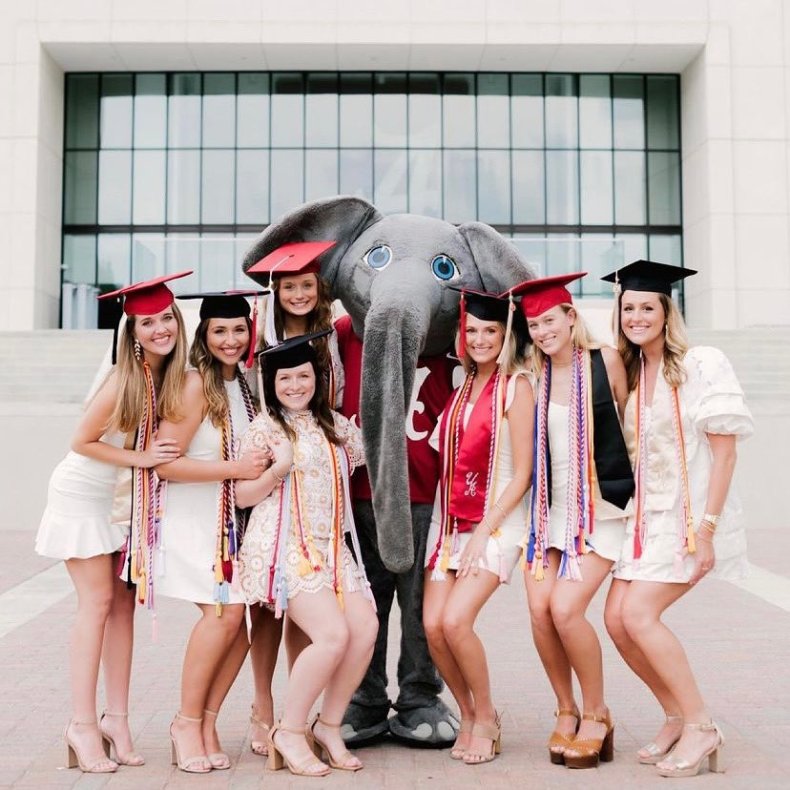 Pachyderms became associated with the University of Alabama in 1930, after a journalist referred to Alabama's offensive line as elephants.
The sobriquet stuck and when a mascot was needed in the late '70s, Big Al come into existence, and he has been supporting the sports teams and students ever since.
19. The Leprechaun
University of Notre Dame
Candidates for portraying the Leprechaun mascot are reportedly put through a rigorous tryout and training process, ranging from Notre Dame trivia to push-ups.
The mascot's finest hour arrived in November 1964, when the Leprechaun was featured on the cover of Time magazine.
20. Puddles the Duck
University of Oregon
Sometime in the 1920s, a live duck mascot named Puddles started attending Oregon football and basketball games.
The iconic figure made a comeback in another incarnation in 1947, when Oregon's athletic director supposedly struck what the U.S. college describes as a "handshake agreement" with Walt Disney for a costumed mascot in Donald Duck's likeness.