Most Unvaccinated Americans Have Not Requested At-Home COVID Test: Poll
Despite at-home COVID-19 testing being available through the U.S. government, many unvaccinated Americans have not filed requests for them.
According to a new poll from YouGov, around 70 percent of Americans who have no plans to get a COVID-19 vaccine have not attempted to request at-home testing kits. The poll comes as a new strain of the Omicron variant entitled Stealth has been detected in 30 states, prompting an increase in the need for testing. The Stealth strain has currently been found in over 200 cases across the United States.
Among these unvaccinated participants, 27 percent had successfully requested testing kits, while another 3 percent had requested them but were unable to receive them. The poll does not state why those unvaccinated Americans are refusing to get a COVID-19 vaccine.
As for fully vaccinated Americans, 40 percent did not plan to request an at-home test, with 54 percent successfully requesting them. However, 6 percent of fully vaccinated people who attempted to request tests were unable to receive them. Along party lines, 41 percent of Republicans successfully requested at-home tests with 51 percent not wanting to request tests. The percentage of Democrats that answered similarly was not nearly as close, with 54 percent of Democrats being able to request and receive their tests, while 36 percent have not requested tests. Finally, around 43 percent of Independents were able to receive at-home testing kits as 51 percent said that they had no plans to request any tests.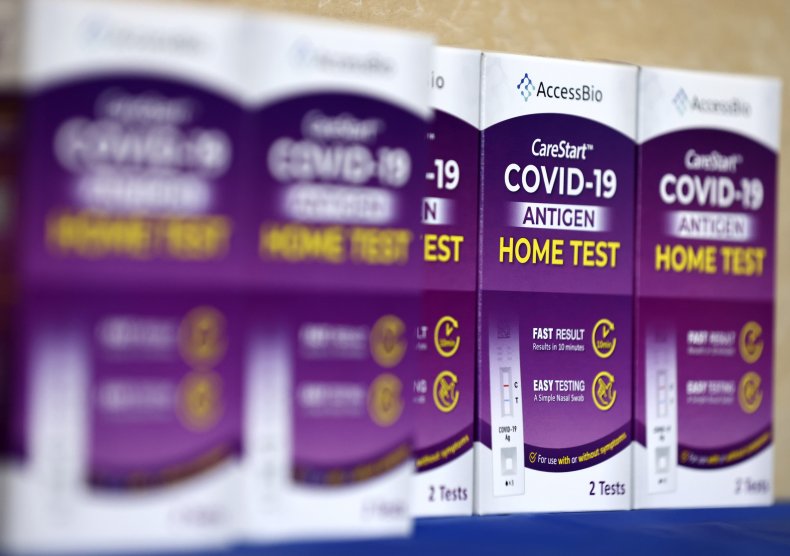 This data was not the only notable findings from the YouGov poll. The pollster also asked participants how much they had heard about the at-home testing kit request system. Around 40 percent of Americans had heard "a lot" about the system, with the majority of those respondents being 65 years of age or older. An additional 40 percent, which primarily consisted of those under 30 years old, said they had heard "a little" about the requests.
Pollsters also asked about participants' awareness of COVID-19 testing sites in their area. According to the results, around 67 percent of all Americans know where they can get tested for COVID-19, while 13 percent said they do not. Furthermore, the poll found that Americans living in urban areas were more likely than suburban Americans to know where they could get tested for COVID-19. Around 8 percent of respondents said that they "would not get tested" for the virus if they experienced symptoms.
YouGov says that the poll was carried out with 1,500 adults in the United States from January 22 to 25, with the margin of error being around 3 percent.
Newsweek has reached out to a representative from YouGov for comment.