Most U.S. Teachers Say Coronavirus Crisis Likely to Worsen, According to Poll
A majority of K-12 teachers in the U.S. believe the coronavirus pandemic is getting worse, a Gallup poll published Friday found. The results, which pollsters gathered between June 29 and July 19, came as school districts across the country are debating how and when to reopen after the pandemic forced most schools to close during the spring.
The online poll collected responses from 495 K-12 teachers and 2,634 other adults, with a 9-point margin of error among the teacher respondents and a 4-point margin of error among the others.
Only 14 percent of K-12 teachers said they thought the pandemic situation was worsening during a similar poll conducted in May. But the latest Gallup poll said that number ticked up to 64 percent in July after most states began reporting increases in new cases, with heavily populated states like Texas, California and Florida emerging as virus hot spots.
Another Gallup poll published earlier this month found a majority of all Americans believed the pandemic was getting worse as outbreaks throughout the country led to record single-day increases. As of Friday, health officials reported more than 4 million cases nationwide, according to a Johns Hopkins University data tracker.
Teachers also grew increasingly concerned about being exposed to the virus while at work as school reopening debates intensified over the summer, the poll said. While 59 percent of teachers said they were concerned about virus exposure in their workplace in May, three-quarters of all K-12 teachers polled expressed that same concern by July, with 57 percent of those saying they were "very concerned" by the possibility.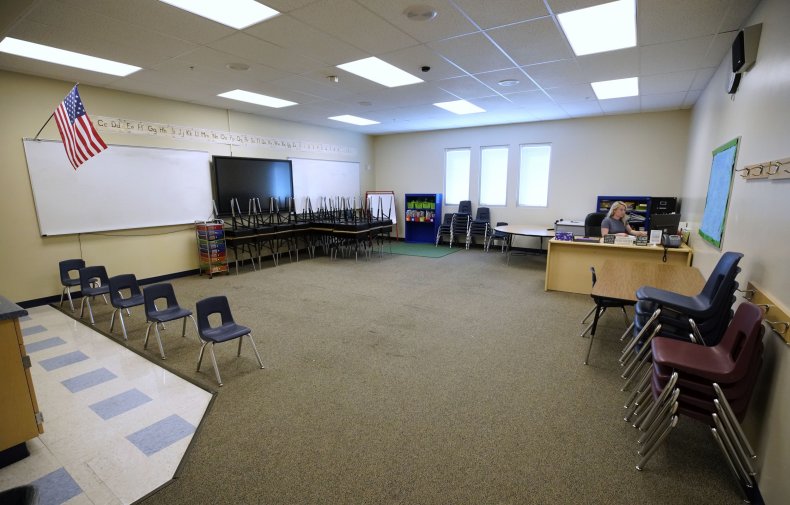 The poll said worry over virus exposure at work is much higher among teachers than among other U.S. workers, less than half of whom said they were worried about contracting the virus in their workplace in May and June. That group increased only mildly in size between late June and mid-July with 21 percent of workers saying they were "very concerned" about virus risk at work, and 29 percent saying they were "moderately concerned."
"While concern about workplace exposure has been fairly steady among workers who are not teachers, this unease has risen sharply among teachers," the poll said.
As the pandemic persisted, the poll found teachers increasingly preferred the concept of virtual classrooms to in-person instruction. Even after pandemic restrictions are no longer necessary, 74 percent of teachers told pollsters in July they prefer to work remotely in the future, an increase of 17 percent since June.
Teachers' preferences aside, federal education officials encouraged K-12 schools to reopen for in-person instruction in time for the fall semester, citing the social and educational benefits that doing so would provide. Despite these encouragements and threats to cut federal funding from schools that don't comply, several school districts across the country announced they would not resume in-person instruction immediately, opting instead to use remote learning strategies until local officials bring the virus under control in counties where infections are still surging. Though the Centers for Disease Control and Prevention (CDC) said children under 18 represented only about 2 percent of COVID-19 cases in the U.S., the threat of the virus remains for parents, teachers and other adults in students' lives.
"Even if districts decide to go fully in-person, whether they will be able to do so depends on teachers' willingness to go into work and parents' willingness to send their children to school," the poll said.