The Most Valuable Vintage Games Ever Sold: 'Pokemon', 'Mario', 'Zelda', 'Tetris' and More
Vintage games are getting more and more valuable, with the world record for most expensive sale being broken on an increasingly frequent basis. Like rare baseball cards or vinyl albums, their financial worth only rises as time goes on and they become harder to find.
On Monday, Newsweek reported on a mint-condition cartridge of Super Mario 64 being sold for $1.56 million at a recent auction. The game's original seal was still intact and its packaging had been immaculately preserved according to WataGames (a reputable appraiser of vintage collectibles), which explains the astonishingly high bid.
That being said, while the Super Mario 64 cartridge is the current record holder for the most expensive video game sale of all time, it is far from the only instance of this kind of retro memorabilia going for an extraordinary price.
On Sunday, July 11, in the very same lot as the Mario cartridge, a well kept PSOne copy of Tomb Raider was snapped up for a dizzying $144,000. Likewise, Spyro the Dragon went for $31,200 and a sealed Tekken went for $38,400. An original edition Gears of War (a title that is not even that old, having been released in 2006) was even auctioned off for $14,400.
To clarify, these sales all occurred during the exact same day on the exact same website, Heritage Auctions, so this only represents a tiny glimpse of a much bigger picture. It is becoming increasingly commonplace for vintage games to be sold for extraordinary amounts, especially as physical media is slowly getting phased out by the likes of Xbox Game Pass, Steam and PS Now.
With that in mind, we have compiled a list of some of the most remarkable vintage game sales in recent memory. This overview is by no means exhaustive, as the information is not particularly well documented, but we have trawled through multiple auctioneers, the official Guinness World Records library, and appraisal sites like Price Charting to find the best examples.
Who knows? Perhaps you will discover that there is something cluttering up your attic right now that is worth a small fortune.
'Super Mario 64' Sells for $1.56 million
It only makes sense to kick off our list with the newest record holder. The reason this particular copy of Super Mario 64 was able to attract such a historic bid is because of how well-preserved its packaging was. WataGames bestowed the unopened cartridge with an A++ rating, meaning that it was certified as "Case Fresh." In other words, it was practically good as new.
According to Heritage Auctions (get used to reading their name), there are less than five copies of Super Mario 64 in the entire world that are in such pristine condition. On the product page, the business firm wrote: "The cultural significance of this title and its importance to the history of video games is paramount, and the condition of this copy is just so breath-taking that we're really at a loss".
'The Legend of Zelda' Sells for $870,000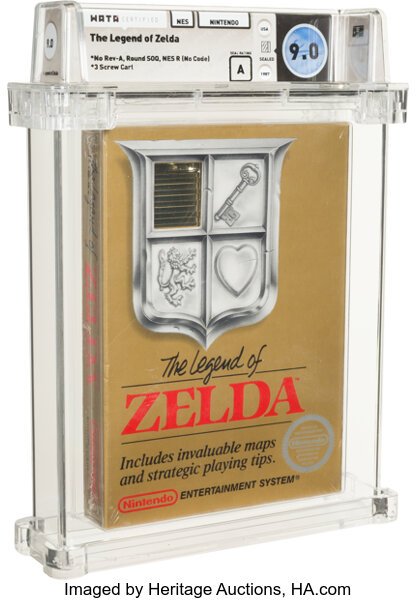 An NES cartridge of "The Legend of Zelda" sold for $870,000 in a recent auction.
Heritage Auctions
Super Mario 64 usurped the title of "most expensive game ever sold" from another Nintendo classic, The Legend of Zelda. The NES cartridge managed to hold on to this distinction for a grand total of two days, having itself being auctioned on Friday, June 9, 2021.
According to Heritage Auctions, this is one of only two remaining Legend of Zelda copies that were shipped as part of the "NES R" production run. This variant was only manufactured for a couple of months, before it was replaced by the "NES-A" variant, which is what makes it so rare.
If you want to play the original Legend of Zelda without incurring crippling debt, you can pre-order the upcoming Game & Watch anniversary edition.
'Super Mario Bros.' Sells for $660,000
Before it was dethroned by The Legend of Zelda, the original Super Mario Bros. was the previous priciest video game of all time.
This cartridge—which raked in an impressive $660,000 on April 2, 2021—was awarded an A+ grade from WataGames and was once again sold on the Heritage Auctions website. According to the product page, the plastic-sealed cartridge was also the oldest copy of Super Mario Bros. to ever be offered by the firm.
'Super Mario Bros. 3' Sells for $156,000
Sticking with the Nintendo theme, a Super Mario Bros. 3 cartridge was sold for $156,000 in November 2020.
Heritage Auctions attributed the then-historic sale to the game's remarkable condition and the fact that it was still wrapped in its original plastic seal. The lot reportedly opened at $62,500, before 20 aspiring collectors got into a bidding war that drove the cost up to over double its original asking price.
'Super Mario Bros.' Sells for $114,000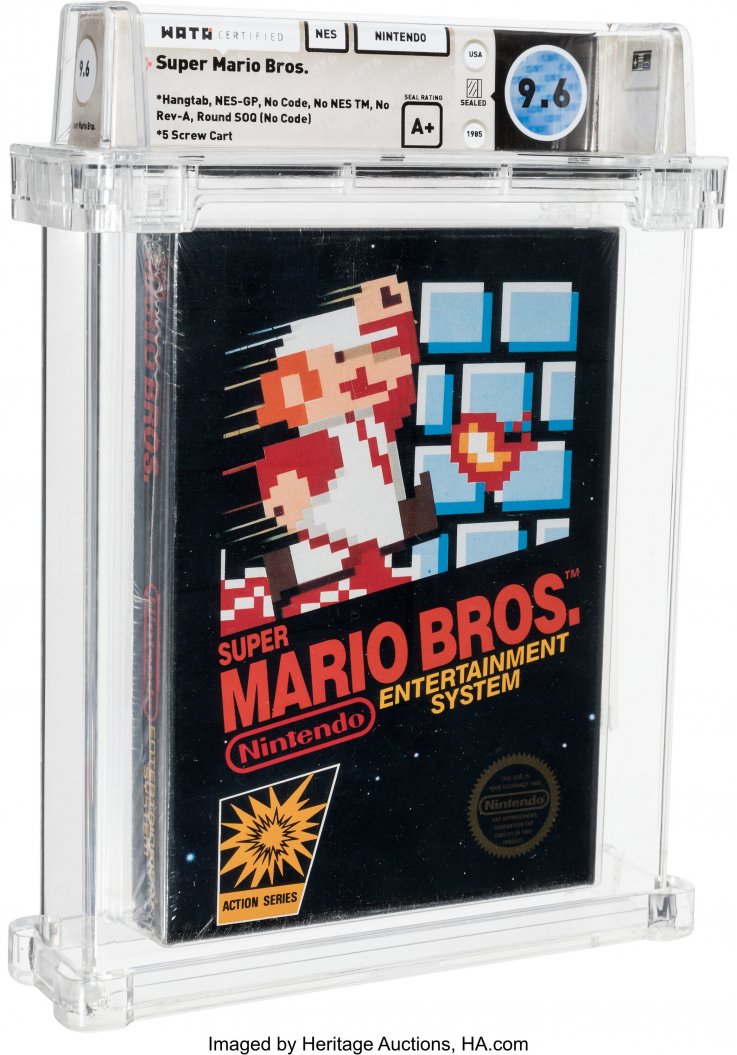 NES cartridges for the original "Super Mario Bros." sold for $156,000 and $660,000 at two separate auctions.
Heritage Auctions
Back to the original Super Mario Bros. once again. In July 2020, a rare version of the '80s classic was sold by Heritage Auctions (are you detecting a pattern yet?) for $114,000.
This shattered the previous record for most expensive game ever sold, which at the time was held by a different copy of Super Mario Bros that was also sold in a Heritage Auctions lot for $100,150.
To recap, that means that four of the last five record holders in this category have been Mario cartridges and they have all been sold by Heritage Auctions.
Signed Copy of 'Tetris' Sells for $1 Million
While we have now gone through all the verified record holders from the past year, there are still a few remarkable video game sales left to discuss.
One notable example is an ultra-rare Sega Mega Drive version of Tetris, which sold for $1 million back in 2011, according to video game website Kotaku. For context, the reason that this sale was not classified alongside the other record breakers is because it is ultimately an apple-and-oranges comparison.
The Tetris unit is valued for being more than just a well-preserved cartridge, as it also bears the signature of the game's creator Alexey Pajitnov. As such, it is a one-of-a-kind collector's item, and its worth cannot be wholly attributed to the game itself.
'Pokémon Red' Sells for $84,000
Pokémon Red is generally appraised as the most valuable entry in the turn-based RPG series. By comparison, Pokémon Blue and Pokémon Green (which were released the same year) are relatively easy to come by.
The title is notoriously elusive in the U.S and so it is unsurprising to learn that it accounts for the most expensive sale to date of any Pokémon game. With an A++ grade from Wata, the Game Boy cartridge was sold on the Heritage Auctions site for $84,000 in November 2020.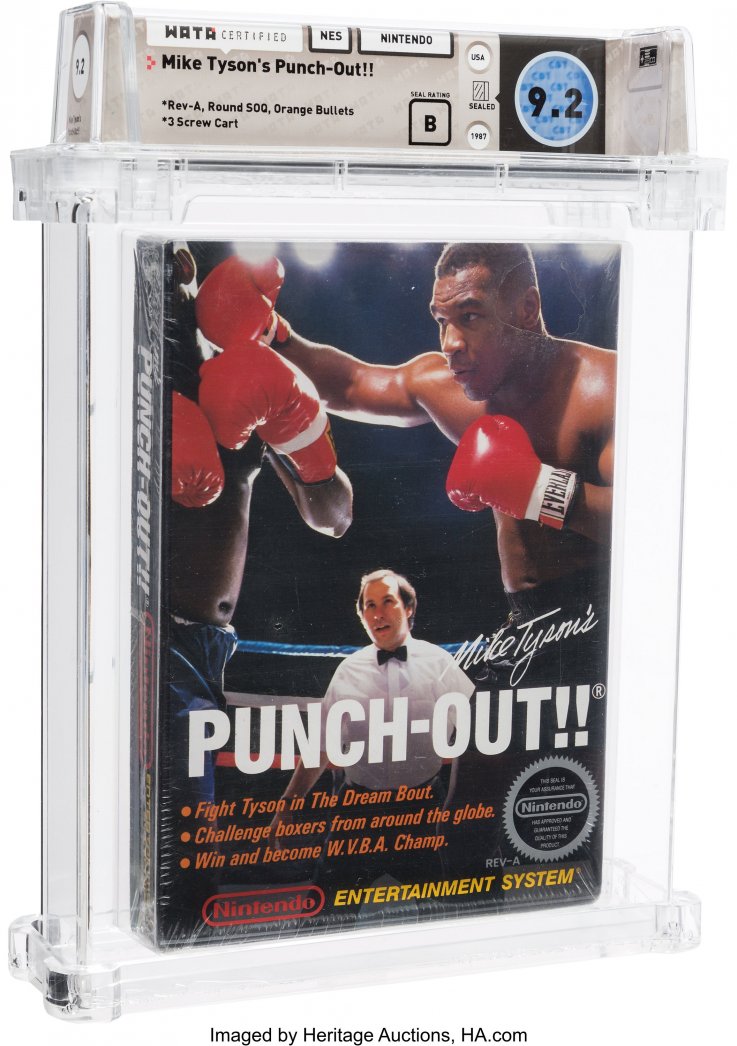 A NES cartridge for "Mike Tyson's Punch-Out" was sold for $50,400 last year.
Heritage Auctions
'Mike Tyson's Punch-Out!' Sells for $50,400
Often ranked amongst the most influential sports games of all time, a well-preserved copy of Mike Tyson's Punch-Out was inevitably going to come with a hefty price tag.
Its reputation as one of the medium's most important artifacts cannot be overstated, as it is the first Nintendo title to be endorsed by a celebrity and is often selected by both critics and gamers alike as one of the best releases from the NES era. Given its historical significance, it should not come as a shock to find out that a copy of Punch-Out was sold for $50,400 in July 2020.
'Gamma Attack' Priced at $500,000
Gamma Attack is potentially the rarest video game in existence, with only one copy reportedly seeing the light of day. The cartridge itself was listed on eBay in 2009 for a whopping $500,000 and has since been removed.
As far as retro game enthusiasts can tell, there are no other units of Gamma Attack available elsewhere in the world, as the Atari game was not officially released. As such, it has an almost mythic quality for collectors, who are forced to acknowledge that it will be forever unobtainable.
Details about the game itself are naturally thin on the ground. However, in an interview with MTV, the mysterious eBay seller "Phantom" described how you play as a UFO shooting down at military tanks, in what sounds like an inversed Space Invaders knockoff.
'Air Raid' Sells for $31,600
Distribution for Men-A-Vision's Air Raid was especially limited in 1982, to the point where only 13 cartridges are rumored to exist nowadays. For this reason, copies of the Atari 2600 game can attract very competitive bids on eBay, regardless of their condition.
Texas resident Tanner Sandlin discovered how lucrative Air Raid could be when he sold his edition for $31,600. Compared to the other entries on this list that might seem like a rather quaint amount of money, but it is worth noting that this was back in 2010 when these extraordinary sales were not quite so common.
In case you were wondering, Sandlin himself did not rate the game all that highly. He even admitted that the only reason he was hanging on to it in the first place was because no one else wanted it until it suddenly became a collector's item.
'Red Sea Crossing' Sells for $14,000
Created by independent developer Steve Slack in 1983, Red Sea Crossing debuted as a mail-order product in a handful of magazines, meaning that it never really got a wide release. In the Frogger clone, you guide Moses through his famous biblical journey as he flees the Egyptian army by leaping over obstacles and evading projectiles.
Reportedly, fewer than 100 copies of Red Sea Crossing were produced, making it exceptionally rare and valuable to this day. In fact, only two cartridges have ever been unearthed, one of which was sold for $14,000 on eBay while the other went for $10,400 on GameGavel. The packaging was reportedly not even in particularly good condition.