Most Voters Don't Want Democrats to Control the Senate and House As Stimulus Deadlock Continues: Poll
While partisan disagreements continue to stall a new stimulus bill amid the COVID-19 pandemic, a majority of Americans want the government to remain divided along party lines with Republicans retaining control of the Senate, according to a new poll.
Early data from a Harvard CAPS-Harris poll found that 56 percent of respondents want Republicans to keep control of the Senate following crucial Georgia runoff elections in the new year, while 44 percent would prefer Democrats have full control of Congress along with the White House, according to a Monday report from The Hill.
"As of now, the voters want divided government and their votes for the Senate and House indicate that as well," Harvard CAPS-Harris polling director Mark Penn told the outlet. "This is a strong headwind for Democrats in the special election though [President] Trump's continued failure to concede could muddy the waters here."
Full results from the poll, which was conducted among 2,205 registered voters between November 17 and November 19, are expected to be released later this week.
Almost eight months after the Coronavirus Aid, Relief, and Economic Security (CARES) Act was passed by Congress and signed by President Donald Trump, disputes between Democratic and Republican leaders has repeatedly blocked movement on a follow-up bill.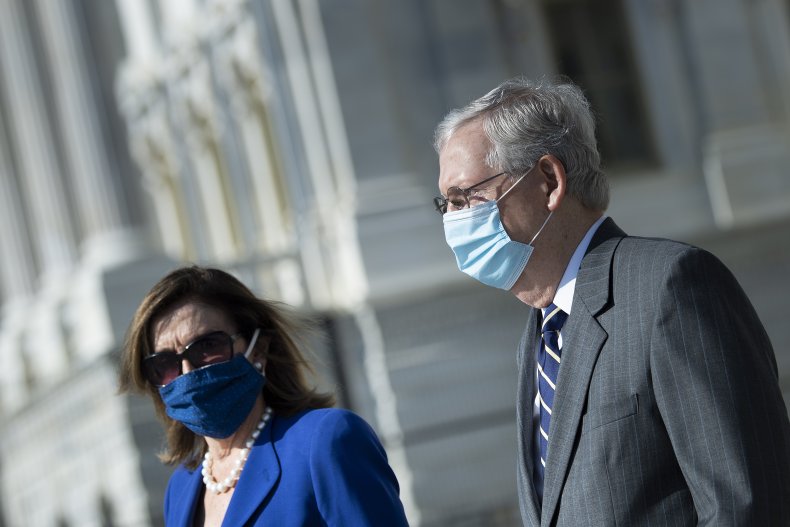 Speaker of the House Nancy Pelosi (D-Calif.) and Senate Majority Leader Mitch McConnell (R-Ky.) have both joined with partisan colleagues to accuse the opposing party of obstructing any potential legislation.
Meanwhile, COVID-19 has continued to spread throughout the country at a record-breaking pace, with well over 12.2 million cases and more than 256,000 deaths recorded as of Monday, according to Johns Hopkins University.
If the Senate remains in GOP control after President-elect Joe Biden takes office on January 20, Republicans are likely to make it difficult for Democrats to achieve any of their legislative goals. McConnell could block bills coming from the Democratic-controlled House from even being voted on by the Senate.
However, it is not clear which party will control the chamber. If Democrats were to win both seats in the Georgia runoffs, set to take place on January 5, the party would effectively control the Senate with a 50-50 split and Vice President-elect Kamala Harris having the ability to cast tie-breaking votes.
Republicans only need to win one of the two races to retain control, but recent polls have suggested that both contests are close, with incumbent GOP Sens. David Perdue and Kelly Loeffler both statistically tied with Democratic challengers Jon Ossoff and Raphael Warnock.
Newsweek reached out to the Democratic Senatorial Campaign Committee and the National Republican Senatorial Committee for comment.