Most Voters in Mitch McConnell's Home State of Kentucky Disagree with Him on Coronavirus Federal Aid
A majority of voters in Senate Majority Leader Mitch McConnell's home state of Kentucky disagree with his coronavirus federal aid plan, according to a new poll.
The poll, which was conducted by Public Policy Polling, surveyed 1,547 registered voters across Kentucky from July 17 to July 18. The poll has a margin of error of plus or minus 2.5 percentage points.
According to the poll, 65 percent of respondents said they support the proposal to distribute $1 trillion to state and local governments, a number the McConnell has opposed. In comparison, only 21 percent of voters in the state said they oppose the aid to states, amid the novel coronavirus pandemic.
In April, the Senate Majority Leader first voiced his opposition against giving state and local governments more federal aid and said, "I think this whole business of additional assistance for state and local governments needs to be thoroughly evaluated."
"There's not going to be any desire on the Republican side to bail out state pensions by borrowing money from future generations," McConnell said during a radio interview in April.
Shortly after his comments, his office published a press release, doubling down on his remarks, with a heading that read, "A blue state bailout."
The Hill reported that McConnell has since shifted his opinion and has suggested that state and local governments may receive some additional federal aid, but he has not come close to supporting the $960 billion proposal preferred by Senate Minority Leader Chuck Schumer.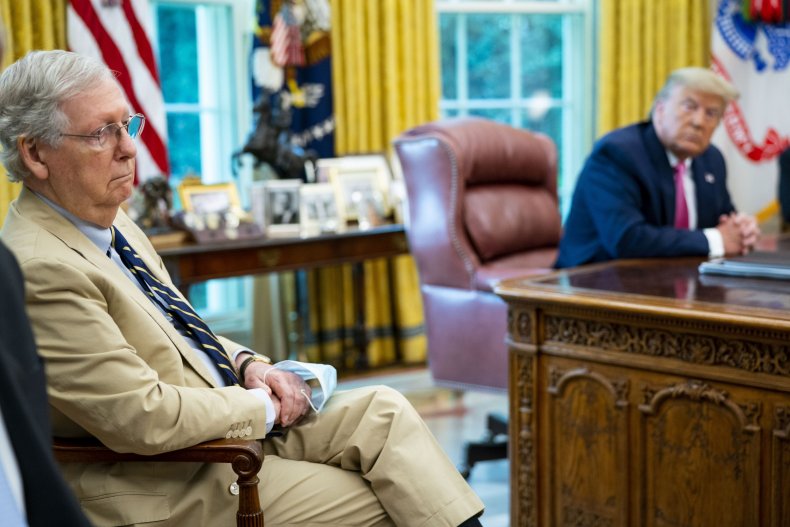 The poll from Public Policy Polling also found a majority of Kentucky voters disagree with sending children back to school, a stance that McConnell has supported. According to the poll, 56 percent of voters in the state said they disagree with sending kids back to school, while 31 percent said the opposite.
When looking at the safety of sending children back to school amid the ongoing pandemic, the poll found that 50 percent said they generally don't think it's safe, while 35 percent said it will probably be safe.
Additionally, the poll found that 40 percent of respondents said they approve of McConnell's job performance while 48 percent said they disapprove.
The poll's findings come as cases of the novel coronavirus continue to surge throughout the U.S. According to a tracker from Johns Hopkins University, there are currently over 3.8 million confirmed cases of the virus in the U.S. and at least 140,937 deaths.
McConnell is currently in the midst of a re-election campaign for his Senate seat against Democratic candidate Amy McGrath, and several polls have shown them in a tight race. A poll conducted by RMG Research from late-May found 41 percent siding with McGrath while 40 percent chose McConnell.
Another poll from late-June, conducted by Data for Progress and Civiqs, found 53 percent of voters in Kentucky supporting McConnell, while McGrath received 33 percent.
Newsweek reached out to McConnell's office for comment but did not receive a response in time for publication.