The Latest Document From the Snowden Trove Highlights Israeli Spying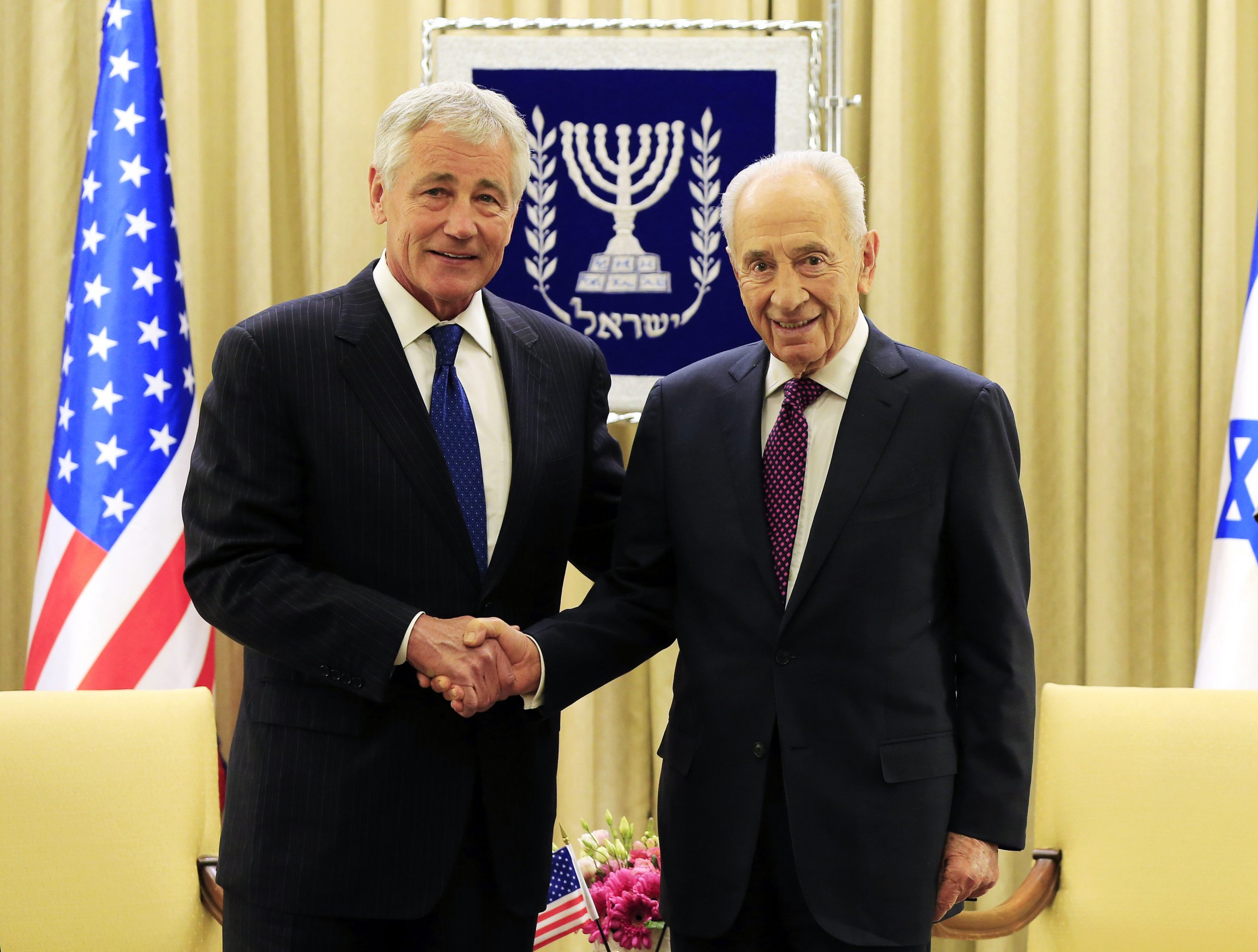 Israel had a few triumphs, this week, in its campaign to rebut charges that it spies in the U.S. It got a hearing with the chairman of the Senate Intelligence Committee, it saw the removal of a roadblock to long-delayed legislation that would strengthen strategic cooperation between Israel and the U.S., and at a press conference in Tel Aviv, U.S. Secretary of Defense Chuck Hagel said he was "not aware of any facts that would substantiate" Newsweek's reports on Israeli spying against the United States.
But as always the case in the complex relationship between the two, closely allied nations, Israel did not get everything it wanted. Senator Dianne Feinstein, who chairs the Intelligence Committee, stopped short of dismissing allegations of Israeli espionage, a charge buttressed by the publication Wednesday of yet another highly classified National Security Agency document from the vast archive stolen by fugitive whistle-blower Edward Snowden that says Israel has been spying on the United States. And while a Senate bill to lower Israeli visa restrictions was toughened to satisfy critics, some U.S. national security officials still oppose loosening restrictions on Israeli citizens who want to visit the U.S. Some of the concerns not yet addressed: regular reporting by Israel of stolen or lost passports, a faster conversion to biometric passports, and less Israeli hassling of Arab- and Muslim-Americans landing at Tel Aviv's Ben-Gurion airport.
The latest NSA document, revealed by journalist Glenn Greenwald in concert with the publication of his memoir,No Place to Hide: Edward Snowden, the NSA and the U.S. Surveillance State, sums up the complicated security relationship between Israel and Washington in a single paragraph.
"The Israelis are extraordinarily good [Signals Intelligence] partners for us," the NSA observed, referencing joint electronic spying programs against foreign targets, "but on the other [hand], they target us to learn our positions on Middle East problems." It added that a CIA-led National Intelligence Estimate on cyberthreats in 2013 "ranked Israel the third most aggressive intelligence service against the U.S.," behind only China and Russia.
Perhaps Feinstein had that in mind Tuesday after meeting with Yuval Steinitz, Israel's Strategic and Intelligence Affairs minister, who had come to Washington vowing to "take up" allegations, detailed by several intelligence sources in two Newsweek stories, of wide-ranging espionage—not just electronic spying—against American targets. The California Democrat, who has criticized Israeli settlement policies, said she accepted Steinitz's denials "at face value" but would explore the matter further. "I'll do my due diligence too," she added.
Likewise, members of the House Judiciary and Foreign Affairs committees had second thoughts this year about legislation that would lower visa restrictions after a briefing by U.S. intelligence officials. According to three congressional aides who spoke to Newsweek on condition of anonymity because of the issue's sensitivity, Representative Brad Sherman, sponsor of one of the pro-Israel visa measures, had invited the classified briefing to put to rest concerns about Israeli spying that had been raised on Capitol Hill by intelligence officials the previous year.
The top-secret January 8 briefing in a secure congressional intelligence facility, "was arranged by [Congressman] Sherman to allay concerns" about Israeli spying on the part of staffers who had attended previous intelligence briefings, as one congressional aide put it. "The intent was to allay these concerns," the aide reiterated. "But it backfired." Some members and aides who attended came away even more concerned. Follow-up congressional briefings by officials from the FBI, Department of Homeland Security and the Office of the Director of National Intelligence deepened those concerns, the aides said.
According to the April 16 edition of CQ Roll Call, which specializes in congressional coverage, the Republican chairman of the House Judiciary Committee, Robert W. Goodlatte of Virginia, "heard reservations from the intelligence community about allowing Israel into the visa waiver program because of concerns that it would allow in Israeli spies." His office declined to comment further for Newsweek.
The issue is "radioactive," a former senior U.S. intelligence operative with close knowledge of Israeli operations said Wednesday after digesting the vociferous espionage denials from Jerusalem and Tel Aviv. Israeli intelligence, he said, became far more cautious, subtle and sophisticated after the 1985 arrest of Jonathan Pollard on charges of spying for Israel.
"Israel does spy on the U.S., but in a wide variety of ways that can't just be reduced to handling a clandestine agent like Jonathan Pollard," said the former official on condition of anonymity because virtually everything about Israeli operations remains highly classified. "There are many players [at work], military and civilian, [in the] defense industrial base and [among] industrial competitors, technologies and commercial systems." They are not necessarily direct employees of Israeli intelligence agencies, he said, "but all work for the mothership."
Techniques are indirect, and human "assets" are valued as highly as paid agents. The gathering of information from unwitting targets is subtle, he explained. "There's the 'Hey-we're-just-friends-fighting-the-same-enemy' elicitation games at the bars in Georgetown, the targeting of Americans in different international venues, going after Arab-American dual-citizens, the false flag intelligence operations [with Israeli operatives] posing as U.S. intelligence, and on and on."
Top Israeli officials scoffed at such accounts last week. "In all my meetings with U.S. intelligence chiefs and the political officials who are responsible for them, I have not heard a single complaint about Israeli spying on the United States," Steinitz said on Israeli television.
A former top U.S. intelligence official told Newsweek last week that the FBI scolded Israeli officials again and again in the 1990s and afterward about spying operations in the U.S., but that successive administration policymakers refused to let the Justice Department bring charges.
Sherman, ranking member of the House Foreign Affairs subcommittee on Terrorism, Non-proliferation and Trade, refused to discuss any briefings with Newsweek. "I'd only go on the record with one thing," he said. "Nothing I've heard in any classified briefing regarding Israel has surprised me. I was just with Steinitz yesterday," he said of the Israeli intelligence minister, "and he said Israel doesn't spy in the United States at all. I don't know what the case is."
Which is not to say that Israel is spying on the U.S., or isn't spying on the U.S., or even that he's heard a briefing about Israeli espionage here, he said. "I'm not saying anything at all. That's what [Steinitz] said."
Asked about the newly surfaced NSA document on Israeli cyberespionage, Sherman called it "an interesting document" but that he didn't have "any confirmation from classified settings that that's accurate." But "it's not up to me to confirm its accuracy" for the media, he added. "And at the same time, the U.S. assumption—my assumption—is, [that] the United States spies on everybody. And when I vote for the budgets of our counterintelligence services, I expect that they will assume that everyone is spying on us.
"I didn't say I assume everyone is spying on us," he added. "I said I fund a counterintelligence agency and I expect them to be vigilant, I expect them to assume everybody's spying on us. I don't know who is spying on us and who isn't. And if I do know anything from classified briefings, it would not be reflected in this conversation."
Jeff Stein writes Spytalk for Newsweek from Washington. He can be reached confidentially via spytalk@hushmail.com.