Mosul Battle Liberated a City and Freed Thousands of Children Who Now Need Help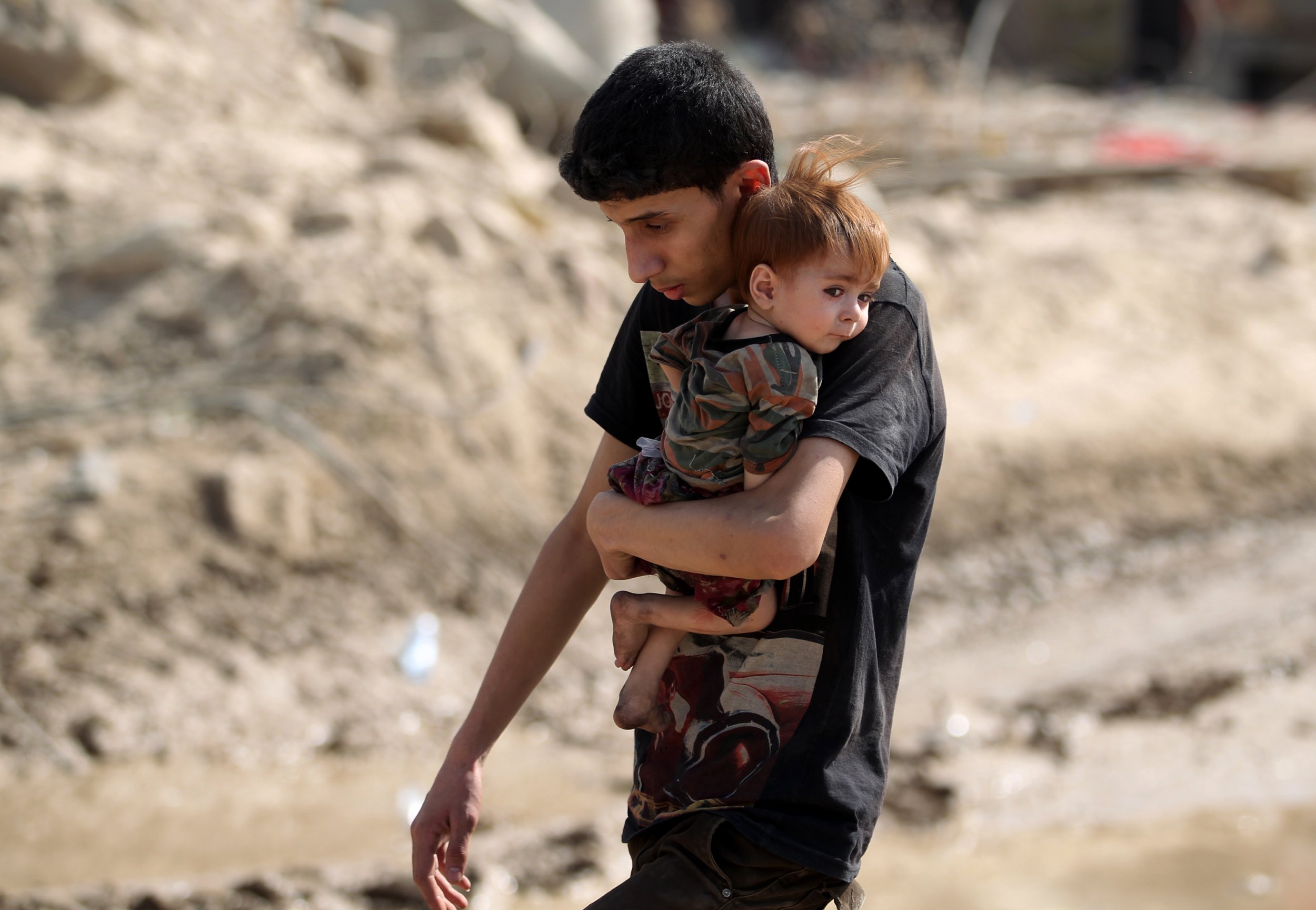 In 2014, Islamic State militant group arrived in Mosul quickly and ruthlessly. The residents of Iraq's second city were trapped and suddenly forced to live under the brutal ISIS regime, an entrapment that lasted nearly three years. Included in that number were hundreds of thousands of boys and girls who suffered under a violent occupation, and have now been forced through an even more bloody liberation. Amidst highly publicised military moments, children endured the fear and pain of almost three years in captivity.
Children in War Child centres clustered around Mosul are graphic in their accounts of parents detained, tortured and killed. They recount executions in the street and beatings for any piece of clothing or behavior that went against the ISIS creed. In these young minds, the shock is severe and ongoing, presenting a major challenge to the humanitarian response. This is a very traumatised humanitarian caseload.
Basic psycho-social care and a return to school help children to feel that life is returning to normal and to process the trauma they have experienced. This work has to be a central part of our response to the psychological catastrophe that ISIS inflicted on Mosul and its children. But donors seem blind to the urgency.
The UN has requested $70 million to fund a return to education for Mosul's children, yet donors have only provided less than 4 percent to date, effectively abandoning children and consigning them to their trauma. This goes beyond shame. It is not humane or safe to leave hundreds of thousands of children to deal with this disaster unsupported. Leaving children confused, scared and disrupted will turn a military victory into a profound policy and security failure.
Some children who had taken their chance to flee from the battle for Mosul have missed out on crucial years of education as they did not go to school during the ISIS occupation. They tell me they did not want to learn about tanks, or count dead non-believers in their maths lessons.
For others, ISIS forced thousands of children to attend their schools, where children were forced to learn military and bomb making techniques. Some young boys were forced to take up arms and work with the ISIS militias. Now that ISIS has gone, these children and young people are faced with suspicion and anger.
Under duress or faced with the threat of torture or death, they complied with the demands of a murderous regime, and now run the risk of being rejected by their communities and cast out to fend for themselves. One boy, who had been abducted by ISIS and was used as a human shield in the battle for West Mosul finally made it back to his home to find "You are DAESH" painted on his front wall. Too scared to return home and fearing for his life, he now lives in the relative safety of a UN managed camp.
Alone, traumatised, ostracised and cut off from any hope of a return to normality, the young people of Mosul are clearly vulnerable, and will be susceptible to radical messages and offers of hope from the very people who the coalition has been fighting against.
For future peace and security, it is vital that these young victims of ISIS are supported through a decompression and reconciliation process. Experience from disarmament and demobilisation in other conflicts shows us that this approach works well. But funding will be key to this process, and the money is simply not there.
Our first mistake was to allow ISIS to control so much territory for so long. A second, and bigger, mistake would be to cede to them a territory that matters much more: the minds and loyalties of the young people they dominated for so many months.
Mosul, and other areas retaken from Iraq, need much more than a military strategy. Donors working through local organizations with proven methods and approaches, can make an enormous difference to the rapid rebuilding of cohesive and resilient communities, and secure and hopeful children. Compared to the costs of a military campaign, this is not expensive. Compared to the costs of a new round of violence, this is an investment we cannot afford to neglect.
Rob Williams is CEO of War Child UK, a charity for children affected by conflict.