War in Iraq: ISIS Trapped Families Inside Homes Rigged With Bombs to Use Civilians As Human Shields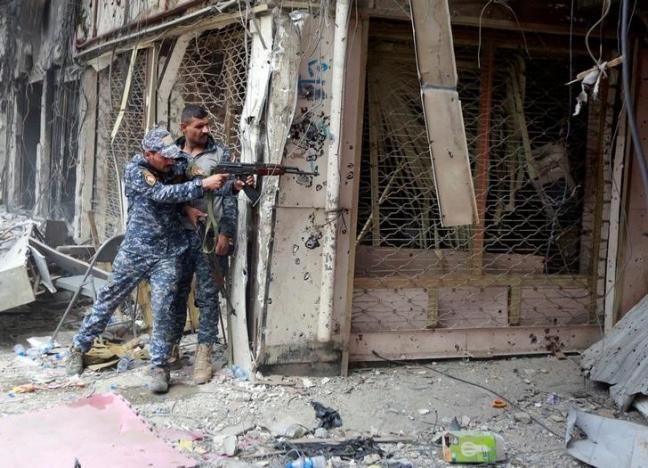 The Islamic State militant group (ISIS) welded the doors shut of civilian homes and used improvised explosive devices (IED) to trap the population of Mosul as a human shield during the U.S.-backed offensive to liberate the city, Amnesty International says.
A report by the human rights organization this week details how ISIS carried out a systematic campaign of forced displacement in the Mosul area since October 2016, moving thousands of civilians from neighboring villages into districts under ISIS control. These civilians were then used as human shields.
Read More: ISIS loses last stronghold in Iraq but the militant group lives on
One 42-year-old man from al-Hermat in Mosul explained how streets were booby trapped at both ends and hidden IEDs were scatted across the ground. "They think all of the people with them should die if they try to escape, so they placed these traps," the man, who is identified with the pseudonym, Hasan told Amnesty International.
When the Iraqi forces entered ISIS areas, the abuses mounted. "They came to us in a pick-up truck, with a generator in the back, and then they welded shut the gap between the two doors … They did this to our door, and even worse, they did it to another house in our neighborhood where hundreds of people were staying," another man given the name Moshen to protect his identity said.
Over the course of the 260-day-long offensive to retake Mosul, ISIS made examples of those who attempted to flee. "Four of my neighbors were caught trying to escape, and I saw them hanging from the electricity pylon. They were left for days, just hanging there. They would hang between 15 and 50 people from the pylons," Hasan said.
The report also documents a pattern of attacks in which U.S.-led coalition and Iraqi forces appear not to have struck their intended military targets, instead killing and injuring civilians, and destroying or damaging civilian objects. In some cases, civilian deaths and injuries appear to have resulted from an inappropriate choice of weapons or a failure to take precautions to verify target, the organization claims.
On Sunday, Iraqi soldiers celebrated recent gains but stopped short of declaring an outright liberation of the city. Iraq's Prime Minister Haider al-Abadi met field commanders, kissed babies and toured a reopened market. ISIS still holds control of less than a mile of territory in the Old City where diehard ISIS families are holding out, the Associated Press reported.
"The horrors that the people of Mosul have witnessed and the disregard for human life by all parties to this conflict must not go unpunished," Lynn Maalouf, Amnesty International's Middle East Research Director, said. "Entire families have been wiped out, many of whom are still buried under the rubble today. The people of Mosul deserve to know, from their government, that there will be justice and reparation so that the harrowing impact of this operation is duly addressed," she added.