Iraqi Forces Begin Second Phase of Mosul Offensive Against ISIS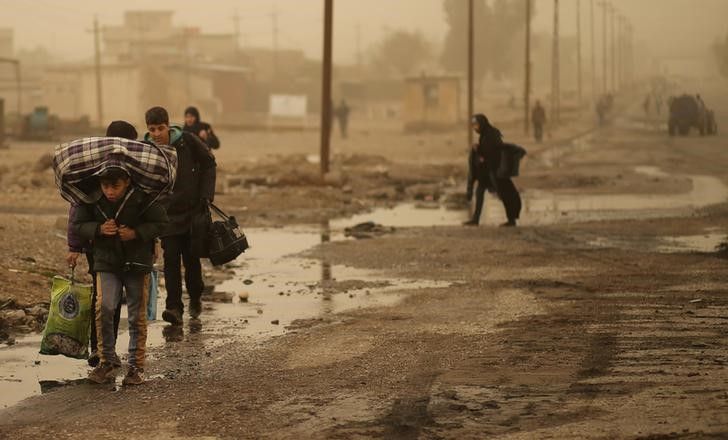 Iraqi security forces on Thursday began the second phase of their offensive against Islamic State militants in Mosul, pushing into some eastern districts where the battle has been in deadlock for nearly a month.
Thousands of federal police troops who redeployed from Mosul's southern outskirts two weeks ago also pushed into a handful of southeastern districts, state television reported.
"This is the second phase of the operation to liberate Mosul conducted by the special forces, the federal police and us on this front," General Nejm Jabouri, a senior army commander, told Reuters in a village just north of Mosul.
Since the offensive to capture Mosul began nine weeks ago, counter-terrorism forces have retaken a quarter of the city, the militants' last major stronghold in Iraq, but their advance has been slow and punishing. They entered a planned "operational refit" earlier this month, the first significant pause of the campaign.
An officer from an elite Interior Ministry unit said on Thursday it was advancing alongside counter-terrorism forces in Mosul's Intisar district, where army troops advised by U.S. forces had made little progress.
"Our troops now are advancing. In the first five or 10 minutes they took 500 metres. Just now they are starting to shoot," the officer said.
A plume of white smoke, likely from an air strike, rose from a southeastern district on Thursday morning while at the northern front heavy gunfire was audible and a suicide car bomb was disabled by the Iraqi army before reaching its target.
The battle for Mosul involving 100,000 Iraqi troops, members of the Kurdish security forces and Shi'ite militiamen, is the biggest ground operation in Iraq since the U.S.-led invasion of 2003 that toppled Saddam Hussein.
U.S. commanders have said in recent weeks that U.S. military advisers, part of an international coalition fighting the Islamic State militant group (ISIS), will embed more extensively with Iraqi forces. Some of them were seen behind the front lines on Thursday, watching over the operations.
The coalition bombed the last remaining bridge connecting the eastern and western parts of Mosul late on Monday in a bid to make it more difficult for ISIS to redeploy and resupply its fighters across the Tigris River.
"The enemy is currently isolated inside the left (eastern) bank of Mosul," Yahia Rassol, a military spokesman, said on state TV. "In the coming days, Iraqi forces will liberate the entire left bank of Mosul and after that we will tackle the right."
The United Nations has previously expressed concern that the destruction of Mosul's bridges could obstruct the evacuation of civilians. Up to 1.5 million are thought to remain inside.
Mosul, the largest city held by Islamic State anywhere across its once vast territorial holdings in Iraq and neighbouring Syria, has been held by the group since its fighters drove the U.S.-trained Iraqi army out in June 2014.
Its fall would probably spell the end for the group's ambition to rule over millions of people in a self-styled caliphate, but the fighters could still mount a traditional insurgency in Iraq, and plot or inspire attacks on the West.
Iraqi Prime Minister Haider al-Abadi, who previously pledged to retake Mosul by the end of the year, said this week it would take another three months to rout ISIS in Iraq.
The operation has been slowed by concern to avoid casualties among civilians, who have mostly stayed in their homes rather than fleeing as was initially expected.