Mother Accused of Killing Baby Daughter After Rubbing Fentanyl on Her Gums to Help Her Sleep, Prosecutors Say
A woman who was arrested in connection with the death of her 1-year-old daughter allegedly rubbed fentanyl on the baby's gums more than a dozen times to help her sleep.
Kimberly Nelligan, 33, of Bangor, Maine, appeared in Penobscot County Superior Court on September 19 to plead not guilty to charges of endangering the welfare of a child and possession of a scheduled drug following the death of her daughter, Jordynn, last October.
Bangor Police were called to an address at the Holiday Trailer Park to reports of an unresponsive child on October 10, 2018. The 1-year-old was taken to Northern Light Eastern Maine Medical Center where she was later pronounced dead.
The Maine medical examiner's office later told police Jordynn's cause of death was acute fentanyl intoxication after directly ingesting the drug, reports Bangor Daily News.
Fentanyl is a synthetic opioid that can be as much as 80 to 100 times stronger than morphine. While developed for pain management, it can also be used recreationally as a heroin-like substance and is often cut with the drug.
Fentanyl has been linked to a wave of overdose deaths in the U.S. as many are unaware they are using the drug which is 50 times more powerful than heroin.
According to court documents, Nelligan confessed she had been using heroin in the months before her daughter's death.
The baby's father, Shane Smith, also claimed he had watched Nelligan rub heroin residue on Jordynn's gums in the past in order to help the baby with stomach problems which kept her awake.
"Shane said Kimberly was taking leftover baggies from their 'dope' and using the residue to put on the inside of Jordynn's gums to help her sleep," an affidavit states, reports The Portland Press Herald.
"Shane said Kimberly told him she had done it with her other kids in the past.
"Shane said Kimberly did this to Jordynn for about two months before she died. Shane estimated he had seen Kimberly do this 'trick' about 15 times."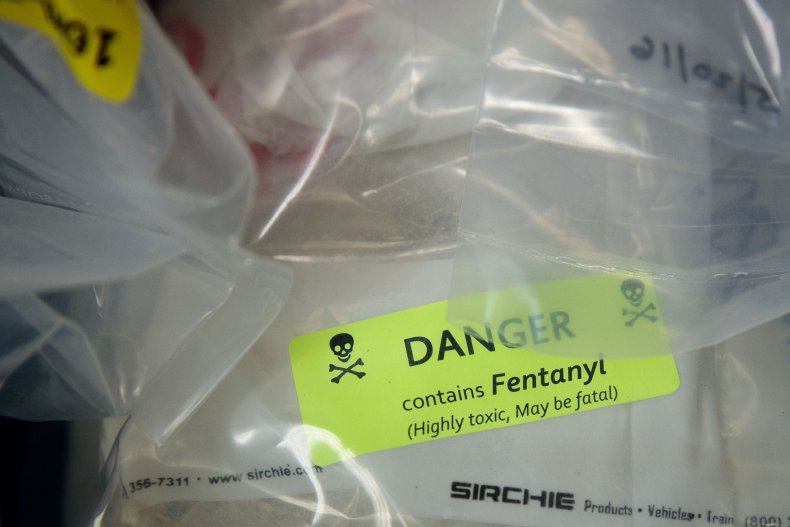 Smith said he didn't object to what Nelligan was doing as she assured him it was safe. Nelligan's other two children are aged three and seven.
After Jordynn's death, Nelligan allegedly told Smith "you know I didn't hurt our daughter on purpose," according to police.
District Attorney Marianne Lynch said further charges may be brought forward against Nelligan as the investigation continues, but for now the defendant is only charged with child endangerment and drug possession.
"These are very serious, very difficult cases, and in some instances the law isn't really designed to address issues like this," Lynch said. "If things change at some point, there is still a possibility for other charges to come forward, but at this point these are the charges we are confident we can go forward with."
It is unclear whether Smith will face any charges in connection to his daughter's death.
Nelligan is due to appear next in court on November 12.