Mother Alleges She Was Virtually Groped in Attack Inside Facebook's Metaverse
A British mother recently came forward with accusations that she was virtually groped during an attack by "three to four" male avatars inside Meta's metaverse.
Nina Jane Patel, 43, wrote in a Medium blog post in December that within 60 seconds of joining a lobby inside the metaverse—created by Meta, formerly known as Facebook—she was verbally and sexually harassed by a group of male avatars.
In the post, the mother of four recounted watching her avatar get groped and "virtually gang-raped." She remembered it being so horrible that she was unable to react fast enough.
Patel claimed the avatars touched her avatar, which she said resembled her in real life, inappropriately while they took pictures and made crude comments.
"It was surreal. It was a nightmare," Patel wrote.
Patel told Newsweek she tried to report and block the individuals responsible but everything happened so quickly she was unable to report it.
"It was so unpleasant I just needed to exit in order to end it, as they were yelling such profanity at me," she said.
She wrote that although it occurred virtually, she responded as though the assault happened to her in real life.
"Virtual reality has essentially been designed so the mind and body can't differentiate virtual/digital experiences from real," she wrote. "In some capacity, my physiological and psychological response was as though it happened in reality."
Patel said after sharing her story she saw various opinions, including people asking why she decided to choose a female avatar. Others called her stupid and said nothing that occurs in VR is real.
"There is clearly a divide between those that condone these socially unacceptable behaviors in an unsafe metaverse and those that realize the urgent need to create proper safety measures," she told Newsweek.
Ironically, Patel is the co-founder and vice president of Metaverse Research for Kabuni Ventures, which works to provide a safe space in the metaverse for children. Patel is currently investigating the psychological and physiological impacts of Extended Reality (XR).
She told Newsweek that as more people move toward using this technology, instances of virtual harassment within metaverses will become more common. She said that companies hold a responsibility to keep users safe from virtual harassment and assault.
Patel added that what is most harmful about harassment inside metaverses is that young children might spend time in these spaces. She explained that if not properly regulated, "the inevitable move into the metaverse" will cause concerns for younger and more impressionable children.
She said that Kabuni was created to establish a metaverse safe for children between the ages of eight and 16 utilizing research and collected data. Kabuni works with educators "to shape a safer metaverse," Patel said.
This is not the first time Meta has faced an accusation about assault inside the metaverse. In early December, a beta tester for Meta's Horizon Venues posted in the official group on Facebook about how her avatar was groped by a stranger.
"Sexual harassment is no joke on the regular internet, but being in VR adds another layer that makes the event more intense," she wrote, according to The Verge. "Not only was I groped last night, but there were other people there who supported this behavior, which made me feel isolated in the plaza."
After an initial investigation by Meta, its VP of Horizon, Vivek Sharma, said the user did not utilize a safety feature that blocks someone from interacting with their avatar, The Verge reported.
Horizon Venues is a virtual experience that is still in the developmental stages. The virtual venue allows avatars to interact and view events such as concerts, sports, and comedy shows. The venue is supposed to only be open to users 18 and older.
Many reviews left on the official Horizon Venues page mentioned that the experience "lacked personal space" and that many children were hanging out inside the venue.
"Most of the times [when] I've come to watch a show or fight there were either kids being obnoxious or someone followed me around being inappropriate," one review read. "I know it's avatars, but trying to kiss my avatar or motorboating my avatar boobs is completely out of hand."
Others mentioned there needed to be better moderation and that it needed to be easier for users to report bullying within the venue.
"If you're looking for a safe place for your kids to hang out...hard pass here," another review read. "I'd suggest adults staying clear too. Good grief. I almost had a panic attack in VR."
A spokesperson for Meta told Newsweek that it is aware of the problem and is continuing to make improvements to Horizon Venues.
"We're sorry to hear this happened. We want everyone in Horizon Venues to have a positive experience, easily find the safety tools that can help in a situation like this and help us investigate and take action," the spokesperson said.
"Horizon Venues should be safe, and we are committed to building it that way. We will continue to make improvements as we learn more about how people interact in these spaces, especially when it comes to helping people report things easily and reliably," the spokesperson said.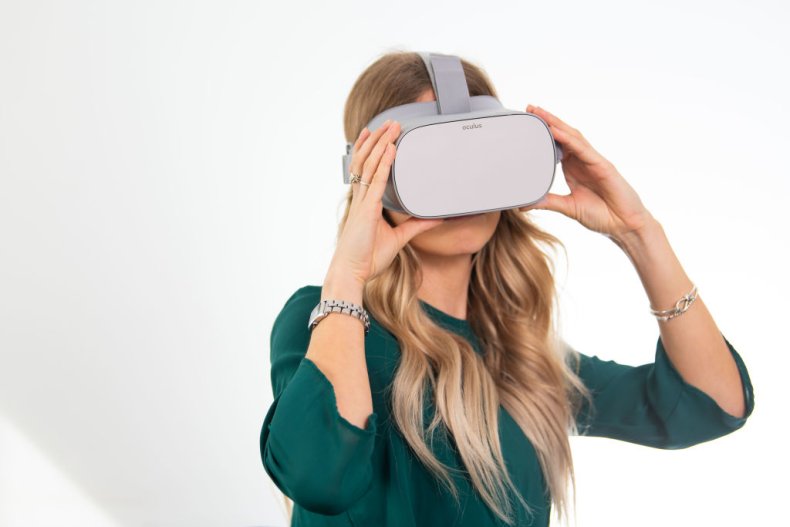 Update 02/01/2022, 8:30 a.m. ET: This story was updated with comments from Nina Jane Patel and a Meta spokesperson.