Mother Cat and Her Newborn Kittens Found Living in a Bird's Nest
An adorable feline family recently made their home in an unlikely spot: high up in the branches of a tree.
The Chiltern branch of Cats Protection, a UK charity organization, posted the news to their Facebook page, calling it "an inspiring story."
According to the group, the search began when a dead kitten was found by a local woman, prompting the organization to search for the mother and the other kittens in the litter. While the mother cat was soon found nearby, her kittens remained a mystery.
"A resident let us know that she had found a dead kitten in her garden," the Facebook post reads. "After days of searching, the team found the mum cat, but couldn't find her kittens. They spent days searching gardens, speaking to residents, setting cameras and leafleting the whole area to no avail."
However, things took an optimistic turn when the mother cat was seen making her way up a tree trunk.
"One day," they wrote, "they spotted her climbing a tree on an industrial estate, where they found she had her 3 kittens in a nest!"
There, they discovered the mother cat's three surviving kittens. Additionally, rescuers found a tomcat that is bonded with the mother cat, and who is serving as a "dad" to the kittens.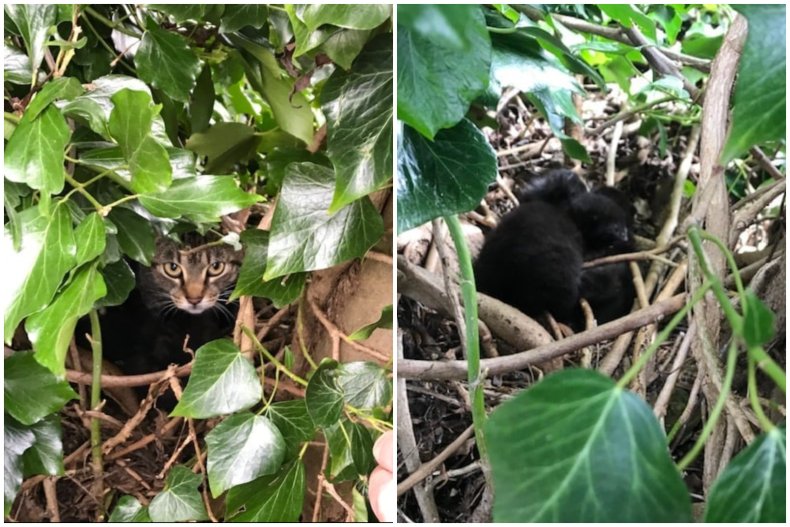 According to Bucks Free Press, it was volunteer Ruth Goller who actually made the discovery in the town of Amersham, England.
"One morning, the mum showed up with a male who seemed bonded with her," she said. "I watched her eat and it was obvious that she recently had kittens and was still feeding, but we had no idea where she had stowed them."
Eventually, she was able to follow them to their tree. She said she then "clambered on some containers and reached up into the tall tree."
"That's when I saw a nest with mum feeding three kittens right in front of me. I was so glad to have found them. The male was watching from nearby."
The mother cat, Oriole, the tomcat, Willet, and the kittens, Bran, Jay, and Lori, have all been given distinctly avian names to commemorate their former home.
According to the organization's Facebook post, "Willet spent a few days at the vets as he was limping badly, but fortunately it was just an abscess, which quickly healed." They added that "he is a good 'dad' to the kittens, washing and playing with them—although he does get a bit annoyed when they mistake him for mum at feeding time!"
As the secretary of Cats Protection Chiltern, Kathryn Graves, noted, it's odd for a male cat to feature so largely in kittens' lives.
"It is very unusual for a tomcat to stick around after kittens have been born," she said, according to the Bucks Free Press. "In fact, I've never seen it before."
The cats have since been moved into the care of a fosterer, Sue Buck.
"They're a lovely little family," Buck said. "Willet behaves like a doting dad to the kittens, even grooming them. Oriole and Willet are clearly bonded and we would love to think we could rehome the mum and male cat together."