Mother Charged With Child Endangerment After COVID-Positive Son Put in Trunk for Isolation
A mother has been charged with child endangerment after putting her 13-year-old son in the trunk of her car to isolate him once he tested positive for COVID-19.
Authorities allege the 41-year-old woman's son was discovered in her trunk at a testing site for the Cypress-Fairbanks school district in northwest Houston.
The woman, identified as Sarah Beam, is a teacher with the Cypress-Fairbanks Independent School District who most recently worked at Cypress Falls High School, according to local TV station KPRC.
In a statement, the school district said the child was not harmed.
"CFPD was alerted that a child was in the trunk of a car at a drive-thru COVID-19 testing site earlier this week," the school district said in a statement to Fox News. "Law enforcement conducted a full investigation, resulting in a warrant for arrest."
Court documents indicate that Beam took her son to a drive-thru testing site on Monday, January 3, KPRC reported.
The site was at Ken Pridgeon Stadium, probable cause documents from the Harris County District Attorney's Office show, according to the Fort Worth Star-Telegram.
Bevin Gordon, the school district's director of health services, was taking information from vehicles waiting for COVID testing at the stadium when she found the 13-year-old in the trunk of a car, according to a court document.
"(The mother) stated that she put (her son) inside the trunk to prevent her from getting exposed to possible COVID while driving (him) to the stadium for additional testing," the court document indicated.
The 13-year-old was discovered "lying down in the trunk," the Fort Worth Star-Telegram added.
Gordon reportedly told Beam she "would not be receiving COVID testing until the child would be removed from the trunk of the vehicle and place[d] in the back seat of the vehicle," according to Houston's KRIV TV.
Investigators reviewed surveillance footage from a middle school nearby that showed the teenager moving to the passenger side of the back seat of the vehicle from the trunk, KRIV reported.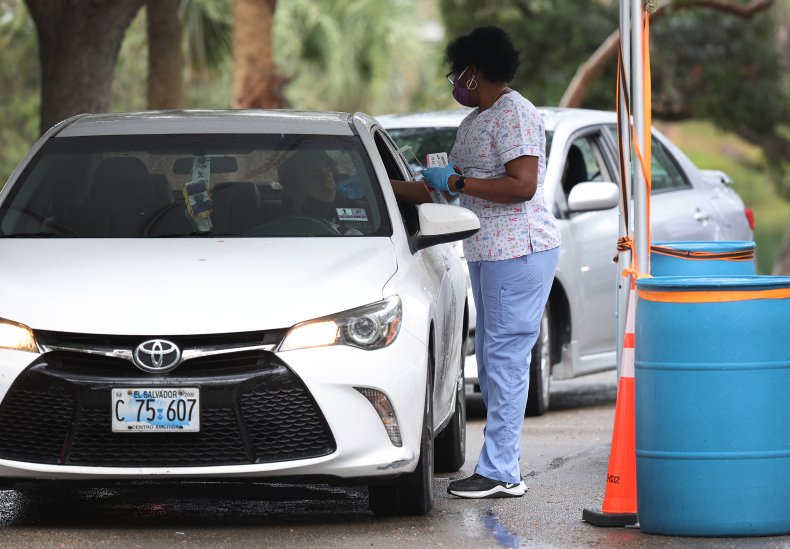 Gordon later called the school district's police department.
The woman has not yet been arrested or turned herself in, according to authorities.
Court records did not list an attorney for her.
She has worked for the Cypress-Fairbanks school district since 2011. The district said she is on administrative leave.
The Associated Press contributed to this report.