Mother of Senior Kurdish Politician Tortured and Executed by Turkish-backed Radicals in Syria Accuses Erdogan of Murdering Her Daughter
The mother of a Kurdish politician who was executed by Turkish-backed Syrian militants has accused Turkish President Recep Tayyip Erdogan of being responsible for the death of her daughter.
Havrin Khalaf, a rising politician and leading activist in the pro-Kurdish Future Syria Party, was tortured and killed on October 12 after radicals from Ahrar al-Sharqiya group riddled her SUV with machine-gun fire and stopped it in its tracks.
The 32-year-old was then removed from the car, had her jaw and leg broken, was dragged by her hair until the skin of her scalp came out and was repeatedly shot until she died.
Several images and videos showing her mutilated body were then posted online. Her driver, identified as Farhad Ahmed, was also killed in the attack.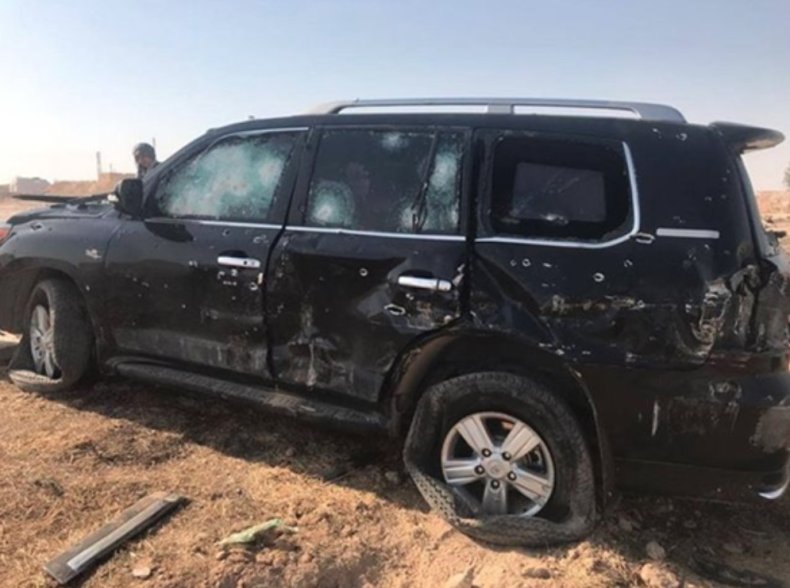 Speaking to Rudaw following the funeral for her daughter on Sunday, 62-year-old Suad Muhammed said: "I accuse Erdogan of using chemical weapons against civilians, of killing children and committing war crimes. I accuse him of murdering my daughter. If there is any justice in this world, why is the international community staying so silent?"
"If they had wanted to eliminate her, why didn't they just put a bullet in her head or in her heart?"
"No, instead, they tortured her. They broke her body, tore her nails and hair off... is this democracy, is this justice? No, it's not. I'll keep shouting till justice comes."
Details of Khalaf's injuries were detailed in a Corpse Investigation Report outlined by Dr. Tayceer al-Makdesi of the Al-Malikiyah International Hospital. Makdesi concluded that Khalaf died as a result of brain hemorrhaging and gunshot wounds to the head.
Open source analysts who studied the images and footage determined she was killed on a motorway in Raqqa governate between Ayn Issa and Al-Hasakah, south of Tal Abyad.
Militants from the Ahrar al-Sharqiya group had set up camp on that stretch of motorway and fired at civilians as they drove by.
Ahrar al-Sharqiya is an off-shoot of Ahrar al-Sham—a group that has fought Syrian President Bashar al-Assad's government from the beginning of the bloody eight-year civil war. The latter had close links to al-Qaeda and al-Nusra.
According to a military source who spoke to The New York Times, militants from Ahrar al-Sharqiya were moved from Manbij to Turkey roughly one week before Turkey launched its Operation Peace Spring offensive on October 9.
Turkey has supported provided covert support to groups like Ahrar al-Sharqiya and Ahrar al-Sham throughout the course of the Syrian Civil War in an attempt to destabilize Assad.
Secretary of Defense Mark Esper addressed allegations of Turkey's links to war crimes—both in terms of Khalaf's murder and the alleged use of white phosphorus on civilians—in an interview with CNN's Christiane Amanpour.
"I've seen the reports as well," Esper said. "We're trying to monitor them. They are horrible, and if accurate, and I assume that they are accurate, they would be war crimes, as best as I know the law of land warfare."
A State Department spokesperson also confirmed that it was looking into extrajudicial killings.
"We find these reports to be extremely troubling, reflecting the overall destabilization of northeast Syria since the commencement of hostilities on October 8," the spokesperson said.
Khalaf, who was the secretary-general of her party, was a reformist who argued for the cohesion of Syria.
"She was a leading figure in Syria who dedicated her time to the enhancing of other people's lives," Suad said.
"As soon as she finished her studies, she started helping people by fighting inequality. Before being a member of Syria's Future Party, she had been a key member of the Ministry of Energy of the autonomous region [of North-Eastern Syria] and passed some bills that allowed every household at least 10 amperes of electricity despite all the power cuts."
Saud also spoke of her last morning with Khalaf—just hours before she died.
"She was in Derik to meet her driver's family as his father had died of natural causes. That morning, she told me how good I smelt. I told her to stay, or that I should come with her as she had meetings around Raqqa and Tabqa. But she said everything would be fine."
"I told her to take a Quran to protect herself, but she said she didn't need it, that she had one in her heart already."
"The criminals who murdered her broke the Quran that was in her. They say they are Muslims, but they are no such thing. Even non-believers don't behave like that."