Mother Floored After Baby With COVID Given 50/50 Chance of Survival
Thirteen-month-old Matteo Baca from New Mexico is recovering after a serious battle with COVID-19 that left his mother with a choice–put him on extracorporeal membrane oxygenation (ECMO) machine, or risk a 50 percent chance that he won't survive.
Baca was diagnosed with COVID-19 in early December, a surprise to his mother because the rest of the family is vaccinated and they followed recommended safety measures. While children are less likely to get seriously ill from COVID-19, the 13-month-old was quickly admitted to The University of New Mexico Hospital's pediatric intensive care unit and spent more than a week hooked up to the ECMO, which serves as a replacement to a person's own lungs and heart.
"I felt so defeated. Why couldn't I protect him?" Shannarose Martinez, Baca's mother, told KOAT. "It floors me so much that he got so sick. He was so healthy."
Baca was the first baby in New Mexico to be placed on an ECMO machine for COVID-19 and Martinez said it wasn't an easy decision to sign the papers allowing the machine to be used. Baca's mother told local TV station WRQE that she told the doctor "I don't want to do this," but ultimately allowed the ECMO machine because she was told her son had a 50/50 chance of surviving without it.
When Martinez brought Baca to the University of New Mexico Hospital she thought he potentially had respiratory syncytial, a common respiratory virus. Suddenly, though, there were five doctors in the room and the mother knew her baby's condition was serious.
"I remember just looking at Matteo like... is this the last time I'm going to see your eyes open? Is this the last time I'm going to hold you?" Martinez told KRQE.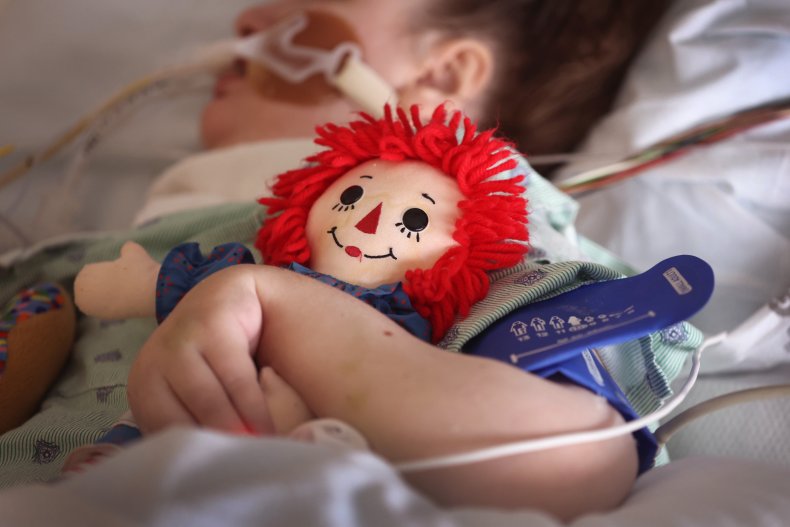 Once he was hooked up to the ECMO machine, Martinez told KRQE that it seemed like his body was "at rest" and he finally had that "chance to just relax."
ECMO machines act in place of a person's lungs and heart, allowing for the patient's blood to flow out of their body and into an oxygenator, which adds oxygen and removes carbon dioxide. The blood is then pumped back into the patient.
Since COVID-19 can fiercely attack a person's lungs, doctors have started using the ECMO machine to allow a person's lungs a chance to rest and give them the vital time they need to recover.
Alia Broman, an assistant professor in the UNM Division of Pediatric Critical Care, told KOAT that it's not 100 percent guaranteed a person survives being put on or being taken off the machine. However, the team decided Baca was a good candidate for the ECMO and after nine days using the machine, he was successfully taken off.
Baca was off supplemental oxygen completely days after coming off the ECMO machine and returned home just after Christmas. His mom told KRQE that she hopes the success doctors had with her son helps health care workers save the lives of other children, as well.