Mother-in-Law Backed for Commenting on Newborn's Looks: 'Would Buy Braces'
A new mom has sought advice online after feeling aggrieved by her mother-in-law's behavior since giving birth. While many users online understood her issues, they've discouraged her from addressing the situation.
Mumsnet user BettyOop99 posted on the parenting advice forum on January 18, stating that she feels "pretty upset" about her mother-in-law's first visit to see the couple and their new baby. The new mom explains that her mother-in-law made a four-hour trip to see them one week after the baby was born via C-section.
"My DH [dear husband] picked her up from the station in the morning, and when she arrived we'd just had a delivery of cards and flowers from friends. She looked embarrassed and said she felt bad that she had come empty-handed," the Mumsnet user wrote.
"I didn't have a baby shower or specifically ask for gifts, but I did think she would pick up a card or something for the baby. AIBU [Am I being unreasonable]? She didn't buy anything before the baby was born either."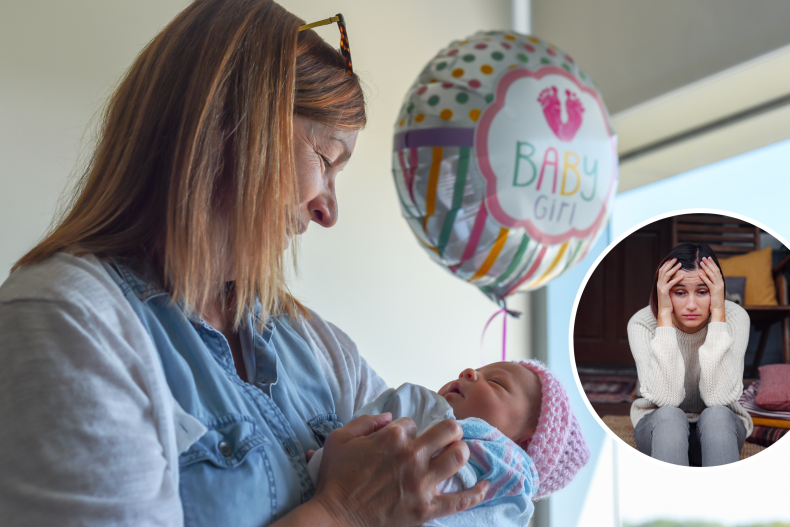 However, that isn't where the problem ends. The user goes on to add that her mother-in-law didn't offer to help around the house while she was there, which also didn't go down well.
With all the after-effects of welcoming a newborn, it's no surprise that a mom might feel a mixture of emotions, which is often referred to as the "baby blues." The American Pregnancy Association believes that 70-80 percent of all new mothers experience negative feelings or mood swings after having a baby, with the baby blues usually kicking in within the first five days after the birth.
Some of the symptoms of baby blues, as listed by the APA are impatience, irritability, anxiety, sadness, mood changes, and poor concentration.
Many of the Mumsnet users suggested that this new mom not make a big deal of the situation with her mother-in-law.
Social worker and the founder of Moms for Mental Health, Jillian Amodio, has suggested ways of addressing the problem in the future. Amodio told Newsweek: "Essentially, boundaries are not meant to make the other party feel better, they are meant to protect you from some form of unwanted behavior.
"Coming from a united front helps to not create a misconception that you are the problem. You and your spouse should agree on the boundary and the approach. Ideally, the spouse whose parents are displaying the problematic behavior will be the one to open the discussion."
Amodio added that when addressing problems, the language used to express oneself should "avoid defensiveness." She said: "It can be helpful to stay away from blame-focused language and instead relay what you are feeling, and what your specific needs are."
Setting some important boundaries might be required for this new mom, as she continues listing her grievances following her mother-in-law's visit. She adds that near the end of the day, her mother-in-law commented that if the baby had teeth like a certain person then "nanny would buy braces,", which upset the already frustrated mom.
"Why are you commenting/thinking about that when the baby is only a week old? You can't even remember a card but you can think about and offer braces to a week-old baby? It really upset me," the poster wrote.
The post has received 138 comments since being posted, most of which advise the mom to say nothing. One person wrote: "You're overtired. Let it go. She definitely didn't mean it as badly as you thought." Another person was quick to suggest it was "just a throwaway comment."
A third user wrote: "She [is making] a four-hour round journey, it's not like she doesn't care. Plenty of time for gifts when others have stopped buying and your daughter needs something."
Newsweek was not able to verify the details of the case.
If you have a family dilemma, let us know via life@newsweek.com. We can ask experts for advice, and your story could be featured on Newsweek.