Mother-in-Law Feeds Drunk Groom During Wedding in Hilarious Viral Video
Wedding receptions are often some of the most raucous celebrations on the planet, but video from one reception is making viewers ask a lot of questions.
A video posted in January by TikTok user @people_like_us_ has been viewed over 580,000 times and features a woman described as a mother-in-law feeding a "drunk groom" at a table at a reception.
It is never specified who recorded the 22-second video or where it was recorded. Neither the woman nor the groom, who looks visibly intoxicated, speaks during the duration of the video—much of which includes the groom trying to chew some kind of food that never makes it inside his mouth until he receives assistance from his new mother-in-law.
The woman does give a thumbs up at one point and even smiles toward the camera. Laughs can be heard from the vantage point of onlookers, with one man in attendance joking about the groom being fed.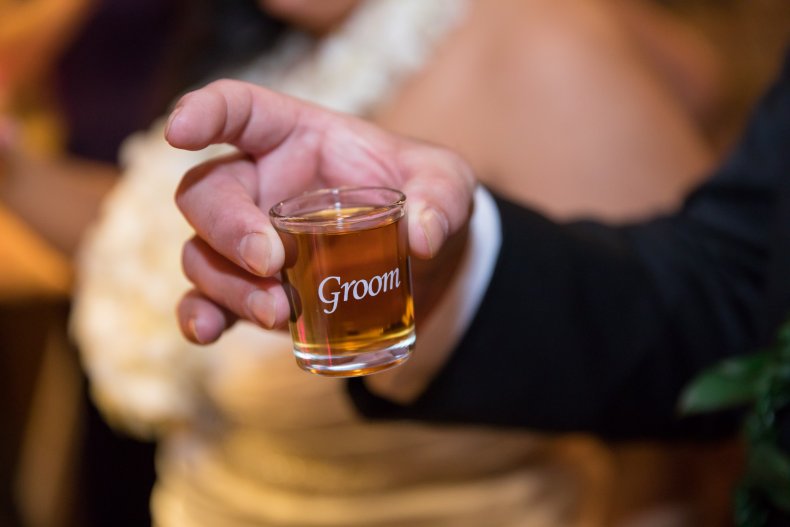 Along with comments saying the groom just needs some kind of pick-me-up to rally for the rest of the reception, other comments seemed split on whether the woman was putting on a good face for the camera or whether she actually enjoyed tending to her new son-in-law.
"She must be happy enough to have him as a son in law," one person commented.
Another said in a sarcastic tone, "Lovely, so much for her daughter to look forward to."
One person joked and said the reality hit the groom of the expenses he incurred paying for the entire event.
That may not be too far off. The wedding website Zola, where couples can register and plan all aspects of their wedding, surveyed 3,000 couples about their plans for the big day in 2022.
Responses were across the board, as some planned to spend $5,000 while others anticipated passing the $100,000 threshold. About 28 percent of couples said they planned to spend between $10,000 and $20,000, making that the most common budget. And while some couples tend to rely financially on parents or in-laws, Zola said about 37 percent of couples planned to pay for their weddings out of their own bank accounts.
The Knot, another popular wedding website, studied about 15,000 couples across the United States who married between January 1 and December 31, 2021. The website said that while 2020 weddings were majorly impacted due to the pandemic, weddings came roaring back the following year and will continue all throughout 2022.
Based on ceremony and reception spending, The Knot said the 2021 national wedding cost average was about $28,000—or $34,000 if you include the engagement ring. That number essentially mirrored the average wedding cost in 2019.
In 2020, the average wedding cost was below $20,000.
Some companies, like Maroo, work with small businesses "that power the weddings industry" and offer financing options for all parties involved. They estimate that nowadays, about 74 percent of couples pay for their weddings with high-interest credit cards.
Newsweek reached out to TikTok user @people_like_us_ for comment.