The mother of a U.S. Naval Academy midshipman candidate was fatally shot on Tuesday while sitting on a hotel porch in Annapolis, Maryland.
During a press conference on Tuesday, Annapolis Police Chief Edward Jackson explained that the incident occurred at around 12:21 a.m. local time on Tuesday when officers received reports of a victim suffering from gunshot wounds near West St.
When officers and emergency medical service officials arrived at the scene, they attempted to perform life-saving measures. The victim was pronounced deceased at the scene, according to Jackson.
"The victim was identified as Michelle Jordan Cummings," Jackson said. "She's an African American female, 57 years of age who resides in Houston, Texas."
During the press conference, Jackson explained that Cummings was visiting Annapolis with her husband to watch their son be inducted into the U.S. Naval Academy.
"He's also a prospect for the football team," Jackson said. "So what turned out to be a celebratory occasion for the family, celebrating their son going to one of the best institutions in the United States, turned into a tragic event."
According to Jackson, preliminary investigations lead police to believe that Cummings was not the intended target and she was hit by a stray bullet. Jackson said that the exact number of gunshot wounds sustained has yet to be determined but noted that Cummings was shot more than once.
"Preliminary investigation reveals that the victim was sitting on a patio area at a hotel and was not the intended target. At this time in the investigation it is believed the shots were fired on Pleasant Street and traveled a distance shooting the victim," police said in a press release prior to the press conference.
As police continue to investigate the situation, they are asking for the public's help in identifying the shooter and are offering up a $2,000 reward for any information leading to the arrest and indictment of the suspect.
Annapolis Mayor Gavin Buckley also spoke during the press conference and said that the "city's heart is broken."
"Somebody has lost their mom on the proudest day probably of her life. So, there are no circumstances where this can be tolerated. My sympathies go out to the family," Buckley said. "We are focused on getting guns off the street but it only takes one criminal with a gun for the results to be tragic. This was a horrific outcome for the kind of everyday gun violence that many cities across America see."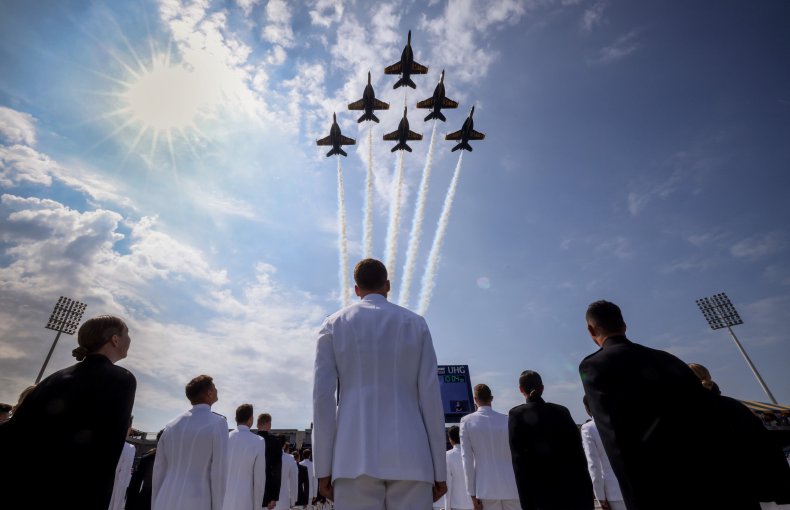 He continued, "Annapolis is sadly not immune. We have deployed our crisis intervention team to assist with the family...every resource is being deployed to solve this case. The perpetrators will be found and they will be held to account."
Newsweek reached out to the Annapolis Police Department for further comment but did not receive a response in time for publication.
In a statement posted to Twitter, the U.S. Naval Academy Vice Admiral Sean Buck said, "As members of our Naval Academy family, we will do all that we can to support Leonard, his father and the entire Cummings family during this unfathomable time. My wife, Joanne, and I, on behalf of all of us here in Annapolis, offer our deepest sympathies."