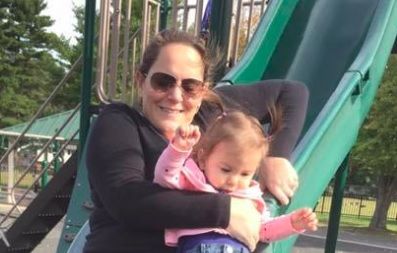 A mother has warned parents against riding playground slides with their children, after her one-year-old daughter's leg became trapped and snapped.
Heather Clare, 35, from New York, shared a photo of the moment her daughter Meadow's leg broke, showing her foot contorting away from her body.
"We are lucky that she didn't have long term effects," Clare told Newsweek, explaining her daughter, now three, has fully recovered but is monitored by doctors because the fracture was close to her growth plate.
In the post alongside the photo taken in September 2015, Clare stressed: "Don't ever go down a slide with a baby on your lap. There is no SAFE way to go down a slide with your little."
"I went down the slide with her on my lap and her foot got caught between me and the slide," she said.
"This picture is the moment her leg was breaking. She's still smiling...because it was happening at this exact moment," she said.
After Clare rushed Meadow to the hospital, a doctor told her this was a common playground injury. "I had no idea," said Clare. "I thought everyone took their kids down the slide."
As a result, Clare wants to see warning signs put up in playgrounds telling parents not to play with their children in this way.
Hitting back at those who criticized how Clare is holding Meadow in the photo, she said: "We didn't start this way. She was centered on my lap. When I realized what was happening, I used my top hand to try to stop us and leaned to release her foot. I wasn't riding down the slide with her on one side and leaning. That's 'common sense.'"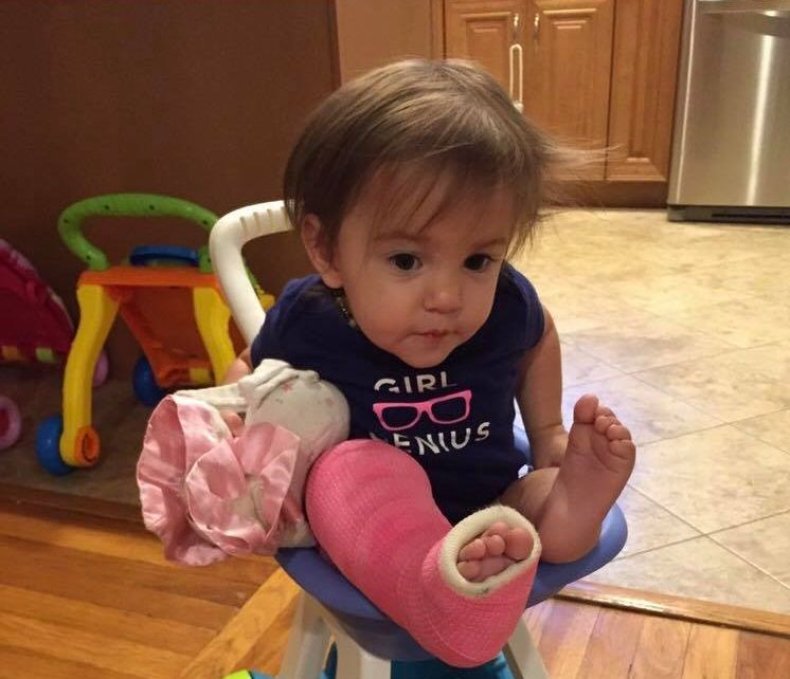 Clare told Newsweek: "I have shared it [the photo] every year since it happened in September 2015, but never publicly. This year, a recent conversation with other mom's inspired me to do so publicly."
"Most responses have been positive. Most parents are thankful because they didn't realize this could happen. Some parents have shared their stories of this happening to their children," she said.
Clare's doctor wasn't wrong. A 2017 study published in the journal the American Academy of Pediatrics showed over 350,000 children younger than six years old were injured by going down a slide in the U.S. between 2002 and 2015. In the majority of cases, children experienced a fracture after their foot caught the edge or bottom of a slide while sitting on a parent's lap.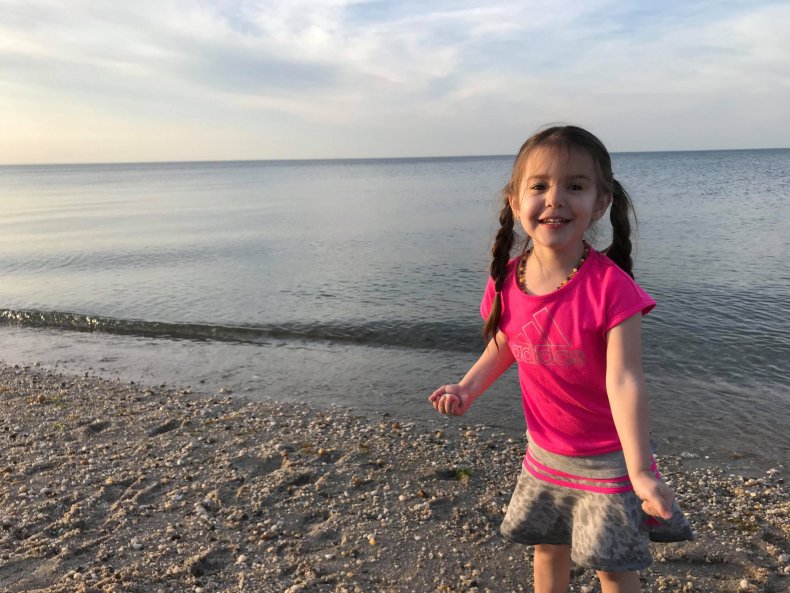 Dr. Charles Jennissen, clinical professor and pediatric emergency medicine staff physician at the University of Iowa Carver College of Medicine who lead the study, said in a statement at the time: "Many parents and caregivers go down a slide with a young child on their lap without giving it a second thought.
"And in most cases I have seen, the parents had no idea that doing so could possibly give their child such a significant injury. They often say they would never have done it had they known."
Parents and carers should therefore avoid going down a slide with young children on their lap, said Jennissen, and those who choose to do so should practice extreme caution to prevent their feet from catching on the equipment.
This article has been updated with comment from Heather Clare.
About the writer
Kashmira Gander is Deputy Science Editor at Newsweek. Her interests include health, gender, LGBTQIA+ issues, human rights, subcultures, music, and lifestyle. Her work has also been published in the The Independent, The Independent on Sunday, The i Newspaper, the London Evening Standard and International Business Times UK.