Mother Teresa Charity Employees Arrested For Allegedly Selling Babies In India
Police in India are investigating employees of a charity set up by late Nobel laureate and canonized Catholic saint, Mother Teresa, over allegations the organization has been selling babies.
One female employee of the organization has been arrested in the probe and two others have been detained for questioning by police in the state of Jharkhand. The women work for Missionaries of Charity, which Mother Teresa founded in 1946.
"One woman has now been placed under arrest and we have strong evidence against a nun in detention and she too could be arrested soon," Shyamanand Madal said,The Times of India reported Thursday.
Newsweek subscription offers >
The Child Welfare Committee in Jharkhand lodged the initial complaint with police, leading to the detention of the three women. Last week, the organization inspected the charity's facilities and noticed that a baby had gone missing.
Pratima Tiwari, a member of the committee, explained to the Indian newspaper that the charity gives shelter to unwed mothers. "In one of our inspection trips to the institution, a week ago, we found that one male newborn was missing," Tiwari said.
After confronting the charity's leaders about the missing baby, the organization contacted a family who had been sold the child for about $1,700. The baby was then returned to its mother.
Social activist Baidnath Kumar told The Times of India that she knows of several other mothers who have had their children taken away and allegedly sold by Missionaries of Charity. "I got this information in 2016 and had informed the special branch back then. The organization has one wing in every district and each one of them should be investigated," Kumar said.
Newsweek subscription offers >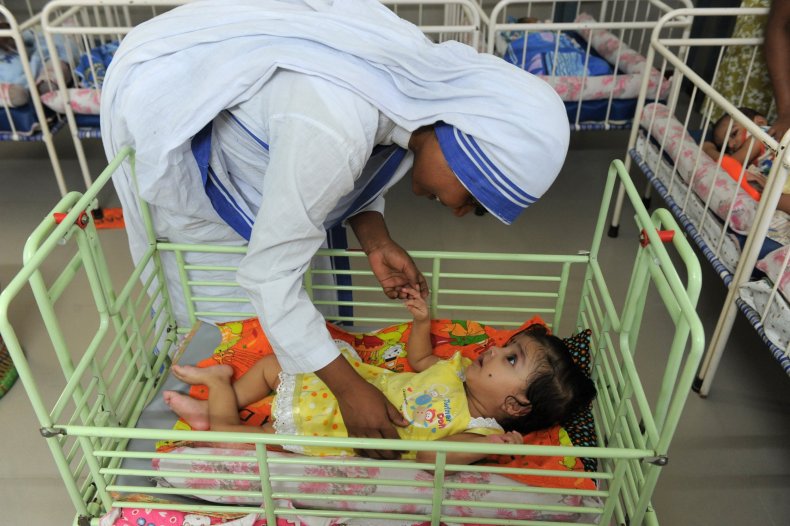 Police official Niraj Sinha backed up Kumar's claims, saying: "We have found out that some other babies have also been illegally sold from the center," BBC reported. Sinha said that police have learned "the names of the mothers of these babies and are further investigating."
According to the BBC, India changed its adoption rules in 2015, in a move opposed by some adoption agencies. The new government regulations curbed an individual adoption agency's role in the process. Missionaries of Charity cut its ties with the new system because it remains opposed to babies being adopted to single women or unmarried couples.
Illegal adoptions are a problem throughout India, which experts say is due to long waits and strict laws regulating the legal process. Between the 2015 to 2016 financial year, only 3,011 legal adoptions were registered in the country, despite a waiting list of some 12,000 couples, the BBC reported.
In regards to Mother Teresa's charity, authorities are taking a closer to see how many children and families have been affected.
"We are investigating to see how the operation was run and how many more children have been given away in the last few years," police officer Aman Kumar said, Reuters reported. Authorities also said they've received "many" complaints about the charity.
Mother Teresa Charity Employees Arrested For Allegedly Selling Babies In India | World