Mother of Texas Family Hospitalized With COVID-19 Urges People to Vaccinate Loved Ones
A Texas mom is urging people to vaccinate their loved ones against COVID-19 now that her three children have all been hospitalized with the virus.
"Don't let anything stop you. Get your family vaccinated," Sophia Rich, a 55-year-old near the northeastern Texas town of Leonard, told KDFW. "It can save our whole family from so much pain."
She and her three adult children all tested positive for COVID-19. Within 24 to 48 hours of the diagnosis, her children were all placed in a hospital in McKinney, a city just north of Dallas.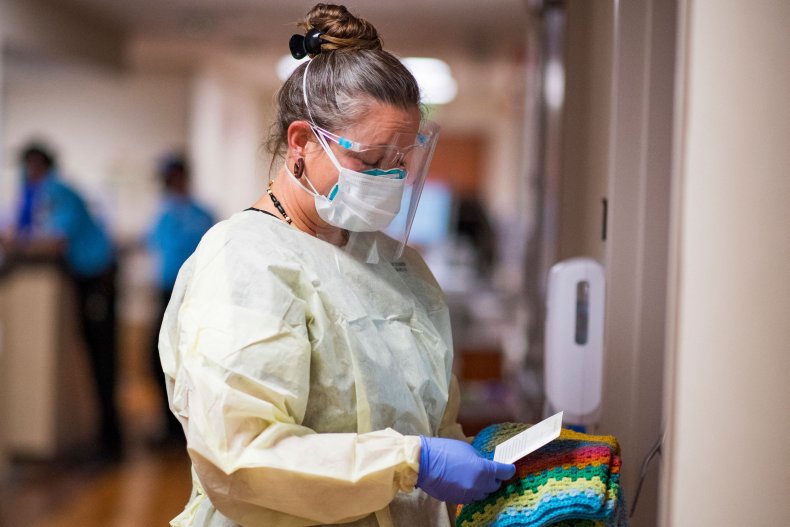 Her 21-year-old son Brian is currently on a ventilator, she said. Her 30-year-old son Michael and 37-year-old daughter Abigail are being given oxygen in rooms not far from Brian. None of the family members were vaccinated.
"We thought we we're so careful. We didn't pursue it aggressively enough," Rich said.
Doctors in Texas are seeing more cases of entire family units being hospitalized with COVID-19, Dr. Mark Casanova of Baylor University Medical Center told the aforementioned news station.
As of September 3, the state reported 13,790 patients hospitalized with the virus. The number is just 428 shy of the state's all-time high of 14,218 patients hospitalized in January, The Texas Tribune reported. Approximately 92 percent of all the patients are unvaccinated, according to Baylor Scott & White, the state's largest not-for-profit healthcare system.
Rich didn't give her reasons for her and her family not getting vaccinated. However, people adverse to receiving the vaccine often fear negative health effects, feel suspiciously of medical authorities or haven't had their concerns addressed by them, Heidi Larson, director of the Vaccine Confidence Project at the London School of Hygiene and Tropical Medicine, told Nature.com.
The family's hospitalizations have coincided with a spike of COVID-19 cases and deaths in the state. The state's daily totals for new COVID-19 cases and deaths have both steadily increased since July.
Near June, the state's case numbers had reached their lowest point since the start of the pandemic, with between 1,000 to 2,000 new cases reported each day. However, throughout August, the state reported 15 days each having around 20,000 new cases.
Throughout most of June and July, the state reported between 15 to 50 COVID-19 deaths each day. From mid-August onward, the state has reported anywhere from 150 to nearly 300 deaths per day.
As of September 6, the state has the 2nd highest overall number of COVID-19 cases of all 50 states with over 3.7 million cases. Only 48.1 percent of the state's eligible residents are vaccinated. The state ranks 18th among states with the lowest vaccinated populations.
The Texas Department of State Health Services told Newsweek, "We think people should get vaccinated and make sure they follow through and get that second dose if vaccinated."
"Unvaccinated people should continue to take those precautions (wearing a mask, social distancing from people not in their immediate household, practicing good hand sanitation, etc.) we've all been talking about for more than a year," the department added.
Update (9/8/2021, 12:02 a.m.): This article has been updated to include a statement from the Texas Department of State Health Services.