Mother Who Joe Biden Offered to Help at Town Hall Says His Empathy Is 'Refreshing'
At a CNN town hall on Tuesday night, President Joe Biden offered to help Kerri Engebrecht get a COVID-19 vaccine for her son with a pre-existing condition.
Engebrecht told Newsweek on Wednesday that while the president's empathy was "very refreshing," she wasn't looking for a favor that only benefited her son.
"We're talking about a system that has problems here," she said. "We weren't looking for a handout. We weren't looking for a favor."
At the town hall in Milwaukee, Wisconsin, Engebrecht told Biden that her 19-year-old son Nate was diagnosed with Pediatric Chronic Obstructive Pulmonary Disease (COPD) at 14.
"We're told he has the lungs of a 60-year-old," she said, adding that he had come home from the University of Wisconsin-Madison last month because he feels safer at home.
"We've tried all we can to get him a vaccine. I hear of others who are less vulnerable getting it based on far less. Do you have a plan to vaccinate those who are most vulnerable sooner?" Engebrecht asked the president.
Biden explained that the states mostly decide which groups should be prioritized for COVID-19 vaccinations.
"I can make recommendations, and for federal programs I can do that as president of the United States. But I can't tell the state, you must move such and such a group up," Biden said.
"But here's what I'll do. If you're willing, I'll stay around after this is over and maybe we can talk a few minutes and see if I can get you some help," he added, drawing applause from the audience.
Engebrecht told Newsweek the president ultimately didn't have time to speak with her after the town hall.
"Afterwards, he pointed from the stage, he singled me out and pointed that he needed to make sure he got my contact information, but did not have time to stay," she said. "So I have every hope that he will be in touch with me."
However, Engebrecht said that her family aren't sure they will accept a vaccine just for their son.
"He's very, very morally conflicted on what to do," she said. "My son is still very undecided on if he will take it if he's given the opportunity. He wants to go back to school, but we weren't looking for a handout."
Engebrecht said she has two sons with chronic illnesses. In spring last year, Nate was hospitalized for three days with the flu. She suspects he had contracted the coronavirus at the time, but said doctors didn't test him due to the shortage of tests at the time.
COPD, the chronic inflammatory lung disease that her son has, is known to increase the risk of severe illness from COVID-19, according to the U.S. Centers for Disease Control and Prevention (CDC).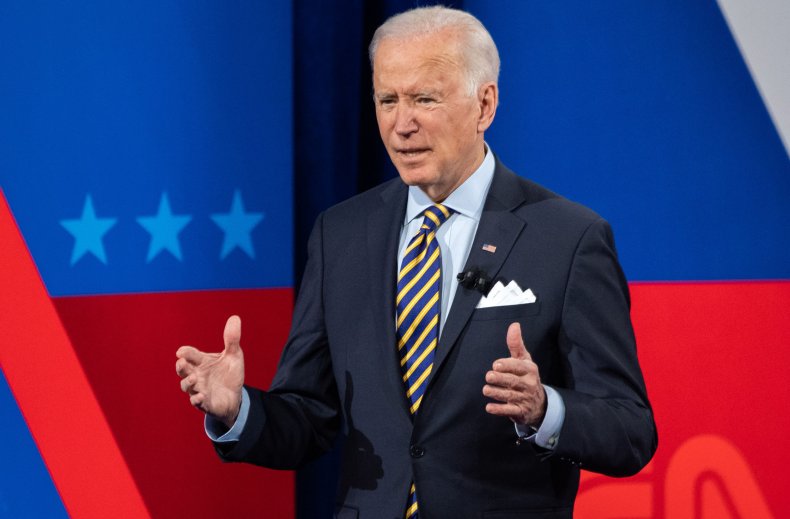 "There's a very good possibility he had COVID and influenza together, but we have no way of knowing," Engebrecht said. "The flu made him so sick that COVID terrifies us. I'm not looking out just for my own kids, I want to make a change for the better.
"I mean, he will eventually take the vaccine, there's no doubt in our mind. But on a moral level, we were not looking for a handout and [to] jump us to the head of the line just because I had the opportunity to speak with the president."
Engebrecht, who said she identifies as an independent and has voted both Democrat and Republican in recent elections, added: "I thought it was very refreshing to have a president that showed a lot of empathy... that was wonderful. As a mom, it made me feel great."
She said she used the example of her son when speaking with the president because "you need to tie it into a person... in order to pull at the heartstrings and make it personable."
But she explained that her aim was not for her son to skip the vaccine line, but to ensure the most vulnerable people are prioritized for COVID vaccines.
"We're looking at a problem here with how it's being distributed," she said. "Every state has their own plan. It's not consistent. And if my kid was in multiple different states, he could already be vaccinated. Because we're in Wisconsin, he's not. And that doesn't feel fair.
"My whole issue started with these extra vaccines at the end of the day, and pharmacies just calling their friends and family... I don't blame a family for taking them when they get the call. They're protecting their families, just like I want to do. I blame our state for not having protocols in place and our federal government for not mandating it."
She added: "If the whole point of the COVID vaccine is to reduce hospitalizations, and eventually death, it shouldn't matter what age or profession you have to get the vaccine. It should be the people who have the most vulnerability."
The White House has been contacted for comment.
The graphic below, provided by Statista, shows the countries with the highest rate of COVID-19 vaccination.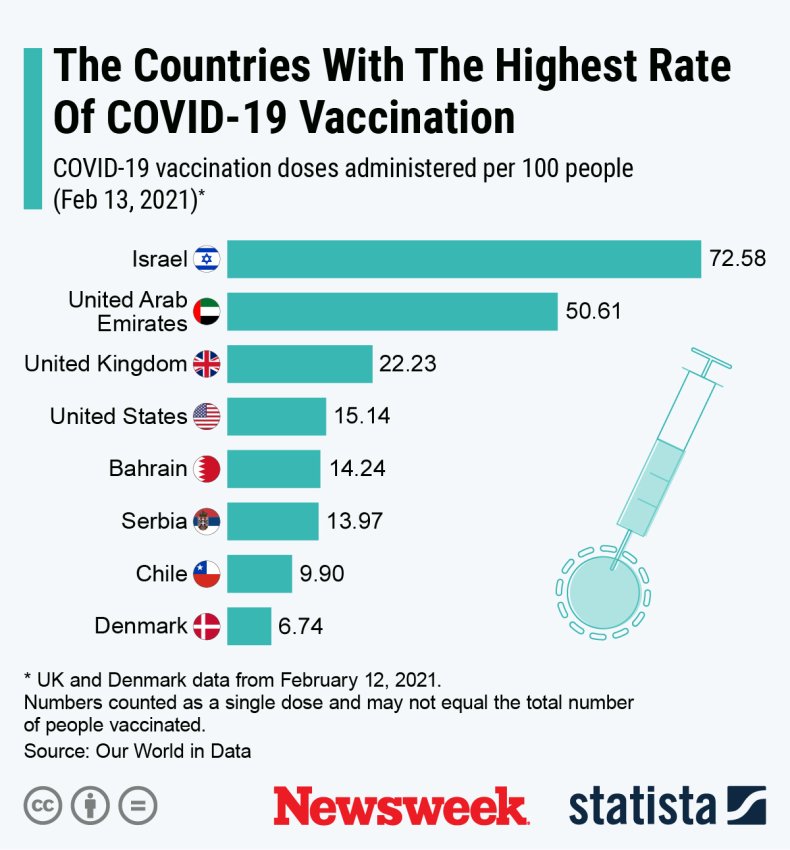 Newsweek, in partnership with NewsGuard, is dedicated to providing accurate and verifiable vaccine and health information. With NewsGuard's HealthGuard browser extension, users can verify if a website is a trustworthy source of health information. Visit the Newsweek VaxFacts website to learn more and to download the HealthGuard browser extension.