Mother Uses YouTube to Deliver Her Own Baby in Turkish Hotel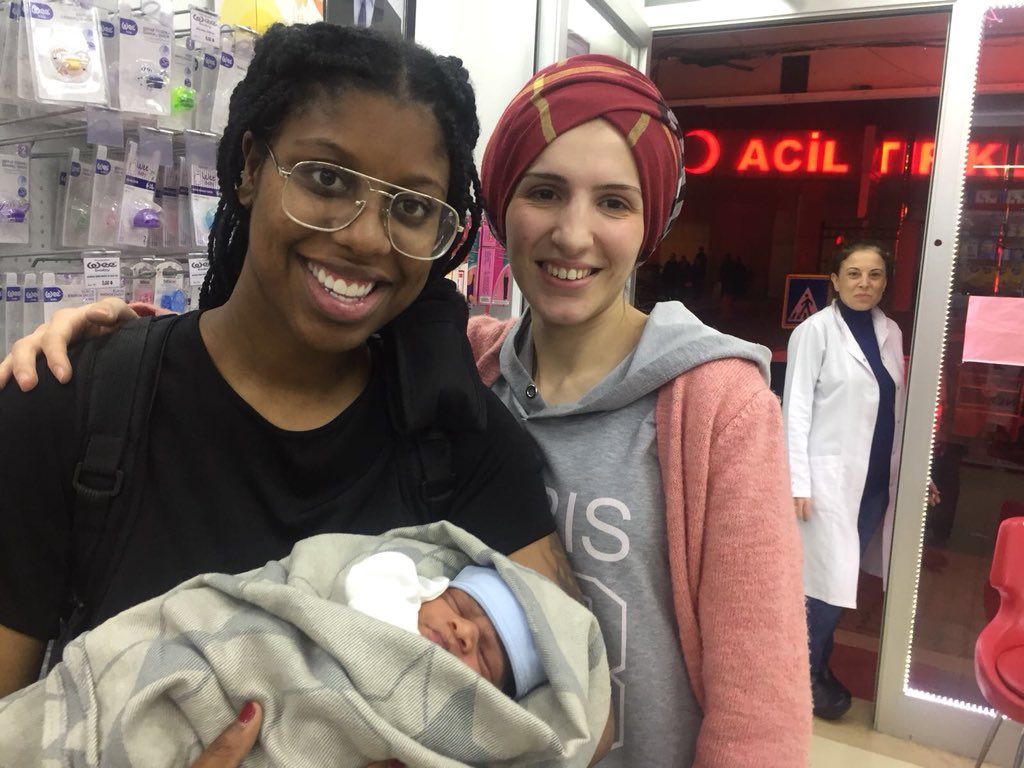 A new mother's birthing story is going viral on Twitter after she delivered her own baby in a Turkey hotel room with the help of nothing but a YouTube video.
Tia Freeman of Nashville, Tennessee, was in an Istanbul hotel bathtub during a layover in her travels from the U.S. to Germany in March when she gave birth to Xavier Ata Freeman. The 22-year-old shared her story in a Twitter thread on Tuesday.
Freeman, an analyst for the U.S. Air Force, did not know she was pregnant until she was in her third trimester, because her birth control caused her to not have a menstrual cycle. She went into labor about two weeks ahead of her due date.
"I found out in mid-January and I had already purchased the tickets for everything by then, and I was like 'Well, if he comes on time I should be okay,'" Freeman told Newsweek.
Freeman's contractions began on her flight to Turkey, but she first thought it was food poisoning. By the time Freeman got to the airport, her symptoms had worsened and she started to seriously consider the possibility that she was in labor.
When she got to her hotel room in a country where she didn't know the language or the emergency number, she looked up videos on YouTube that she hoped would instruct her about how to deliver her baby.
Freeman then got into the bathtub and had a water birth; she used the internet to teach her to cut the umbilical cord. "It was pretty much just me winging it," Freeman said.
She went back to the airport for help the next day, where employees shuttled her to the U.S. Consulate. The consulate provided a translator and took Freeman to the hospital.
"The first person I told was my grandmother and she was just in complete and utter shock," Freeman said, adding that her grandmother was excited and made sure everything was okay. The next person Freeman told was her best friend.
Freeman's grandmother told her mother, who called and said that while she was disappointed that her daughter hadn't told her about the pregnancy, she was thrilled to have a grandson.
Freeman didn't realize the way Xavier was born was so unique.
"I was like 'Well don't people have babies every day? What was so special about this?'" Freeman said.
OB/GYN Dr. Gil Weiss, a partner at Association for Women's Health, told Newsweek that delivering your own baby without medical supervision is not a recommended method.
"I'm very happy for her, I'm glad everything worked out well but I think this is probably the exception rather than the rule," said Weiss, who is also an assistant professor of clinical medicine at Northwestern Memorial Hospital in Chicago.
"It could be a midwife, it could be a physician. If someone's there to assist them just in case it's always a good idea," he said. "I think someone trying to reproduce this at home, is a very risky endeavor."