How Many Episodes Are in 'Motherland: Fort Salem'?
Motherland: Fort Salem is the gripping supernatural drama about three witches who have been enlisted in the Army as part of a government deal to prevent the execution of all witches in the U.S. After more than one year of waiting, Motherland: Fort Salem season two has finally arrived on Freeform and Hulu and fans want to know all of the details.
How many episodes are in 'Motherland: Fort Salem'?
Just like the first season of Motherland: Fort Salem, the show's second outing will have 10 episodes in total.
Each episode will air every Tuesday evening on Freeform at 10 p.m ET. Episodes will then drop the following day on Hulu for fans to stream at their leisure.
To watch Motherland: Fort Salem, you must be a Freeform network customer or have a Hulu Live TV subscription.
To watch Motherland: Fort Salem if you do not have access to cable TV, you can subscribe to Hulu for $64.99 per month after a seven-day free trial.
Internationally, the show airs on Fox8 in Australia, BBC Three in the U.K., and Amazon Prime in France, Italy, Germany, and Spain.
In the second series of Motherland: Fort Salem, Raelle (played by Taylor Hickson), Tally (Jessica Sutton) and Abigal (Ashley Nicole Williams) will take on a dangerous new group of witch hunters, known as the Camarilla.
As a result, the trio will have to intensify their magic training and are enrolled in War College.
The official synopsis for the series teases their "magic, relationship and beliefs will be pushed to the limits" as they fight to make sure witches will never be exterminated.
Speaking to TV Line, show creator Eliot Laurence teased the trio may have to team up with their old enemy, the Spree, to take down the new threat.
Laurence said: "Yes, but because it's Motherland, it won't be easy and sagy. It'll be kind of gnarly. But you're absolutely right. These petty squabbles that have been going on for hundreds of years in world history are pointless in the face of someone who wants to completely wipe you out."
Newsweek has the full list of episode titles and their release dates so you won't miss a thing.
Episode One: Of the Blood — Tuesday, June 22
Episode Two: Abomination — Tuesday, June 29
Episode Three: A Tiffany — Tuesday, July 6
Episode Four: Not Our Daughters — Tuesday, July 13
Episode Five: Brianna's Favourite Pencil — Tuesday, July 20
Episode Six: My 3 Dads — Tuesday, July 27.
Episode Seven: TBC
Episode Eight: TBC
Episode Nine: TBC
Episode 10: TBC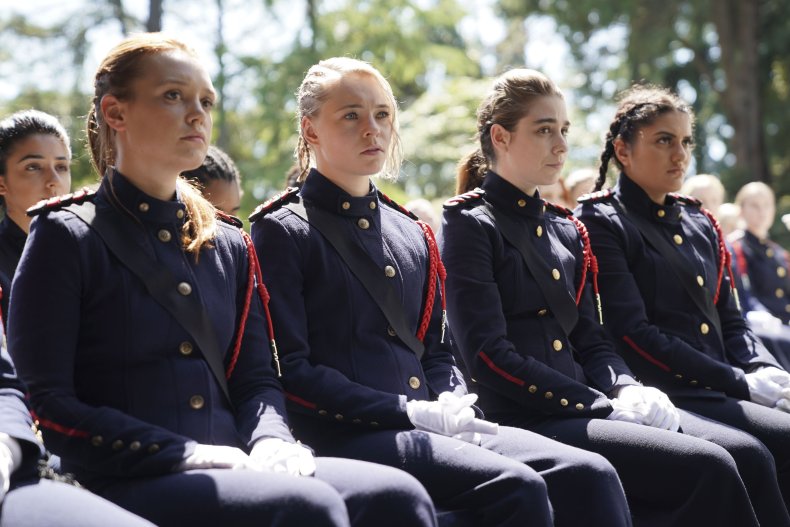 Who is in the cast of Motherland: Fort Salem season 2?
The main cast of Motherland: Fort Salem is back for the show's second series.
Deadpool's Taylor Hickson is back as Raelle, alongside Shepard's Ashley Nicole Williams as Abigal and The Kissing Booth's Jessica Sutton as Tally.
Also back for the show's second season is Amalia Holm as Scylla, Demetria McKinney as Anacostia Quartermaine, and Lyne Renée as Sarah Alder.
As the trio are off to war college in the new series, they will be introduced to some new witches and people from the supernatural world.
Joining the cast of Motherland: Fort Salem this season is Workin' Moms Victor Webster, Chad's Mellany Barros, Nancy Drew's Praneet Akilla, The Boys star Ess Hödlmoser and The Good Doctors' Arlen Aguago Stewart.
Webster takes on the role of Blanton Silver, the vice president of the United States and Barros takes on the role of Penelope Silver, Webster's daughter who happens to be a witch.
Akilla plays Gregorio, a male witch alongside Hödlmoser plays M, a second-year soilder at War College.
Stewart takes on the role of Nicte, someone from Alder's past who helped shape her into who she is today.
Motherland: Fort Salem season 2 airs Tuesdays at 10 p.m. ET on Freeform and every Wednesday on Hulu
Newsweek has affiliate partnerships. If you make a purchase using our links, we may earn a share of the sale.