Mother's Day 2020 Gifts, Clothing, Jewelry, Beauty Deals at Macy's, Bloomingdale's and More
Mother's Day is on May 10 and it's not too late to find gifts for your loved ones, even if it means your gift may be a bit delayed due to the ongoing COVID-19 pandemic (or because you simply forgot or couldn't find a gift in time).
Here we look at some great Mother's Day deals for clothing, jewelry, beauty and makeup available online including from Bloomingdale's, Macy's and Bergdorf Goodman.
Clothing
Banana Republic is offering up to 60 percent off on a selection of items for Mother's Day, including this chunky T-strap sandal, available in leather or suede material, for $51 (reduced from $128) and this suede bucket bag for $74 (reduced from $148, a 50 percent discount).
Michael Kors is offering a 25 percent off on selected "Eligible Purchases" through May 13. Items on sale include various Michael Kors Mae Medium Pebble Leather Bags (from $145.95 to $198.45), sunglasses (from $89 to $129) and dresses from $73.50 to $154.88), including the Floral Georgette shirtdress ($91.88, reduced from $175).
Anthropologie also has slashed prices on a selection of clothes including this Marrakech Ronika Draped Moto Jacket for $103.60 (reduced from $148), Celina Wrap Maxi Dress for $124.60 (reduced from $178) and Rouen Smocked Blouse for $54.60 (reduced from $78).
Bloomingdale's is offering 25 percent off selected items through May 12, including this Perry Bombe Mini Leather Crossbody bag from Tory Burch, priced at $248.
Jewelry
Macy's is offering 25 to 30 percent off selected jewelry and watches using the code: FORYOU at checkout, such as this brown leather strap 36mm watch from Coach, priced at $125. There is also a selection of "Limited-Time Special" items at slashed prices, such as this flower stud earrings and pendant necklace from Kate Spade (at $39.99, reduced from $78).
Pandora has various types of mom-themed jewelry from bracelets and necklaces to earrings, with prices starting from around $30-$150. The shop offers a large selection of charms with inscriptions, such as this "Mother Daughter" two-piece sterling silver charm priced at $65. It is inscribed with the words "You are always in my" and a heart made of cubic zirconia.
Zales is offering various special deals for Mother's Day including 60 percent off these ¼ carat diamond stud 10 karat gold earrings, priced at $99 (reduced from $249.99) and 58 percent off this one carat diamond ring in white gold, priced at $499.98 (reduced from $1,199).
Kay Jewelers is having a special Mother's Day sale offering a 25 to 70 percent discount on selected items, such as this pear-shaped opal, 1/15 carat black diamond-studded necklace in 10 karat rose gold, priced at $279.30 (reduced from $399). The sale excludes items from the brands Movado, Alpina, Casio, as well as watches from Tissot, smartwatches, personalized jewelry, clearance items, previously owned items, lilac ticket merchandise, charity items, and gift cards. The discount cannot be combined with any other offers.
Beauty and makeup
Bag a travel-sized set of Chanel's Coco Mademoiselle fragrance for $172 or a Twilly d'Hermès Eau Poivrée Eau de Parfum 1.7 oz bottle from Hermès for $102 at Bergdorf Goodman.
A Gucci Bloom Eau de Parfum gift set, which includes a 3.3 oz. bottle, and 1 oz. bottle as well as a 0.25 oz. rollerball stick, costs $165 at Bloomingdales.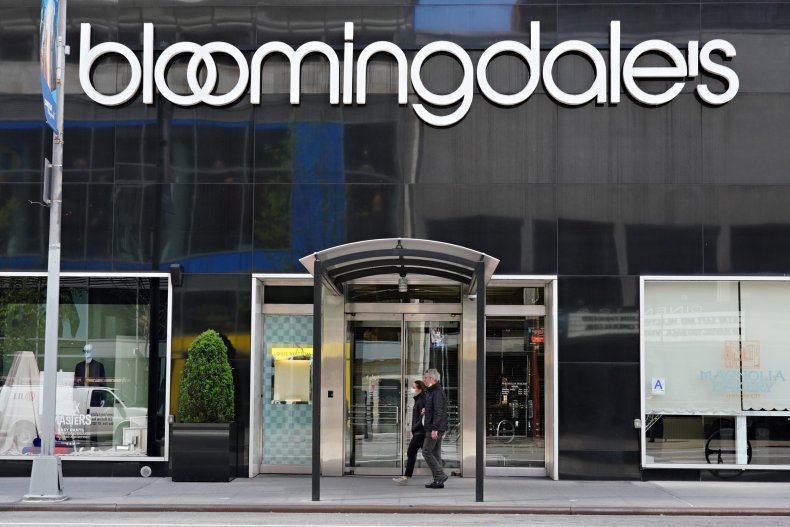 Get this exclusive Tom Ford lip and eye color collection for $155 at Bergdorf Goodman.
Buy this All Day Radiance moisturizer set from Estée Lauder for $105 at Bloomingdales. The set includes the Resilience Multi-Effect Face & Neck Creme SPF 15 1.7 oz. (Full Size), the Perfectionist Pro Treatment 0.5 oz. (Deluxe Travel Size), the Resilience Multi-Effect Eye Creme 0.17 oz. (Deluxe Travel Size), the Resilience Multi-Effect Night Face & Neck Creme 0.5 oz. (Deluxe Travel Size) and a travel bag.
Newsweek has affiliate partnerships. If you make a purchase using our links, we may earn a share of the sale.