Mother's Day 2018: Best TV and Movie Moms
There are many factors that go into determining what makes a mother extraordinary. It's a tricky task, but Mother's Day gives all a reason to contemplate such a question.
Mother's Day is a 104-year-old tradition. The concept first surfaced in 1850s West Virginia, where women launched Mother's Day work clubs in the Civil War era to improve upon infant mortality, create sanitary conditions and care for wounded soldiers, according to National Geographic. Despite the holiday's dark past, Mother's Day became a celebratory affair in 1914 under Woodrow Wilson's presidency. Now, mothers worldwide have been commemorated for their efforts—film and television moms, included.
Over the years, some great maternal figures produced from film and television have become icons within pop culture. Whether they made viewers laugh, cry or learn an important lesson, they're worth being celebrated. In honor of Mother's Day, Newsweek compiled a list of some of the best mothers to come from movies and television. To do so, we chose six mothers from each entertainment medium.
TELEVISION
Jane Villanueva (Gina Rodriguez), Jane the Virgin
Jane—who, yes, was a virgin—discovered she was pregnant via an accidental artificial insemination (courtesy of a sample that just so happened to belong to her crush). However, viewers of the CW telenovela saw her decide to carry the pregnancy to term and embrace motherhood head on.
Kristina Braverman (Monica Potter), Parenthood
Parenthood is an underrated show, and the NBC drama has an equally underrated mother in Potter's Kristina Braverman. She's the picturesque example of a mother who loves her family wholeheartedly—balancing the ups and downs of raising a teenage daughter, caring for her autistic son and supporting her husband's sudden career change. When Kristina is diagnosed with breast cancer in Season 4, her family truly sees the vital role she plays in their lives.
Rainbow "Bow" Johnson (Tracee Ellis Ross), Black-ish
Bow is a mother of five, but she's also a hardworking and successful anesthesiologist. She has a husband who also works a full-time job. Bow is still her family's rock, but her balancing act proves that moms can have it all.
Tami Taylor (Connie Britton), Friday Night Lights
In Friday Night Lights' early days, Tami was a stay-at-home mother. She was her husband Eric Taylor's (Kyle Chandler) biggest supporter as he coached the East Dillon High Panthers' football team. However, she decided to put herself first. She managed to get her career back on track, even with a second child on the way. She's not only an awesome mom to her own children, but she's also supportive of the East Dillon High students.
Kitty Forman (Debra Jo Rupp), That '70s Show
Kitty is adorably sweet, but that's not what makes her among the greatest TV moms. She cares for son Eric Forman's (Topher Grace) friends as if they were her own, even taking in Steven Hyde after his mother abandoned him in Season 1.
Clair Huxtable (Phylicia Rashad), The Cosby Show
Clair did have it all. She is a mother of five and she was a successful attorney. However, she's tough. She's loving. She's supportive of her family, but she has the patience to put up with whatever craziness they get into week after week.
MOVIES
Leigh Anne Tuohy (Sandra Bullock), The Blind Side
Based on a true story, Leigh and her husband, Sean (Tim McGraw), adopt a homeless black teen named Michael Oher (Quinton Aaron). Upon doing so, Leigh treats Michael as if he were her own biological son. She strives to ensure he obtains all the opportunities possible to give him a bright future, supporting his football and education in the process.
Aibileen Clark (Viola Davis), The Help
The Help is, no doubt, a story that focuses heavily on racial tensions within 1960s Mississippi. However, this film also tells the story of motherhood. Davis's Aibileen is not only a strong mother to her children, but she also essentially raised the young girl she served as a maid for.
Marion McPherson (Laurie Metcalf), Lady Bird
At the heart of it, Lady Bird is a film that explores the complex and ever-evolving dynamics of the mother-daughter relationship—and nails it. Christine "Lady Bird" McPherson prepares to enter adulthood by crafting an ideal version of her life, essentially dismissing the idea of becoming anything like her mother—a nurse who raised her family "on the wrong side of the tracks." The film, which earned Metcalf an Oscar nomination, ultimately portrays the balancing act of familial love and learning how to accept each other.
Sarah Connor (Linda Hamilton), Terminator 2: Judgment Day
Sarah Connor is the definition of badass. Her son, John, is destined to be the savior of the human race. Even before John was born, she went to great lengths to ensure his safety—which sometimes required her to tackle robots.
Ma/Joy Newsome (Brie Larson), Room
Ma didn't intend on becoming a teen mom, but she was forced into it by unfortunate circumstances—being kidnapped and sexually assaulted by her kidnapper at 17. However, she loved her son. Ma eventually devised a plan to get Jack (Jacob Tremblay) out of hiding to allow for the pair to begin living a normal life.
Mildred Hayes (Frances McDormand), Three Billboards Outside Ebbing, Missouri
Mildred doesn't take "no" for an answer, especially when it comes to the protection of her children. After the town's police department fails to find her daughter's killer, she takes matters into her own hands. She paid for three billboards to taunt and harass the police, hoping it would influence the department to help her determine who killed her child.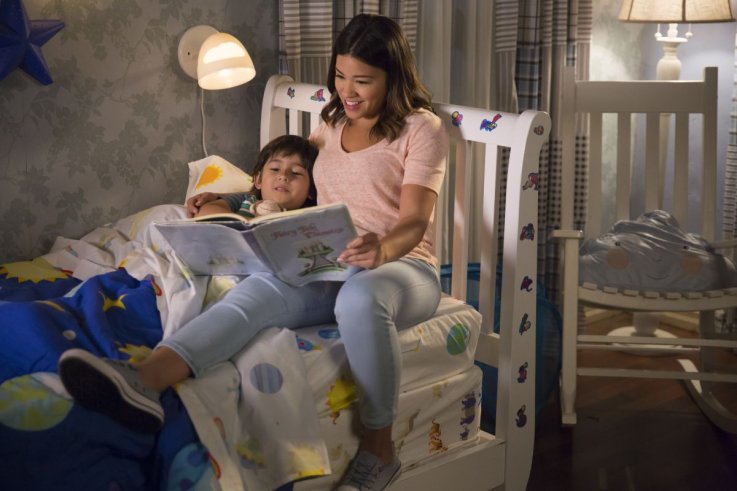 Mother's Day 2018: Best TV and Movie Moms | Culture