A Mother's Day Eulogy I Should Have Written 10 Years Ago
"Behind all of your stories is always your mother's story," the writer Mitch Albom once wrote. "Because hers is where yours began."
My mother's story began in December 1932 at the height of the Great Depression. She was the youngest of three siblings, and her parents were first-generation Italian immigrants. Her father, Leo, worked at a factory by day and made pizza at a local bar at night. Her mother, Margherita, spent most of her time raising kids and the rest of it at the local Catholic Church. Neither of her parents spoke very good English. That wasn't an option for their kids.
She grew up in West New York, New Jersey, a working-class city of 40,000 huddled between Jersey City and Hoboken. The city was teeming with large first-generation immigrant families—Irish, Italian, German, Greek, Jewish and Polish families—crammed into one square mile of real estate filled with three- and four-story apartment buildings. My mother, her older sister and her brother—along with her parents—shared a two-bedroom apartment.
"We didn't have money," she told us. "But we were never poor. We didn't think about what we didn't have because we were too busy working and raising families." It was a rich experience, all of those immigrants with different languages, foods, customs and religions—Jews, Protestants, Catholics and nonbelievers too—packed together. "We were never bored," she told me.
She experienced prejudice when she was young, as Italians were the low immigrants on the totem pole, darker-skinned than their European peers. Slurs like guinea and dago were tossed about. But there were no safe spaces and microaggressions in her world. And plenty of ethnic slights to go around, with Poles, Germans, the Irish and Jews on the receiving end of insults and jokes for nothing more than being themselves. They somehow survived, and most would marry out of their ethnic tribes. Love conquered prejudice on those streets. So too did familiarity.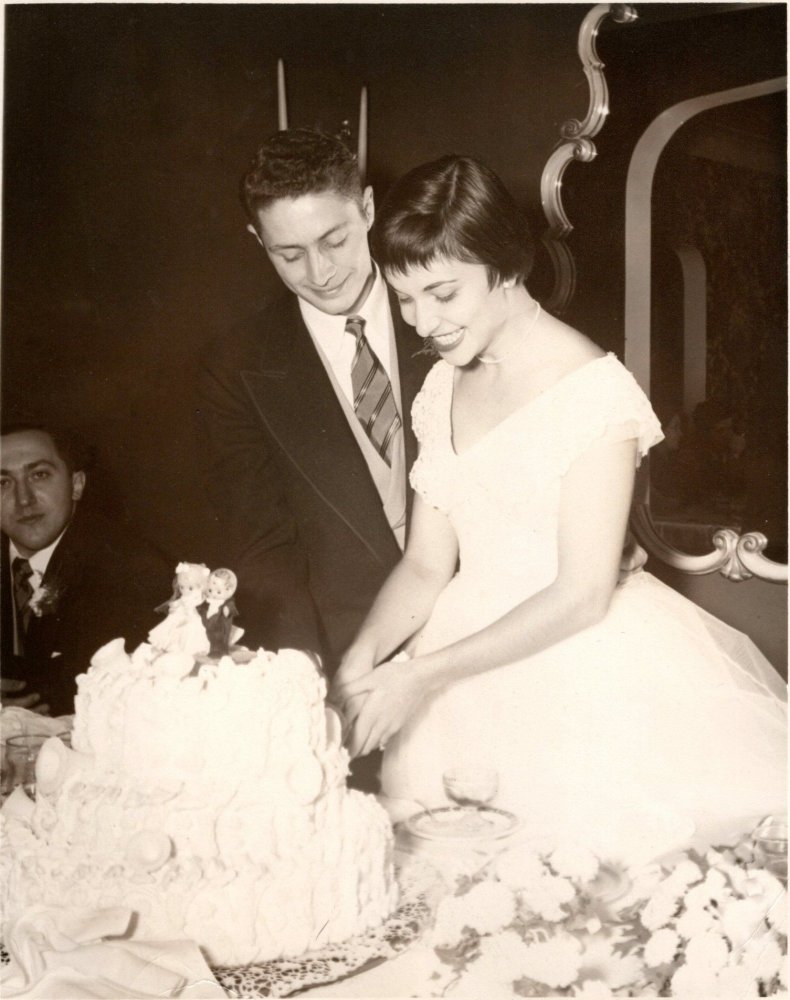 World War II was a defining chapter of her life. Almost every family she knew had at least one son—some had several—fighting in the war. After Pearl Harbor, my mom told us, men young and older rushed to serve their country. Her brother, John, was one of them. He joined the Army at 18, along with several other young men in her building.
On a sweltering fall day in 1944, months after D-Day, a black government car pulled up in front of her building. Two serious-looking men got out and walked up the stoop. My mother remembered praying that it would be someone else's apartment door those men would knock on—and felt terrible praying such a prayer. She huddled outside the door of her family's apartment, listening to the footsteps as the men walked up the stairs. "Please, not our floor," she prayed.
Then the worst thing that could have happened, happened. The men stopped on her floor. "It was John," she told me, crying. "I knew it was John." Within moments, the two men arrived at the door, followed by three knocks. She never heard her mom cry so hard. "It was more of a wail," my mom told us. "It was a sound I never heard before. Or again."
Her dad barely cried. But my mom would never see him enjoy his life again. He'd lost his only son. His bloodline. His future.
She came to really know the love of her life in high school. He was the star football player, and she was a cheerleader who loved fashion and life. When they graduated from high school in 1948, my mom went to work in New York City and Dad went away to college. When he graduated, they did what young people did: They got married and started a family. By the time she was 30, she had four of us to take care of.
Was she ready for it all? Couples didn't ask that question then. They were probably better off. No matter how long we delay such things, we're never ready.
I remember as a kid looking at pictures of her before she was the woman she'd become. She looked like a grown-up even in her high school yearbook, as did most of her peers.
Why did she sacrifice so much for us? I learned as I got older that calling what she did a sacrifice would have irritated her: She was doing what women did. No one back then thought postponing adolescence into their 30s was an option. They started things. Started their lives. Started families and careers.
One picture from her wedding day is still my favorite: The glamorous young bride expectantly cutting her wedding cake with the groom grinning by her side at a neighborhood reception hall. There were no wedding planners. No exotic honeymoons. It was a drive to Niagara Falls and back to life.
Mom raised the four of us with a flair and grace that still amazes me. She never seemed tired. Always, she looked as if she'd just stepped out of a magazine shoot. Effortlessly, she balanced cooking, scheduling, homework and everything else.
My mom didn't just lean into motherhood. She loved being a mom. It was her calling. When the four of us went off to live lives of our own, she was never quite the same. She busied herself with her hobbies—her garden, going to garage sales and the endless hunt for beautiful things on discount. She ran a consignment shop for 15 years. I'm not sure it ever turned a profit; she was always giving things away to women in need. She had a heart for young women who needed a maternal figure in their lives.
Though she would sometimes lament that there weren't enough options for women when she was growing up, she also ached for women who chose careers over motherhood. Work over family.
What were her dreams? The child of immigrant parents, she didn't say. I suspect her generation was too practical for such things. They didn't sit around pondering how to change the world. They were too busy trying to change our world.
And change it she did. Her life—and the life she sculpted for us—was beautiful. Broadway shows and museum trips. A rental house every summer at the Jersey Shore. Family night at the drive-in movies each week. A pool in the yard. And a basketball court over the garage. My mom did her best to construct a heaven on earth for us. And we all knew that no matter what we did wrong, she'd be there for us with open arms.
Most important, she taught me about marriage. As I got older, I came to appreciate the daily habits and rituals my parents cultivated. Those rituals and rhythms of life gave me a sense of stability. A sense that relationships can last, that love can last.
Sometimes, I would hear them fight and think they'd never talk again. But always, the rituals they created for themselves prevailed. The coffee, eggs and toast every morning. The evening coffee by the pool, listening to WOR on the transistor radio. The weekly dinner at the local bar for pizza and mussels marinara. The card games, which Mom always seemed to win. The habits of love were there for me to observe and imitate.
The love I witnessed didn't look like anything I saw in the movies. It looked like something better, something within reach. The constancy. The consistency. The mutual understanding. None of it was terribly exciting. But it was good for me. It was good for my parents too.
My mom would agree with theologian Dietrich Bonhoeffer, who said this in a letter to his niece before her wedding day: "It's not your love that sustains your marriage, but from now on, the marriage that sustains your love." That lesson may be the greatest one my mom taught me: Marriage sustains love.
In the winter of 2012, my mom took a spill down our basement stairs. It was then that we discovered she had cancer. Chemotherapy didn't save her. Indeed, it may have killed her.
I visited her often at the nursing home during her final days. I loved the night shift. We'd go out into the cold winter evenings where she smoked the More menthol cigarettes I'd smuggled in against the doctor's orders. Wrapped in two blankets, the evening stars and moon bathing us with light, we'd listen to Frank Sinatra, Ella Fitzgerald and Louis Armstrong on the portable disc player. The music she grew up with eased our pain and allowed us to forget what was to come.
We talked about everything. About love and loss and God. She'd left the Catholic Church when she was young, but the church hadn't left her. Her compassion and love for people—her mercy and grace—didn't spring from nothing. When I told her I'd come to Christ, she was pleased.
My mom, Christina Habeeb, died on December 8, 2012, at the age of 80. She was the first love of my life. And the person who taught me more than anyone how to love and be loved. I miss her. And miss her more as the years pass.