Mother's Day in North Korea Is Really All About the Kim Family Fathers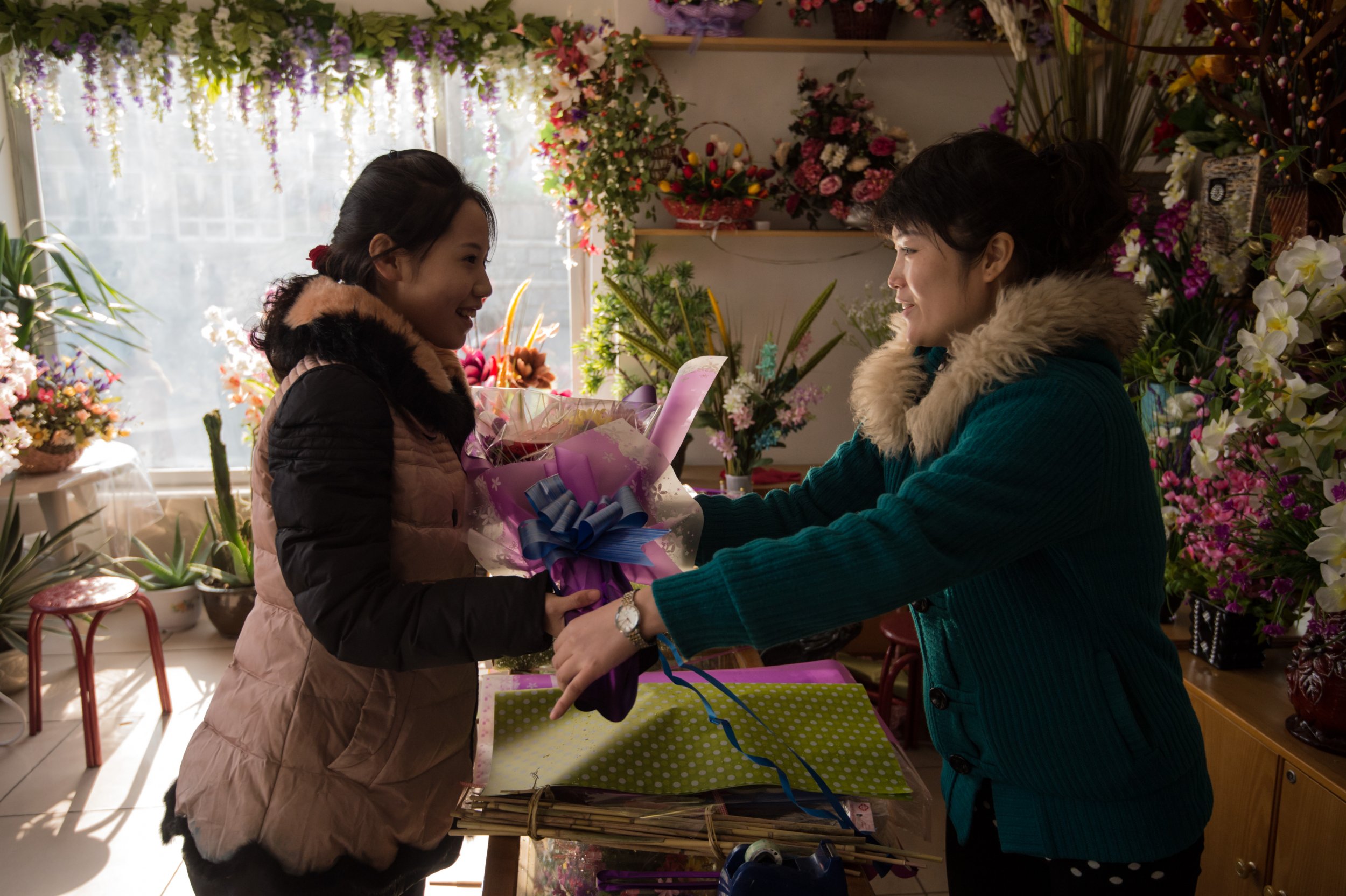 North Koreans can no longer express feelings of affection for their mothers on the country's Mother's Day celebration as they have reportedly been banned from writing "thank you" messages on bouquets of flowers given to mark the occasion.
"The regime has begun restricting the practice of attaching ribbons signifying a 'thank you' or 'I love you' since it encroaches upon the significance of cult-of-personality offerings of flower baskets in front of portraits [of former North Korean leaders Kim Il Sung and Kim Jong Il]," a North Korean resident told the Daily NK news website, a South Korea-based publisher that reports on North Korea via a network of anonymous sources in the country.
"It is really sad that people have to express thanks to 'the father' Kim Jong Un after every little thing he does, but we cannot express thanks to our actual mothers on Mother's Day," the source added.
The Mother's Day holiday was introduced to North Korea after leader Kim Jong Un came to power six years ago. November 16 became the designated date for the holiday, to commemorate the date of a speech North Korea's first leader Kim Il Sung made in 1961, titled "The Duty of Mothers in the Education of Children."
The state-controlled North Korean media reported nothing different about the day. "On the significant Mother's Day every year, all the sons and daughters of the country extend warm congratulations to the mothers bringing up their children with their love, feelings and devotion and upholding the socialist country," an article published on the state-run news agency KCNA on November 16 read.
For the socialist country, however, the holiday marks an opportunity for shopping and consumerism. Even KCNA published a brief news item reporting flower shops "crowded with customers."
"Grown children often give clothes or money, while younger children save their allowance or part-time job earnings to buy some winter gloves for their mother, for instance," another source told Daily NK.
Last year, Kim sent members of the country's Socialist Women's Union of Korea a gift package that included cosmetics, candies, cookies and an alcoholic beverage, Daily NK reported.
North Korea insists that it has achieved gender equality and claims to be a great country for women. "Women are leading happy lives as masters of society thanks to the socialist system in the DPRK," read a short news item KCNA published on November 17, referring to the country by its unofficial name Democratic People's Republic of Korea.
In fact, women in North Korea are hardly in positions of power, as leadership roles within the ruling party and the military are almost completely filled by men. One rare exception is Kim Yo Jong, the leader's younger sister who was recently named to a high-ranking party position but who is also unlikely to threaten his rule because of her gender. Kim's own wife and mother of his children Ri Sol Ju rarely makes public appearances and, when she does, is always by her husband's side.
Ordinary North Korean women suffer discrimination in access to jobs and education, malnutrition and sexual abuse, as a U.N. human rights panel reported Monday, and some choose to flee the country in search of a better future. According to one estimate by non-profit organization Liberty in North Korea, as many as 70 percent of the 30,000 North Korean defectors in South Korea are women.