A Mother Instilled Her Love of Paris in Her Son
After hearing about Paris from his mother his whole life, writer John Von Sothen decided to move there himself. He found her magical City of Lights—and his own.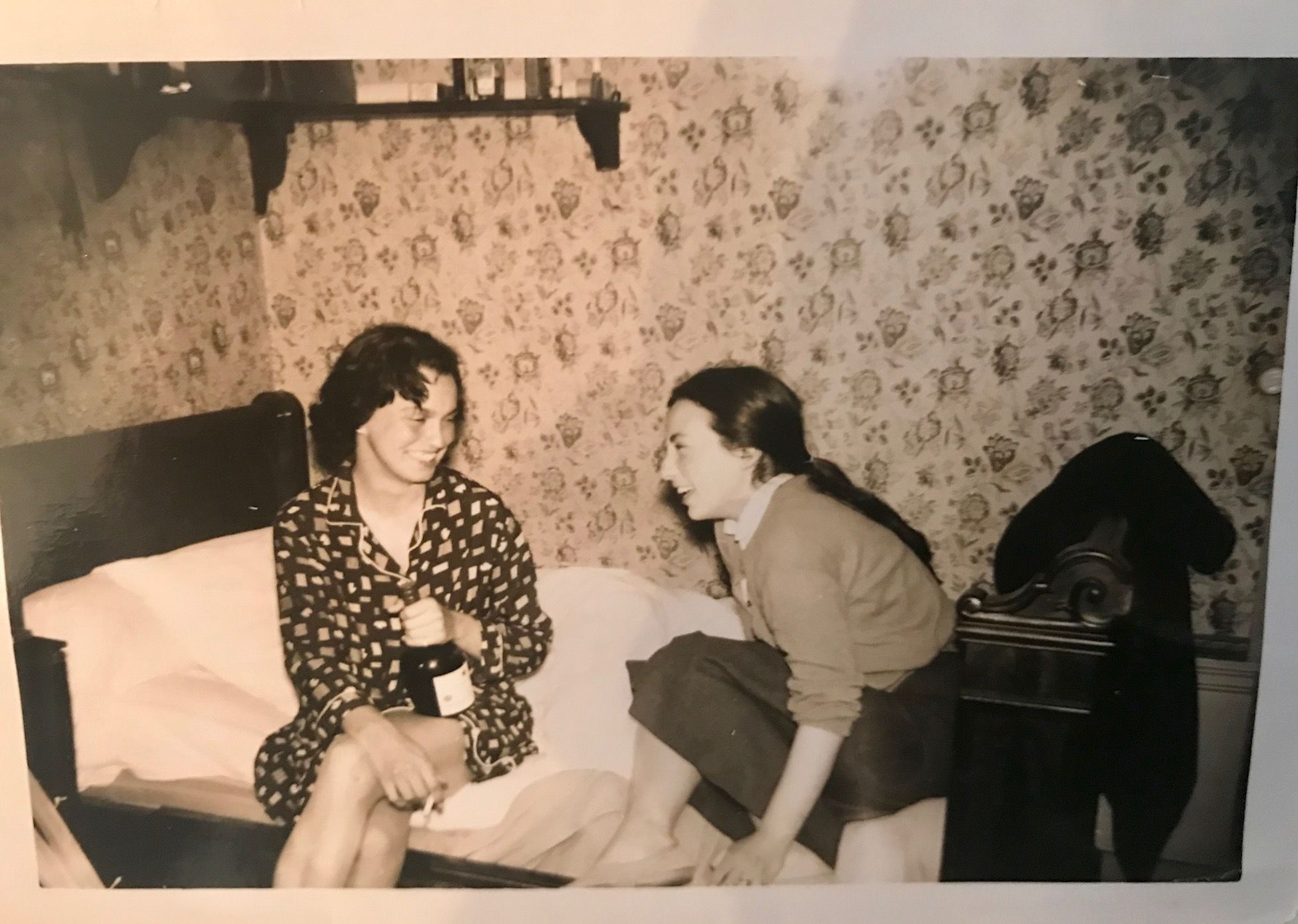 Whenever I venture out to the left bank of Paris (which is rare), I often duck into La Palette, an old school café near L'École des Beaux-Arts in the Saint Germaine neighborhood right off the Seine. Like any good café, La Palette has a nice inside/outside game. You can huddle in the art deco backroom over a warm café crème, or sit en terrasse under the overhead gas lamps and fight for seats to be seen.
I started coming to La Palette upon my arrival in Paris 16 years ago, only because it was a place my mother raved about when she described to me her years in Paris in the '50s. La Palette was the watering hole for Beaux Arts students like herself, and true to its name, it offered open tabs to artists willing to hock their paintings for booze.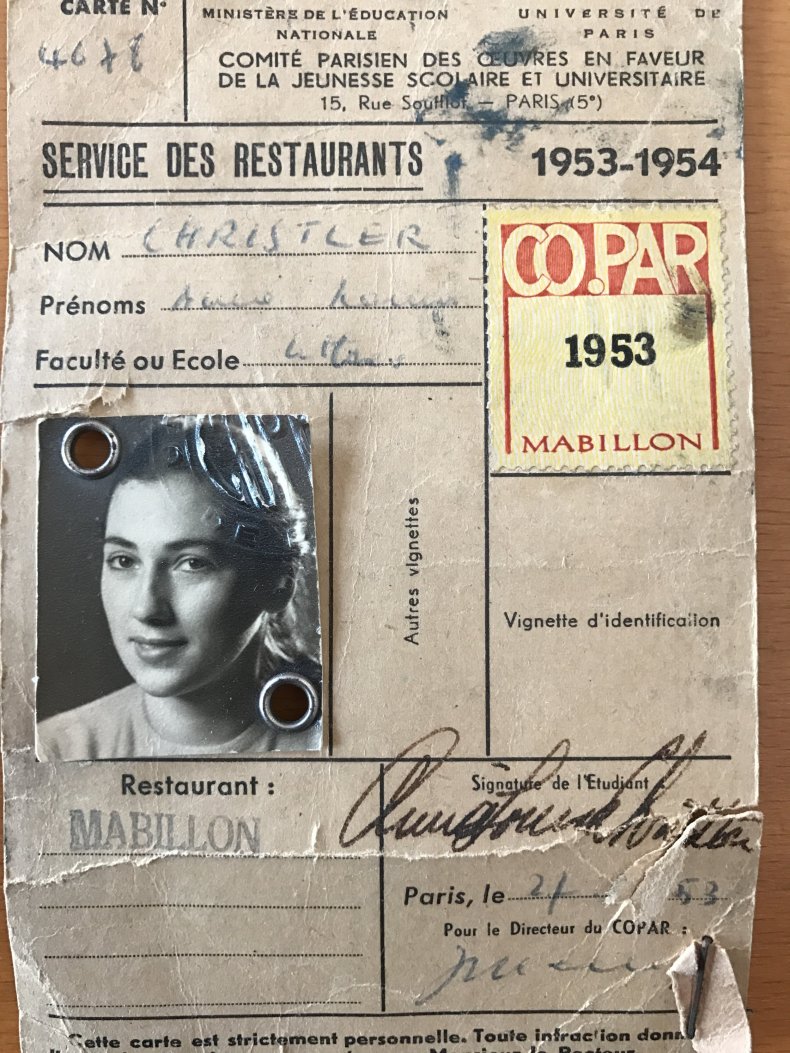 "How much you came to the La Palette and how many friends you invited depended on how prolific you were," she told me. "So I painted a lot."
Newsweek subscription offers >
As a child I'd listen to Mom's stories of Paris, snuggled into the nook of her neck, as we lay in her bed, she either reading aloud from a diary she'd kept during that year or staring at the ceiling and delivering the lines cold, sometimes even in French.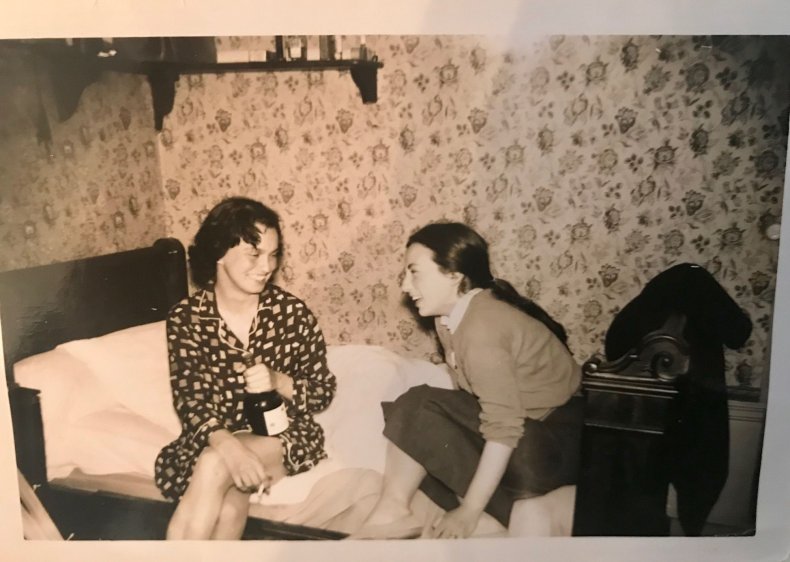 Often she'd start at the very beginning of her adventure, on a slow steamer bound for Le Havre, where she attended lavish dinners and dances, had drinks with Princeton boys, met a swarthy count from Montenegro, and visited a tiger in steerage, whose presence prompted a party one night, to, yes, name the tiger. Other times, she 'd skip ahead and place us smack dab in the center of town, where she bunked with others in a tiny flat on the Île Saint‐Louis, soaking up the free‐spirit life of postwar Paris.
Over many years of these stories, I'd learn the characters by heart: Mimi, her roommate, who convinced Mom to captain a canoe on the Seine accompanied by two bottles of wine, which led to their capsizing and being fished out by the gendarmes. Or the starving artist friend, Hannah, who ate only onions because she wanted to save money, and eating a raw onion apparently cuts your appetite. And there was the struggling writer who had the unfortunate curse of sharing the last name Hemingway.
Newsweek subscription offers >
"Je me suis dit," Mom said in French, "a famous writing career was not in the cards for Russell Hemingway."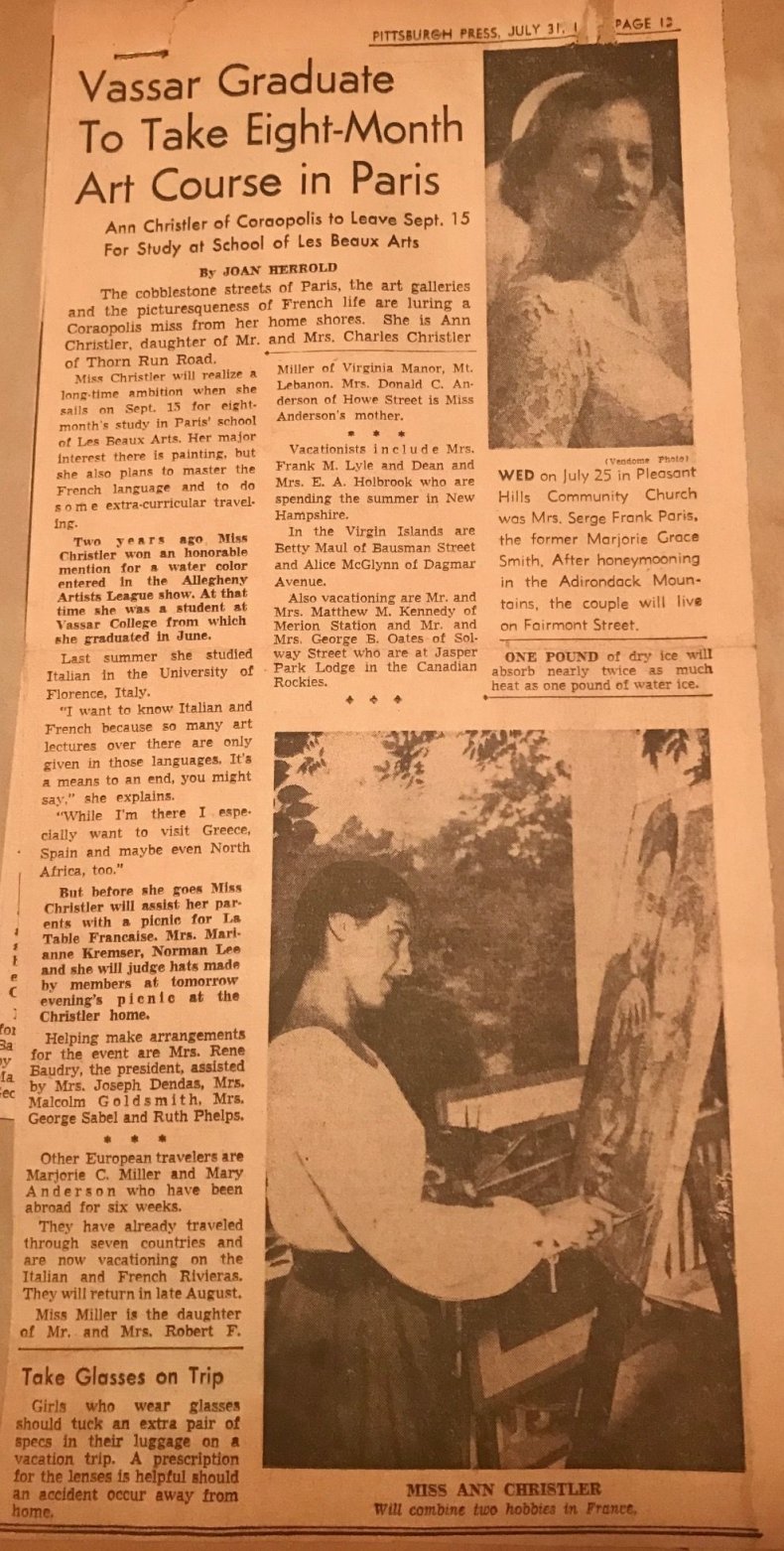 When my mother spoke, she would take on an exotic glow, as if she was inhabited by the actress Simone Signoret, and because I was keen on following each of her stories and descriptions, I'd latch on to certain words and phrases I knew as a way to cross the stream that was the rest of her vouloir courir comme ça French. During these nights au lit, me drifting off to sleep under France's fairytale spell, I imagined it as a land full of wonderment, taste, and refinement, a place where Mom once shone, and where, one day, maybe I could, too.
It should be no surprise then when I moved here sixteen years ago, I still had this same romantic vision. I pictured myself strolling down tree-lined boulevards and through manicured parks, taking in all the elegant surroundings my mother once enjoyed. A place like the La Palette, I thought, would be part of my daily routine here.
And yet my life here has proven quite different. The Paris I now call home sits a bit north in the tenth arrondisement, a graffitied, kebab‐standed, trash‐strewn enclave near the Gare du Nord, and my go-to café is the nuts and bolts Coté Canal, which looks onto the Canal St. Martin and the refugees now camped out on its banks. No it's not the Paris I expected to live in, and sure it would be relief to not hear sirens all day or look out of my window and not have the dealers yapping on the corner at 2AM or wonder why someone just left a broken sink in front of our building.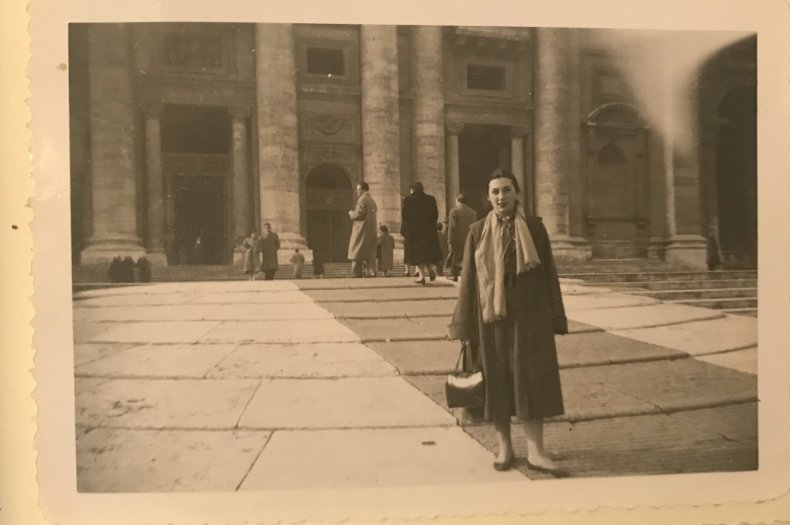 But at the same, I realize my Bohemian digs where old men play dominos next to me while smoking from hookahs and where young backpackers sit alongside the refugees strumming their acoustic guitars sharing from Heineken twelve packs and where long tables are spread out on our street during Ramadan to feed those who've managed to hold out all day, aren't that much different from what my mother's Left Bank must have been like back in the day, before the Prada stores and glitzy boutique hotels arrived; a funky kind of Paris where artists ate onions and flipped canoes in dirty rivers for fun.
In fact, much of what drew me to Paris in the beginning, all those picturesque markets I now see in Saint Germaine with their crayon‐colored vegetable stands and fancy gourmet delis and cafes like La Palette, seem stuck in a time warp now or cut off from reality, at least from my reality. All of a sudden these places seem rich, as in German chocolate cake rich, indigestible, too much. Touristy even. Something I'd once assumed was the embodiment of French wonderfulness, now seems kind of Vegas to me.
Sadly the person I most want to share this with was my mother, who died not long after I moved to Paris – my father following her three months later. Before their deaths, I had let myself fantasize about Mom and Dad living here even for long stretches. Mom could relive her days in Paris, and they could take care of the kids on occasion, just like all the other French grandparents I stare at with jealousy. Maybe we'd even sit out en terrasse at La Palette I thought, and Mom could read from her diary while the kids bounced on her knee.
Perhaps my moving to Paris and carving a life out here has been a way to keep that diary of Mom's going, to give that Beaux Arts brunette with dark eyes and devious grin a second life, simply through a slight of hand magic trick. And if you happen to pass by the Coté Canal in the tenth just after the lunch rush and right before the crowds flock for the early evening apéro, (the time my mother said she was her most prolific) you might see a man sitting outside under a gas lamp, much the way his mother had at La Palette, writing in a moleskin, watching the world go by, loving Paris for different reasons but with that same passion. And maybe one day in the future in a far away city, a lucky boy might listen to its words while he stares at the ceiling at bedtime dreaming of one day living here.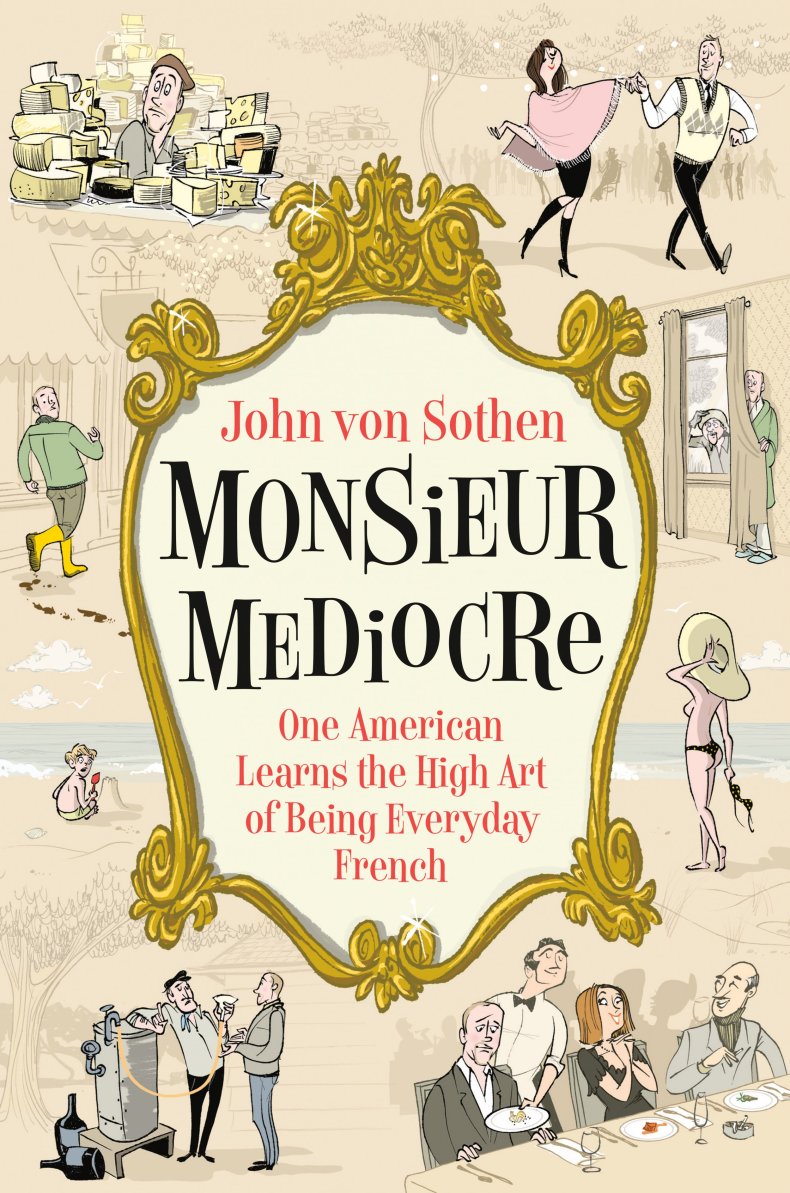 John von Sothen​ is the author of Monsieur Mediocre: One American Learns the High Art of Being Everyday French (Viking, $25). He covers entertainment and society for French Vanity Fair and has written for both American and French GQ, Esquire, Slate, Technikart, Libération and The New York Observer.
A Mother Instilled Her Love of Paris in Her Son | Culture