'Mothers of the Movement' and ShondaLand Stars Appear in Two New Hillary Clinton Campaign Videos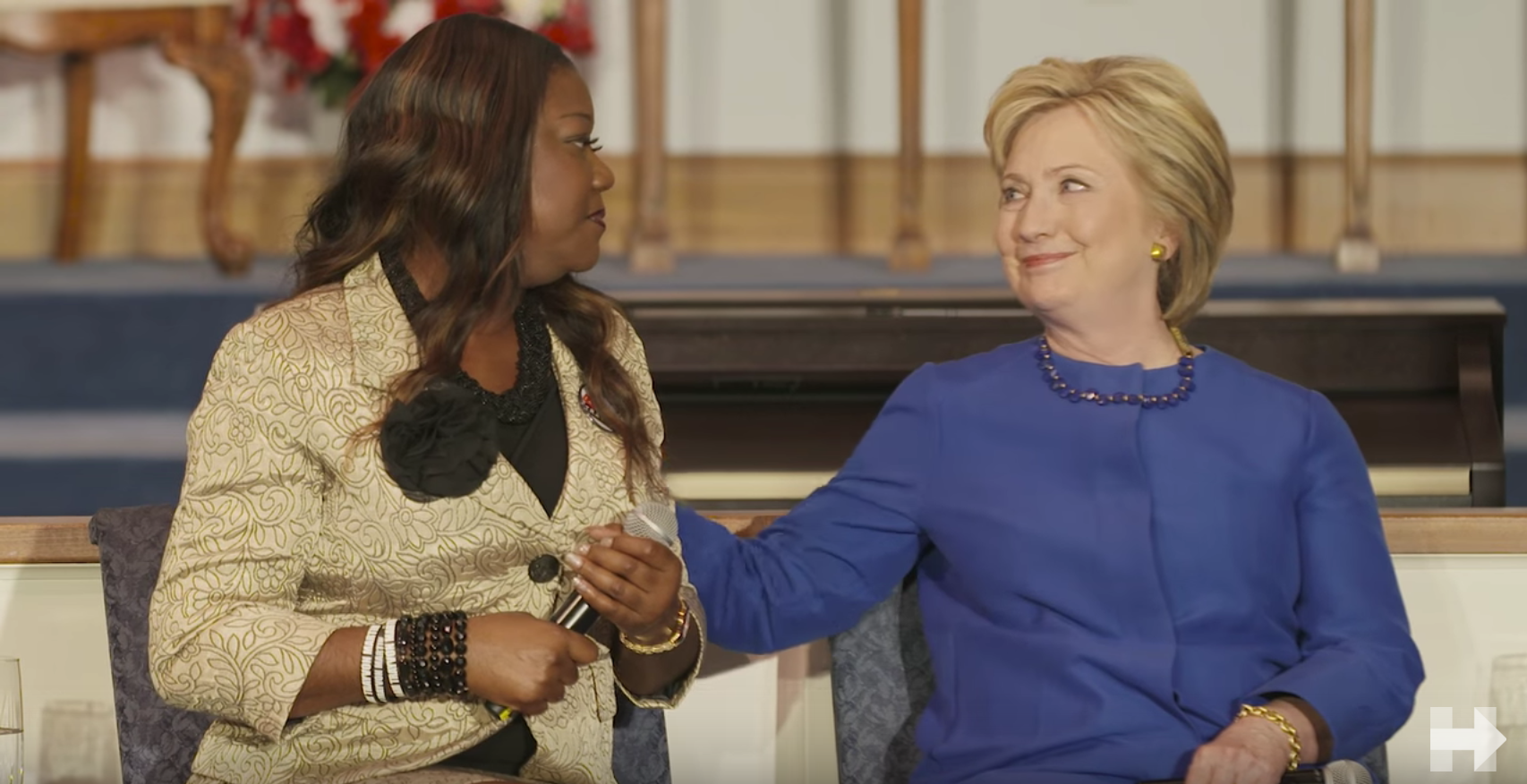 The mothers of Dontre Hamilton, Eric Garner, Jordan Davis, Sandra Bland and Trayvon Martin are all grieving the loss of their children. In a powerful new video posted Friday, the five women explain what they are fighting for in the wake of the premature deaths of their sons and daughter, and why each supports Hillary Clinton to help.
"She's been fighting for a long time with these issues," said Gwen Carr, whose son Eric Garner died after being placed in a police chokehold in Staten Island in 2014. Lucia McBath, whose son Jordan Davis was shot by a white man while playing loud music in his car in 2012, added that "finally, someone here is really willing to listen and to really stimulate change."
All five mothers are scheduled to stump for Clinton in Ohio on Saturday and Sunday, the Columbus Dispatch reports.
The "Mothers of the Movement" video comes one day after the release of another clip featuring prominent women speaking in support of Clinton.
Shonda Rhimes and her production company, ShondaLand, are responsible for some of the best-known female characters in the last decade of television—Meredith Grey on Grey's Anatomy, Scandal 's Olivia Pope and most recently Annalise Keating on How to Get Away with Murder. Rhimes and the actresses who portray these three famous, fictional women—Ellen Pompeo, Kerry Washington and Viola Davis—appear in a campaign video published Thursday in which they declare, "I'm with Hillary."
"Every day I wake up and play a brilliant, complex, overqualified, get-it-done woman who obsessively fights for justice, who cares, who gives a voice to the voiceless, who gets knocked down and always gets back up," Washington, Pompeo and Davis say, each adding a word or a phrase as the video cuts back and forth among the actresses.
"I make television filled with the kinds of characters I imagine we all can be," Rhimes says when she first appears. The four women describe these characters as "strong, but flawed; human, but extraordinary. Our characters are on television, but the real world," they say, "the real world has Hillary Clinton."
Together they praise the Democratic presidential candidate as "a bona fide, rolls-up-her-sleeves, fights-for-what's-right, in-it-for-you, won't-back-down, champion for all of us." Each of the four declares, "I'm with Hillary."
The Clinton campaign posted the spot, titled "Real Life," to YouTube on Thursday. Directed by Tony Goldwyn, who plays President Fitzgerald Grant on Scandal, the video garnered roughly 50,000 views in its first day online. It also began to run Thursday in states whose primaries take place March 15, Variety reports. States scheduled to vote for a Democratic nominee Tuesday include Florida, Ohio, Illinois and Missouri.
Rhimes and Clinton tweeted at one another Thursday evening:
'Mothers of the Movement' and ShondaLand Stars Appear in Two New Hillary Clinton Campaign Videos | U.S.