Motive Sought for Florida Airport Mass Shooting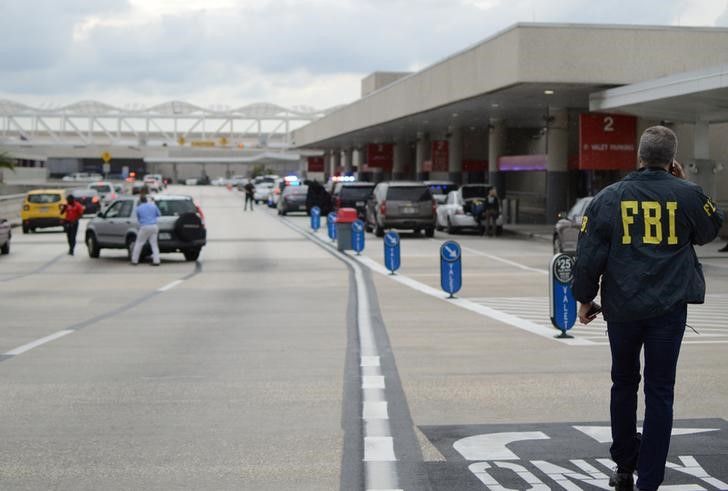 Federal investigators will on Saturday pursue all angles in determining the motives behind a mass shooting in which an attacker opened fire in a crowded baggage claim area at Fort Lauderdale's airport, killing five people.
Authorities said they had taken decorated Iraq war veteran Esteban Santiago into custody following the shooting and questioned him at length. The 26-year-old was arrested, booked and jailed on suspicion of murder early on Saturday, according to Broward County Sheriff's Office. Santiago was expected to face federal charges, said George Piro, special agent in charge of the Federal Bureau of Investigation's office in Miami.
Piro said FBI investigators had not ruled out terrorism as a reason for the attack and were reviewing the suspect's recent movements. "We will be pursuing every angle to try to determine the motive behind this attack," he said.
Authorities said the attacker retrieved a 9mm semiautomatic handgun from his checked luggage and began firing indiscriminately.
In addition to the five killed, eight people were wounded by gunfire and some three dozen were taken to hospital with bruises or broken bones.
Fort Lauderdale-Hollywood International Airport is the second largest in South Florida, serving as an intercontinental gateway. It resumed cargo flights and general aviation for private small planes at midnight local time. Commercial flights were to resume on Saturday, the airport said on Twitter.
Authorities said Santiago, 26, arrived in Fort Lauderdale shortly before 1 p.m. local time on Friday on a connecting flight from Alaska.
Piro said Santiago had turned up at an FBI office in Anchorage in November of last year behaving erratically and was turned over to local police, who took him to a medical facility for a mental health evaluation.
Santiago served from 2007 to 2016 in the Puerto Rico National Guard and Alaska National Guard including a deployment to Iraq from 2010 to 2011, according to the Pentagon. A private first class and combat engineer, he received half a dozen medals before being transferred to the inactive ready reserve in August last year.
An aunt said he came back from his deployment "a different person", MSNBC reported.