Mötley Crüe and the Real Story of Nikki Sixx's Overdose: Going Beyond 'The Dirt'
In May 1987, Mötley Crüe released their fourth studio album, Girls, Girls, Girls. It was the band's third album in a row to go quadruple platinum and the second-highest charter on the Billboard 200 that year, after Whitney Houston's self-titled album, Whitney.
But just seven months later, on December 23, 1987, Mötley Crüe bassist Nikki Sixx overdosed on heroin. After reportedly being clinically dead for two minutes, he woke up in an ambulance with two syringes sticking out of his chest, where paramedics had injected him with adrenaline.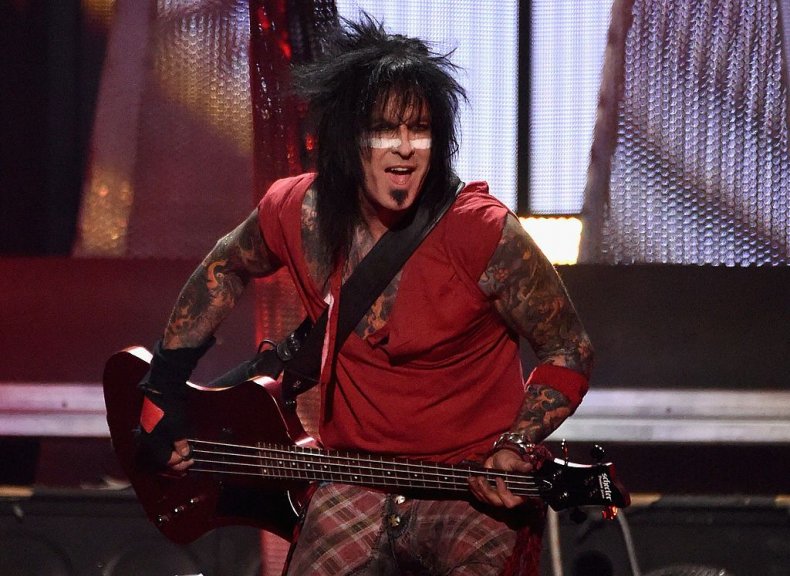 "No one's going to die in my f***ing ambulance," Sixx recalls the paramedic saying in the Mötley Crüe autobiography The Dirt: Confessions of the World's Most Notorious Rock Band.
When the overdose became public knowledge, media outlets started reporting Sixx's death. In reality, the musician woke up in the hospital and, after an in-hospital interrogation by police, Sixx was released on his own recognizance.
The acclaimed bassist wandered shirtless into the hospital parking lot, where two crying fans found him and gave him a lift home.
"Heroin nearly killed me. As a matter of fact, it did," Sixx wrote in an editorial about the opioid crisis for the Los Angeles Times. "From the outside looking in, I was living the dream. But in reality, I was in the throes of a disease I couldn't control, addicted to heroin."
Sixx's overdose was the culmination of years of addiction. In his book The Heroin Diaries, he describes himself as "a man who was so hooked on heroin and cocaine that he had to die twice before he began to contemplate a more positive lifestyle."
Nikki Sixx and Mötley Crüe's History of Partying and Addiction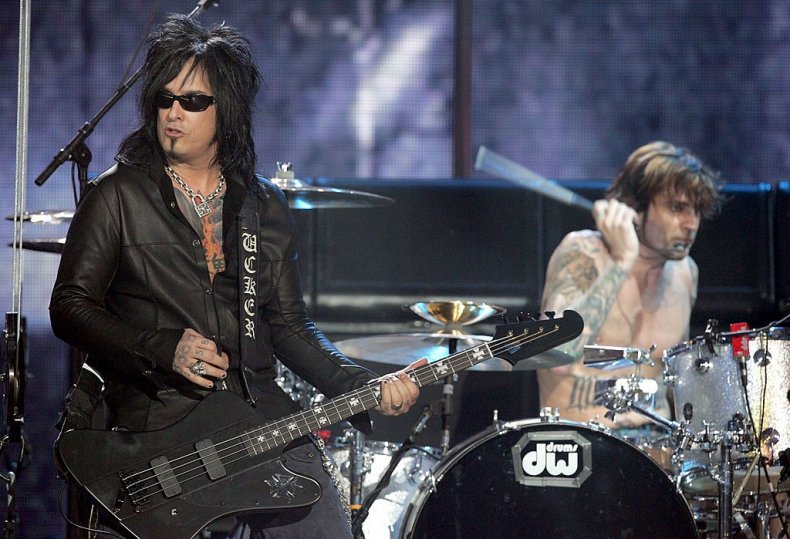 Sixx traces his addictive personality back to 1965, when his stepdad urged him to take a hit from a joint and a pull from a bottle of Jack Daniels while on vacation in Guadalajara, Mexico. Sixx was 6 years old at the time.
"Once that pot and whisky hit my system, my mind went KABOOM and my whole world changed. The static in my head and my body that I felt all day every day just went away," Sixx wrote in The Heroin Diaries. "Everything in my life became about chasing that feeling. To this day it has never stopped, no matter how much work I do on myself."
In 1981, Sixx began practicing with drummer Tommy Lee. They soon recruited guitarist Mick Mars and singer Vince Neil, and Mötley Crüe was formed. That same year they released 900 copies of their first studio album, Too Fast for Love. By 1983, Mötley Crüe was world famous for their heavy-metal bombast and post-apocalyptic glam costumes and sets. "We had watched Mad Max and Escape From New York nonstop, until every image was engraved in our brains," Sixx described in The Dirt.
They also became known for their hard partying, burnished on a 1984 world tour with Ozzy Osbourne.
Sixx first began using heroin while Mötley Crüe worked on their second studio album—1983's Shout at the Devil. After he crashed his Porsche into a telephone pole, doctors fixed his dislocated shoulder and gave him a bottle of painkillers. "I spent the next three days unconscious, whacked out on painkillers," Sixx wrote in The Dirt. "Heroin began to consume me, first to kill the pain of the shoulder then later to kill the pain of life, which is the pain of not being on heroin."
At first, he only smoked heroin, cooking brown lumps of tar on tinfoil and sucking up the vapor. But two friends, one from glam metal band Ratt, taught him to use needles instead. "It was all over. The first time I shot up, I just passed out," Sixx relates in The Dirt. "Vince's vice was women and, with those first shots, I learned that mine was to be drugs, for the rest of my life."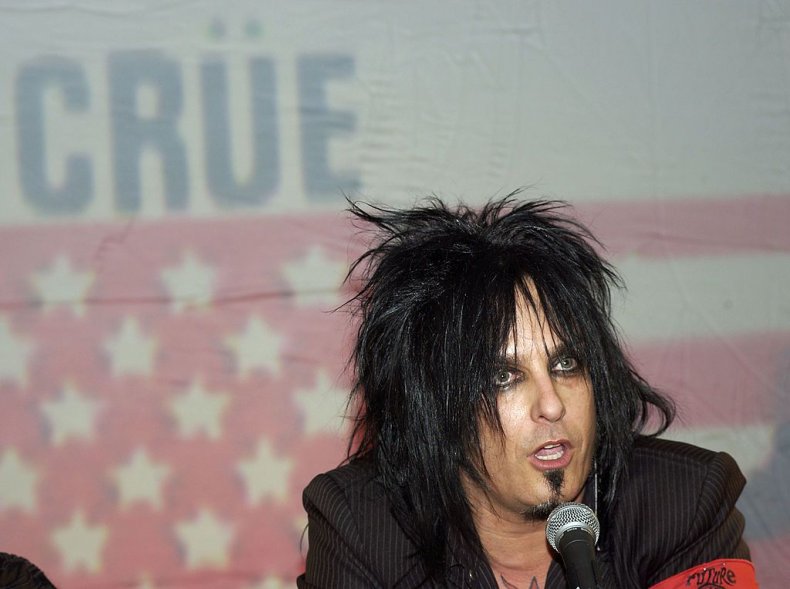 Soon after, Sixx was mixing cocaine into his heroin to keep him from passing out. With the success of Shout at the Devil, Sixx and Mötley Crüe found themselves surrounded by enablers. "The more f***ed up we got, the greater people thought we were, and the more they supplied us with what we needed to get even more f***ed up. Radio stations brought us groupies; management gave us drugs. Everyone we met made sure we were constantly f***ed and f***ed up."
Sixx's fellow band members started calling him out for his heroin use: While preparing to open for Ozzy Osbourne on his 1983 Bark at the Moon tour, the band demoed their set for record company executives. A frustrated Crüe guitarist Mick Mars shouted into his microphone, "Perhaps we could play these songs for you if Nikki hadn't been up all night doing heroin."
While Sixx's heroin use became more public, he only realized he had a problem while on tour with Cheap Trick. He had his first near-brush with death towards the end of the tour, after a London heroin dealer helped him inject. "As soon as it exploded in my heart, I realized that I'd f***ed up," Sixx wrote in The Dirt. Waking up from a blackout, he remembered the dealer carrying him outside "like an old trash bag," intending to throw his body in the dumpster after giving up on resuscitating him. "I had large welts all over my arms and chest from being struck with a baseball bat. That was the dealer's idea: He thought he could put me in so much pain that my system would shock itself back into action."
Sixx's addiction continued, and his relationship with his fellow band members decayed. It came to a head at Lee's April 1986 wedding to Heather Locklear, where Sixx was best man.
"He was emaciated; he sweated constantly; and his skin was pure yellow, dude," Lee wrote in The Dirt. "He kept excusing himself to go to the bathroom, and then he'd return and start nodding off in the middle of the ceremony. As a best man, he was so f***ed up on heroin, he was useless. I couldn't believe he was shooting up at my f***ing wedding."
At the wedding, Sixx told Mötley Crüe tour manager Rich Fisher that he was using heroin, though he suspected everyone already knew. Sixx's management company held an intervention and got him to agree to rehab, but he soon escaped the treatment center by jumping from a second-story window in his hospital gown and walking home.
Nikki Sixx's Overdose and Clinical Death
By 1987, Sixx's condition had worsened. His hair was coming out in clumps. He described himself as "disintegrating." On December 23, he went out with Robbin Crosby of Ratt, Slash of Guns N' Roses and members of Megadeth for a cocaine-fueled evening. After returning to the Franklin Plaza Hotel, Sixx had their dealer inject him with a dose of heroin that nearly ended his life.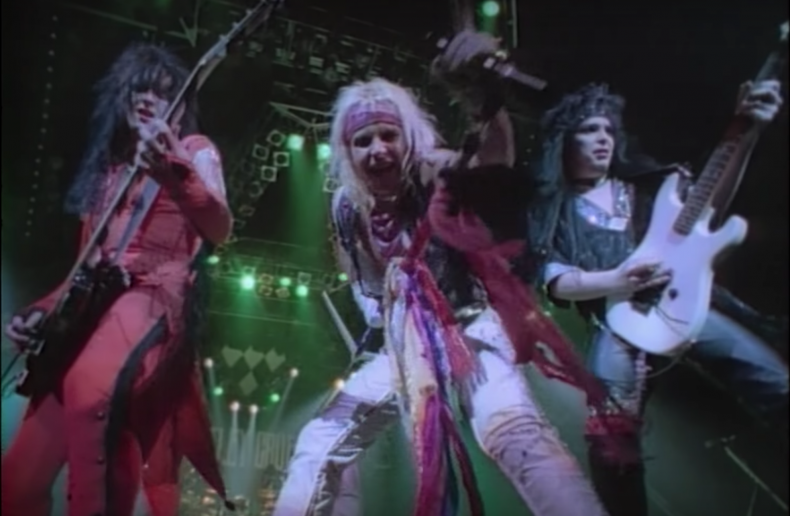 In The Dirt, Sixx described the out-of-body experience he had as paramedics rushed him to the hospital. "It felt as if something very gentle was grabbing my head and pulling me upward. Above me, everything was bright white. I looked down and realized that I had left my body. Nikki Sixx—or the filthy, tattooed contained that had once held him—was lying covered face-to-toe with a sheet on a gurney being pushed by medics into an ambulance."
Neil recalled getting a late-night call from Fisher, who wasn't sure whether Sixx was dead or alive. Neil dressed to get to the hospital, then received another call from Sixx's limo driver, who described seeing the heroin dealer jump from the hotel window and run down the street shouting, "I just killed Nikki Sixx!"
The singer next heard from Mötley Crüe's accountant, Chuck Shapiro, who said a reporter had called asking for a quote for Sixx's obituary. Neil stayed on the line while Shapiro called the hospital for confirmation.
"He just left," Neil recalls a nurse telling Shapiro. "He pulled the tubes out of his nose, tore the IV out of his arms, and told everyone to f*** off. He walked out with only a pair of leather pants on."
The Dirt Movie: Mötley Crüe on Netflix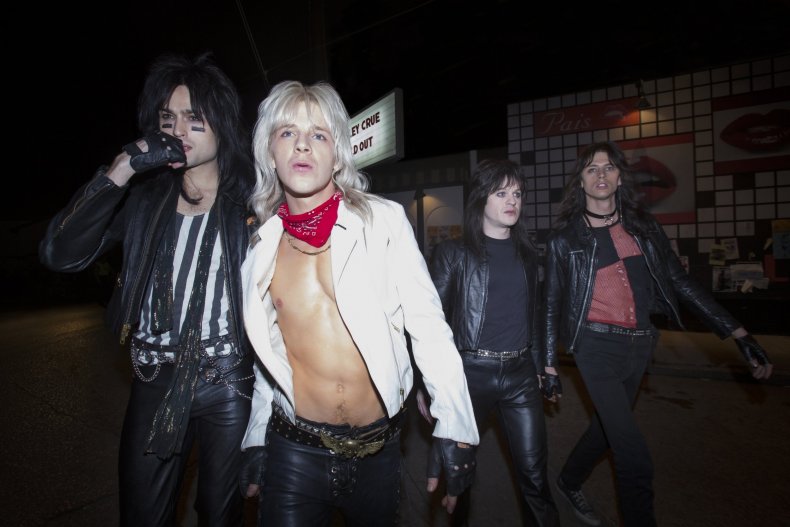 Sixx's overdose is dramatized in the new Netflix Mötley Crüe biopic The Dirt. In the movie version, Sixx—played by Douglas Booth—is described as spending a thousand dollars a day on heroin. He overdoses after a conversation about the sexual proclivities of Walt Disney.
Sixx entered rehab in January 1988. The rest of Mötley Crüe also became sober after their managers canceled a European tour in fear for their health. In 1989, Mötley Crüe released their most successful album, Dr. Feelgood.
Sixx says he hasn't used heroin since his near-death experience, but he still struggles with addiction. "When I meet and talk to other addicts, I sometimes feel like I'm viewed as some kind of superman, a guy who has evolved completely through his recovery and has reached a weird kind of recovery enlightenment. This couldn't be further from the truth," Sixx wrote in a 2017 introduction to an anniversary edition of The Heroin Diaries. "Since its publication I have felt a responsibility to the recovery community that I had never felt before. A responsibility to maintain my sobriety because I am an example for others. But I am not infallible, and that is a very crucial fact I hope people understand."