Motown Records Mark March on Washington Anniversary With Plans to Promote Civic Engagement
Today marks the 57th anniversary of the historic March on Washington for Jobs and Freedom, which addressed racial inequality in America during the height of the Civil Rights movement. About 250,000 gathered in Washington, D.C., in 1963 to hear remarks from such civil rights leaders as Roy Wilkins, John Lewis, Whitney M. Young and A. Philip Randolph, as well as music from singers Mahalia Jackson, Marian Anderson, Bob Dylan, and Peter, Paul and Mary. The most memorable highlight of the event, of course, was Dr. Martin Luther King Jr.'s now-famous "I Have a Dream" speech that further galvanized the movement.
For over five decades now, the March on Washington has been documented in the history books, told on film and even honored on a postage stamp in 2013. What is perhaps not widely known is that Motown Records, the legendary and successful Black-owned music label founded by Berry Gordy, recorded the major speeches—including King's—from that day.
Those speeches, and a studio recording of "We Shall Overcome" by singer Liz Landis, appeared on an album titled The Great March on Washington, released in October 1963. The words and music from that record still resonate today in the wake of continued racial inequalities and violence following the deaths of George Floyd, Breonna Taylor and Elijah McClain. Earlier this year, The Great March on Washington was released digitally for the first time ever, and King's speech is now available as standalone single.
In marking the 57th anniversary of March on Washington this year, Motown Records and Universal Music Enterprises (UMe) announced on Thursday several digital initiatives to not only mark the legacy of the mass protest, but to inspire those taking part in nonviolent action today. (There was also a new rally in Washington on Friday, to commemorate the 1963 March on Washington; among those who took part were the Reverend Al Sharpton, Martin Luther King III, and the family members of George Floyd, Breonna Taylor and Eric Garner, as well as others who have died in incidents involving police.)
"These efforts make newly accessible the sounds of a day that is vital to ensuring that America fulfills its promise and that the uplifting messages delivered on the steps of the Lincoln Memorial nearly 60 years ago can inspire those taking to the streets today for the purpose of nonviolent action as they become part of the proud legacy of the original march," according to a statement from Motown and UMe.
One of those aforementioned digital initiatives is the Use Your Voice campaign, launched last week, to encourage civic engagement and voter participation through the #UseYourVoice hashtag, ahead of the upcoming 2020 presidential election. "With so many now exercising their constitutional rights, this hashtag opens up the possibility to discover shared visions or new opportunities to support, discover and embrace history as it unfolds in plain view," the record labels' statement reads.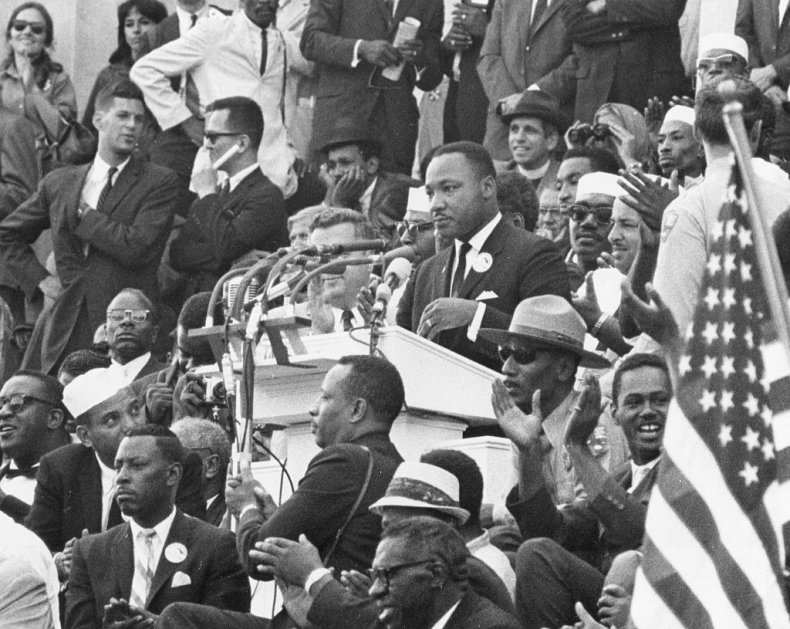 Additionally, Motown and Universal Music Enterprises have unveiled long-unseen footage of Coretta Scott King discussing her late husband on The Ed Sullivan Show that first aired on Mach 22, 1970. Another of their efforts is an exclusive March on Washington playlist on Spotify, featuring 85 songs by such seminal Black artists as Marvin Gaye ("What's Going On"), Stevie Wonder ("Jesus Children of America"), Janet Jackson ("Rhythm Nation"), Kendrick Lamar ("Alright") and Childish Gambino ("This Is America").
"The tradition for preservation and distribution continues as Motown and UMe create ways for digital generations to enhance their journey," Katina Bynum, executive vice president, East Coast Labels, Urban, UMe, said in a press statement. "The Ed Sullivan Show clip of Coretta Scott King provides an early glimpse of the power of a woman's voice. The #USEYOURVOICE hashtag encourages inclusion and action. The March On Washington playlist links the past and the present, just as today's demonstrators carry on the work of yesteryear's civil rights leaders and activists."
Other aspects of Motown's initiative include a video clip featuring scenes from the 1963 March on Washington, augmented with audio of John Lewis' speech from that day; and an interview with Motown Records President Ethiopia Habtemariam, discussing the legacy of King with KCRW host Elvis Mitchell.