Trump 'Totally Serious' About His Face On Mount Rushmore, South Dakota Republican Says
Representative Kristi Noem, a South Dakota Republican, said President Donald Trump views his own face going up on Mount Rushmore as no laughing matter.
Noem, who is also running for governor of South Dakota, relayed a conversation she had with the president during her first visit to the Oval Office soon after he took office in January 2017. Speaking with Vermillion resident Mitchell Olson during the filming of a carpool karaoke show, Noem described her first brush with the concept of "Mount Trumpmore" being erected atop the 77-year-old Keystone, South Dakota, landmark.
"He said, 'Kristi, come on over here. Shake my hand,'" Noem said, according to an Argus Leader report. "I shook his hand, and I said, 'Mr. President, you should come to South Dakota sometime. We have Mount Rushmore.' And he goes, 'Do you know it's my dream to have my face on Mount Rushmore?'"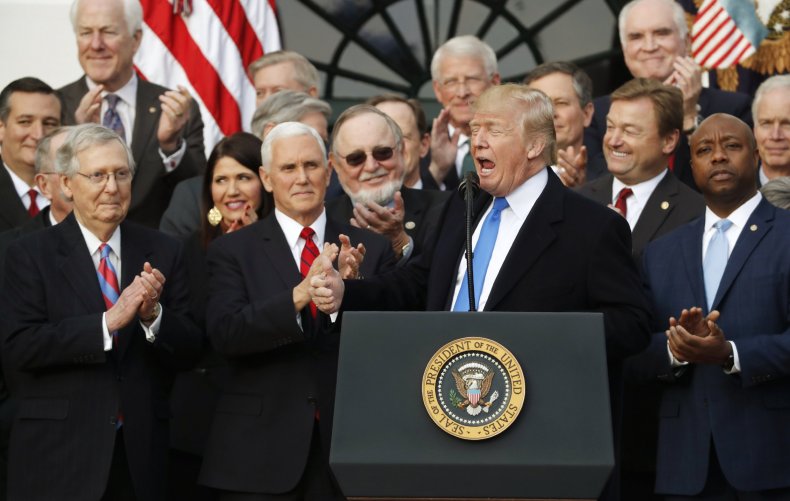 Noem recalled that only one of them thought it was a joke. "I started laughing," said the state's lone U.S. representative. "He wasn't laughing, so he was totally serious."
But Maureen McGee-Ballinger, public information officer at Mount Rushmore, said it's not possible to add Trump's facial carving into Mount Rushmore to join George Washington, Thomas Jefferson, Theodore Roosevelt and Abraham Lincoln.
"There is no more carvable space up on the sculpture," McGee-Ballinger told the Argus Leader. "When you are looking on the sculpture, it appears there might be some space on the left next to Washington or right next to Lincoln. You are either looking at the rock that is beyond the sculpture (on the right), which is an optical illusion, or on the left, that is not carvable."
Trump previously suggested having his likeness carved into the landmark at a Youngstown, Ohio, rally in July 2017, although he did acknowledge that the news media may criticize such an egotistical suggestion.
"Every single president on Mount Rushmore...now here's what I'd do, I'd ask whether or not you think I will someday be on Mount Rushmore but here's the problem," Trump told the cheering crowd. "If I did it joking, totally joking having fun, the fake news media will say 'he believes he should be on Mount Rushmore.'"
"So I won't say it, OK?" Trump continued, as the crowd booed toward the news media cameras. "But every president...they'll say it anyway you watch tomorrow: 'Trump thinks he should be on Mount Rushmore,' what a dishonest group of people.
As theDurango Herald previously reported, there is a sandstone butte in Utah's Grand Gulche that strikes a close resemblance to the 45th president.
Rep. Kristi Noem's office did not immediately return requests for comment from Newsweek.