Japan issued a Level 4 volcanic warning, the second highest level, on Wednesday, instructing the residents of an island located south of the mainland to prepare for evacuation.
The alert also recommends that disabled people should seek to leave the island—known as Kuchinoerabu—immediately, according to the Japan Meteorological Agency (JMA).
While no eruption has been detected at the peak of the 2,155-foot Mount Shindake volcano, the JMA said there has been an increase in seismic activity and sulfur emissions, according to Reuters.
The 3-mile-wide island, which lies more than 600 miles south of Tokyo and is home to around 100 people, is volcanic in origin. Residents live with the constant threat of explosive eruptions, of which there have been several since 1840.
The last event took place in 2015 when the main crater spectacularly erupted, sending a vast cloud of ash and smoke into the sky and generating a pyroclastic flow—a fast-moving current of hot gas and volcanic material, capable of moving at speeds of hundreds of miles an hour.
Authorities promptly issued a Level 5 alert in response and evacuated all residents from the island. Once the activity subsided, they returned to their homes, which had not been damaged.
The volcano also erupted in 2014. Before this, there had been no eruption since 1980, when multiple explosion craters appeared along a fissure on Shindake's slopes. Fortunately, none of these events led to fatalities. A powerful eruption in 1933, however, did cause the deaths of several people.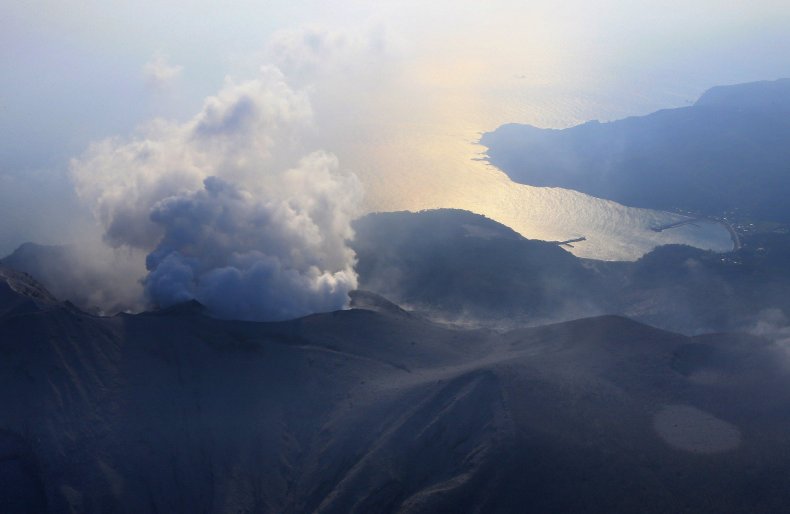 Japan lies atop the western edge of the Ring of Fire—a long, horseshoe-shaped, seismically active belt that extends around the Pacific Ocean basin—where many earthquakes and volcanic eruptions occur. The nation is one of the world's volcanic hot spots, with a total of 110 active volcanos, of which 47 are constantly monitored by the JMA.
On September 27, 2014, an eruption of Mount Ontake—a volcano on the island of Honshu, about 120 miles west of Tokyo—killed 63 people. This was the first fatal eruption since the 1991 event at Mount Unzen and the deadliest since a disaster on the island of Torishima in 1902 killed the entire population of around 150 people.