Mount Sinabung Eruption: Volcanic Explosion Turns Villages 'Pitch Black' as Smoke Bursts Thousands of Feet in Air
A powerful volcanic eruption in Indonesia that shot ash and rocks more than 16,000 feet in the air has forced thousands to flee from falling debris and searing gas.
Mount Sinabung, located on the island of Sumatra, erupted to such an extent that some local villages were reportedly "pitch black" as huge plumes of smoke engulfed the area.
Speaking to Agence France-Presse, volcanology agency chief Kasbani, who goes by one name, declared this event, "the biggest eruption for Sinabung this year."
Get your unlimited Newsweek trial >
The country's National Disaster Mitigation Agency said they have not received any reports of deaths or injuries in the wake of the eruption.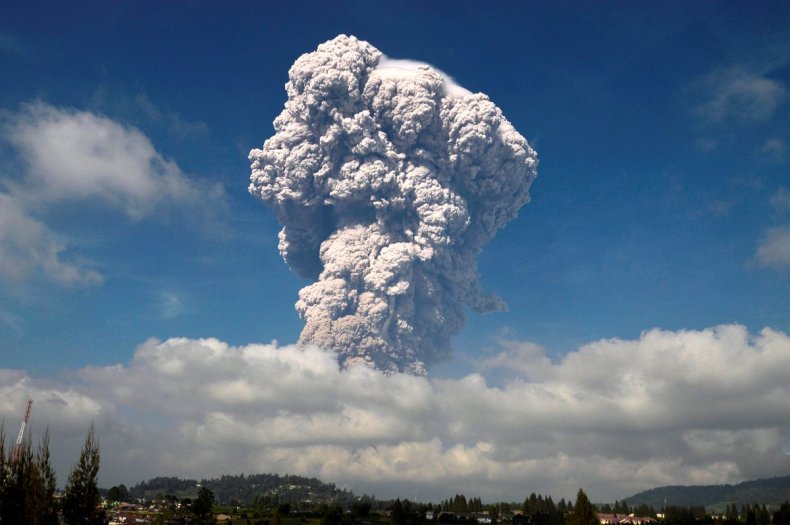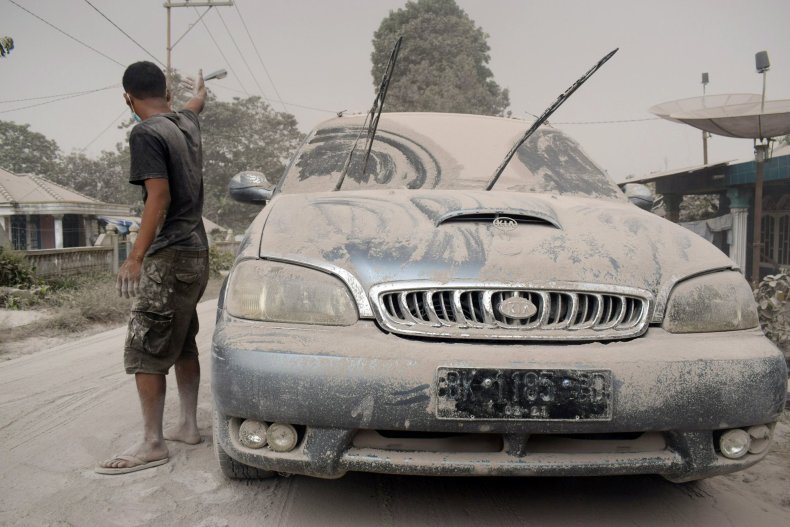 Locals have been warned to stay indoors to avoid breathing in the ash and smoke, with officials handing out face masks to protect people from respiratory problems.
Get your unlimited Newsweek trial >
"In some villages the visibility was barely 5 meters after the eruption," local disaster mitigation agency official Nata Nail Perangin-angin added to AFP, "it was pitch black."
Mount Sinabung lay dormant for 400 years before it erupted in 2010, killing two people in the process. Since then, another 23 people have died after subsequent interruptions, which forced more than 30,000 to leave their homes in the surrounding area over the past eight years.
The Volcanic Ash Advisory Centre, in Darwin, Australia, issued a "red notice" to airlines, advising planes not to fly over Indonesia.
"The Bureau of Meteorology's Volcanic Ash Advisory Centre (VAAC) has briefed airlines and will continue to work closely with the aviation industry," read a statement posted on the Center's website.
The statement also explained the rationale for the no-fly notice. "The VAAC's advice for the aviation industry relies on ground-based and satellite observations, pilot reports, and sophisticated forecasting models to monitor the current location and forecast movement of volcanic ash," the statement noted. "Airlines make their own decisions on when to fly based on their risk management approaches."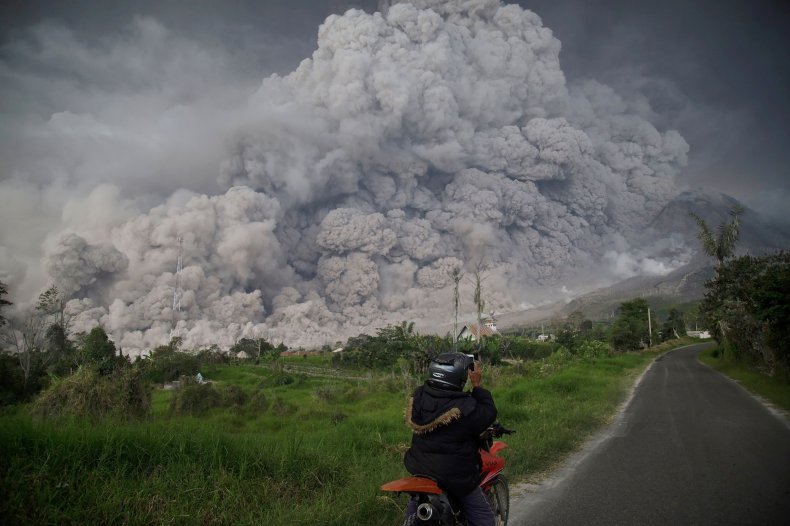 Despite the warnings, airlines Jetstar and Qantas said none of their flights have been affected by the eruption, reported the Associated Press.
Mount Sinabung is located in the so-called "Ring of Fire," an area of volatile seismic activity where hundreds of active volcanoes are found. The area—which includes Japan, New Zealand and the west coast of north America, Mexico and South America—is the location of approximately 90 percent of all the world's earthquakes.
Mount Sinabung is one of three volcanoes which are currently erupting in Indonesia.
SaveSaveSaveSave
SaveSave
Mount Sinabung Eruption: Volcanic Explosion Turns Villages 'Pitch Black' as Smoke Bursts Thousands of Feet in Air | World