Indonesia recently witnessed firsthand the dangers of Mother Nature after two large earthquakes hit, followed by a deadly tsunami. But the nation's experience with deadly natural phenomena wasn't over, as Mount Soputan erupted on Wednesday.
Soputan, located on Sulawesi Island, erupted twice. The first eruption occurred at 8:47 a.m. local time, and the second followed at 11:12 a.m., according to The Jakarta Post.
Indonesia's Center for Volcanology and Geological Hazard Mitigation cautioned residents to stay outside of a 2.5-mile radius from the volcano's peak because of the possible presence of lava and ash.
"Residents are advised to use dust masks to avoid any potential respiratory problems in the event of falling ash," the warning said, according to The Jakarta Post.
The eruption spewed ash more than 19,000 feet into the sky, USA Today reported, and evacuations were ordered for people living within a few miles of the volcano. Photos and videos posted on social media show smoke billowing into the sky from the mountain's peak.
Soputan's activity occurred only a few days after the island was hit with two large quakes. Last Friday afternoon, a magnitude 6.1 earthquake hit Donggala, a regency on Sulawesi Island. The quake, which lasted about 10 seconds, killed one person and injured at least 10 others.
About four hours after the first quake struck, a second tremor, this time a magnitude 7.5, also hit the Sulawesi Island, about 550 miles from Donggala. A tsunami warning was issued for the island but was canceled shortly after it was issued. However, after its cancellation a powerful wave hit Palu, the provincial capital.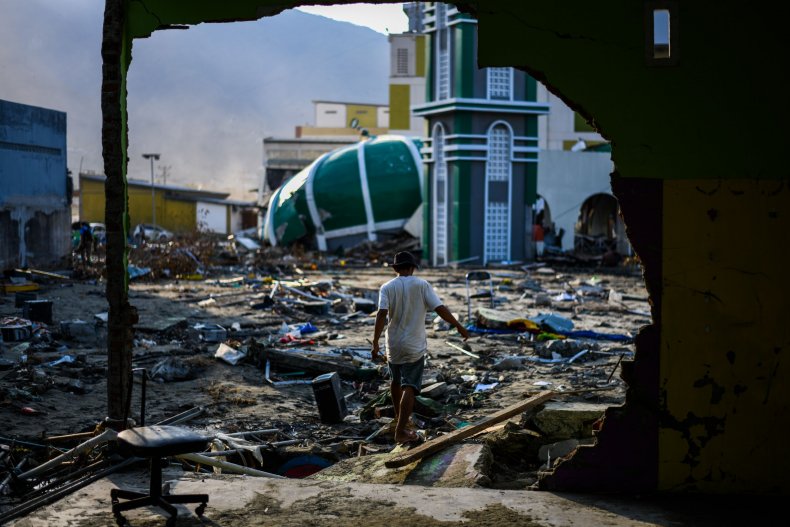 Between the earthquakes and the tsunami, more than 1,400 people were killed, according to The Washington Post. In addition to the massive number of deaths, an estimated 70,000 people have been displaced, National Disaster Mitigation Agency spokesman Sutopo Purwo Nugroho told the Post.
During the tsunami, 5-year-old Akbar and his mother and siblings were on the beach, according to Channel 4 News. He was swept away from the rest of his family and spent days in a hospital, unsure of what had become of his family. His mother, Wahtin, assumed her 5-year-old son had died in the wave. By sheer coincidence, she was brought to the same hospital as her son, and the two were reunited.
"He's in this condition because of this disaster," a nurse told Channel 4 News about Akbar's shock.
The tsunami forced torrents of water and mud to rush through streets, swallowing up cars, homes and people. Entire neighborhoods were destroyed, and experts told CNN that soil liquefaction was to blame.
"During the earthquake, water pressure is generated in the soil, which causes a dramatic loss of strength," said Jonathan Stewart, a professor in the Civil and Environmental Engineering Department at the University of California, Los Angeles. "The strength loss can be so great that the soil behaves almost like a liquid."
Six days after the disasters, some residents are still in urgent need of food, water and medical supplies. To help aid relief efforts, the United Nations Office for the Coordination of Humanitarian Affairs allocated $15 million to Indonesia. The funds will be used both for supplies and to supplement medical care, since many health clinics were damaged.
"The government of Indonesia is experienced and well equipped in managing natural disasters, but sometimes, as with all other countries, outside help is also needed," U.N. humanitarian chief Mark Lowcock said. "Given the scale and complexity of this emergency, U.N. agencies and humanitarian organizations are working closely with government counterparts to provide life-saving assistance."
No casualties have been reported in connection with Wednesday's volcanic eruption, and it hasn't been determined if it was caused by the recent earthquakes.