Emaciated Mountain Lion Killed after Entering Lobby of Colorado Condo
A mountain lion found in the lobby of a condo in Vali, Colorado has been euthanized by parks and wildlife officers after realizing it was "severely emaciated" and in a "poor condition."
In a statement released on Facebook, the Vali Police Department said it responded to two separate sightings of the lion in Lionshead Village, as it wandered around several resort properties.
According to the police department, the mountain lion entered the main lobby of a condominium property where officers were able to confine it to a secure area of the hotel.
Working alongside the hotel's property management, officers were able to successfully dart and immoblize the mountain lion. However, wildlife officials found the mountain lion to be severely emaciated, meaning it was weak, underweight and in "poor condition."
The police department said this could explain the lion's desire to be in close proximity to humans. Because of the lion's condition, the police department said it was then euthanized.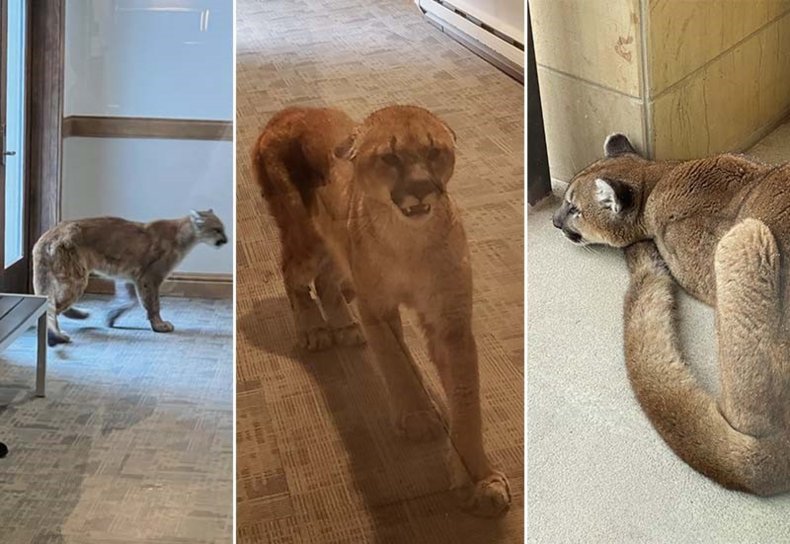 In a statement posted to Facebook, Vali Police Department said: "We would like to inform guests and residents that this type of behavior from a mountain lion is unusual. While mountain lions are native to Eagle County, they are typically elusive and sightings are rare."
Vali Police Department said any wild animal is "unpredictable," and warned guests and residents not to feed, approach or attempt to cage any local wildlife that may be spotted.
According to the Colorado Parks and Wildlife department, mountain lions are generally "calm, quiet and elusive" and attacks on humans are "rare", with fewer than a dozen fatalities in more than 100 years.
Mountain lions that do attack humans are usually young and forced out to hunt on their own, therefore looking for easy prey like pets and small children. However, mountain lions usually kill large animals, such as deer and elk.
Despite sightings being rare, Colorado Parks and Wildlife says the number of mountain lion and human interactions has increased recently, for a variety of reasons. The department said this can be put down to more people moving into lion habitat and an increase in deer populations and density.
There is also a presumed increase in mountain lion numbers, and therefore increased sightings.
People may also come into contact with a mountain lion while using hiking and running trails that are based along the animal's habitat.
Colorado Parks and Wildlife estimate that the mountain lion population in the state ranges from 3,000 to 7,000. A mountain lion's natural life span is usually around 12 years in the wild.